Interview: OPIUO x KCSB x Lucidity Festival 2019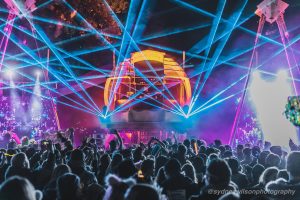 Headlining act OPIUO, Oscar Davey-Wright, came out from Melbourne, Australia to grace the main stage as one of Lucidity Festival's killer headliners. Complex and captivating elements such as spacey laser visuals combined with his seamless flow of upbeat bass, future funk–and more irrefutably dance-inducing sounds made the set especially memorable.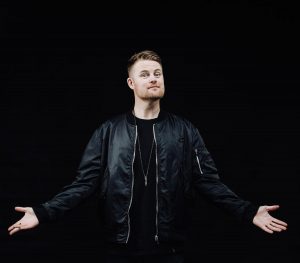 Emma: Can you tell us about your life before OPIUO, or your life before music in general (and, if there ever was such a thing, what eventually drew you towards music)?
Oscar: I have always been into music. I was surrounded by festivals from a very young age. I used to play in bands through school, and actually played my first DJ set at the age of 14 (20 years ago!). I always treated it as a hobby though, and therefore the pressure of "making it" as a musician never pressured my reality. I wasn't until I moved to Australia in 2005 that I started to get more and more into it, and eventually starting playing my own tunes in my random DJ sets, spreading via word of mouth, eventually into playing OPIOU shows at festivals. I felt very natural, as something that was maybe always meant to be.
E: First instrument you learned to play? Favorite instrument or sound to incorporate into your music?
O: Drums were and are my first love! They're the bone of all music to me, alongside a damn good bass line!
E: How important of a role did your mindset play in cultivating this career in music, and might you be able to describe that mindset a little for us, for any budding musicians who may be listening?
O: Mindset is EVERYTHING. Like I said before the feeling of not pressuring myself into having to be successful in music was instrumental in allowing me to just do what felt good. Not what I felt I had to do. And today that still runs true for me. I love what I do, and I am thankful for it every single day. Being yourself is everything as well. And finding that comfort within yourself is a top priority. Take time out from music when it's not flowing, and try to ease that pressure that we all feel every single day. Balance the mind of real life, alongside the insane reality of being a creative human.
E: Your sound varies so much and cannot be confined to any one genre, with the possible exclusion of the all-encompassing term 'bass'; might this be due to an ever-evolving taste, ever-evolving talent, or is inspiration strewn around your world taking countless forms?
O: I think it's just the sound of me growing and changing as a person. From inspiration, to new studio toys, to new loves of sound. I think it's all about growing. This life is a very short existence, and then that's it, so why not try all the things that make you feel good creatively? I am very lucky to have the support of beautiful people who allow me to be myself too I must say, which is very important. Without the freedom given by those who follow and support me, it would be a much harder ride to be free within my wild mind of creativity.
E: Does your songwriting process lean more towards experimental or calculated?
O: It's always random. I would hate to be too calculated. It often starts as an idea of how to make a new moment in a live set, so I try to make something at a specific tempo or specific key. But after that moment it's all random and exciting as f*ck. I love making music so much!
E: Any stories or inspiration behind any song in particular you'd like to share… perhaps about a certain individual's sneakers?
O: That song was thought of while lying on the beach. I had the backing track, but knew it needed something catchy to really carry it. I love sneakers, and boomboxes, and thought why the f*ck not! So yeah, not too much thought, just a very well timed moment in beach laden time.
E: What elements are important to you in terms of creating the best performance you can for your audience (visuals, sound, reading the crowd's energy, etc.)? 
O: I think it all has to work together in harmony. But at the core for me is a damn good sound system and an even better operator. Chrystal clear audio is essential, and it gives me the freedom to feel comfortable that what I am doing on stage has the chance of being received and appreciated for all its glory on the dance floor. I always like to try to prepare my show for each festival by looking at the lineup, past years, photos, and the general vibe when I arrive. I think it's important to read the energy of the event for sure!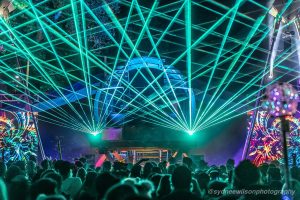 E: If you have a preference, do you like playing smaller intimate venues or big festival scenes such as Lucidity?
O: I love both. It's very important to have both in my world. Festivals are a world of the unknown, and that's the beauty. The weather, the crowd, the smells, the atmosphere is so out of control at any moment it can change, so that risk is what is so amazing about being outside. Then there's the venue atmosphere which is unbeatable for the sweaty, crazy, roof hanging, floor breaking, wall shaking wildness!
E: Your favorite place to perform in or out of Australia? Where have you not performed yet that you'd like to, any specific stages or festivals?
O: I don't have one favourite. I love going everywhere the world over. It's important to stay searching and never getting complacent with one place. I'd love to play atop a mountain in Nepal when the sun is setting one day…or a desert party in Kenya!
E: Can you tell us what the preparation for the OPIUO x SYZYGY Orchestra at Red Rocks was like?
O: It was a wild journey, so wild in fact I had no idea it was going to work until it was over! And that's what I loved so much about it in the end. It was a real challenge!
E: Who are some of your inspirations/favorite artists you respect and admire? Collaborations you'd want to do?
O: Oh wow, there are so many! Snarky Puppy, Noisia, Jacob Collier, Anderson .Paak, James Blake are some of the first to spring to mind!
E: Do festivals here differ from those in Australia?
O: I think they have their differences, but in general the festival scene the world over is one massive family. We all want the same things in life, and we are out here making the most of this minute existence though the marvelous act of dancing and connecting and exploring and smiling. It's what life is all about.
E: What's new for OPIUO that your audience can expect to see this 2019 (that can be revealed at this point in time)?
O: All I will say right this second is NEW MUSIC!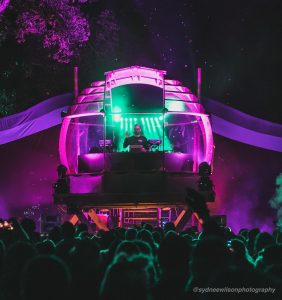 A big thank you from KCSB to OPIUO and Lucidity Festival for being awesome providers of love and music. You can listen to Oscar's music here: