Interview: Astral Spirits (KCSB Zine 2020)
Matthew McPherson interviews Nate Cross of Astral Spirits. This interview was originally done for the KCSB Zine 2020: Love and Light (coming soon!)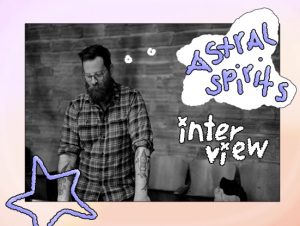 How did Monofonus Press birth Astral Spirits and why was keeping it DIY so essential?
I had been in a few groups that had releases on Monofonus Press so I knew those folks well prior to starting Astral Spirits. Back in 2013/2014 I actually approached Morgan (who started Monofonus Press) about the idea of doing Astral Spirits and seeing if he'd want to contribute to my idea. Morgan seemed to like the idea and basically took me under the Monofonus banner. I learned a ton in those first few years from him and Cory Plump and Will Slack who also ran the operations at Monofonus.
I've definitely made a point to keep the label very DIY to this day. I don't know if it's a strength or a fault or a little of both. At this point it's getting hard to keep up with everything by myself — especially during these pandemic/quarantine times as my wife and I are both working our day jobs remotely AND now having to watch our two young kids full time…and then also the label after that. BUT all that said I like that it is still just me, from curation to shipping to emails to production. I'm trying to use the DIY aspect now to help force myself to slow down and not release as much. 
I also think that the DIY spirit has been pretty integral to the history of jazz and improv music.  At some point that shifted when some major record labels tried to capitalize on the music and records, but I think we're seeing a bit of a resurgence these days in the DIY spirit these days.  I could get a lot more in-depth about this but I'm tired and it's late and my brain isn't working perfectly (see the previous paragraph about it being hard to keep up, ha). 
Many of these tapes are recorded in live venues, realized on the spot. How regionalized and improvisational have these scenes been?
I've never really made it a goal for Astral Spirits to highlight or focus on a particular "scene." Free jazz/improv seems to thrive mostly on the collaborative aspect of cross-cultural or cross "scene" experiments, and I've tried to release plenty of things along those lines — Icepick, Alcorn/McPhee/Vandermark, Fraser/Davis/Malaby, and many more. If there is any particular scene I identify or align with it's obviously the Chicago scene, but I definitely try to make a concerted effort to diversify where groups/artists are from much the same way I try to diversify in terms of inclusivity. 
Also, how did Sandro Perri (the Constellation stalwart) get involved in "Zoning"?

That is entirely a question for Nick Fraser! I haven't met Sandro myself (yet, I do hope one day it'll happen as I get to Montreal semi-often and do shows at the incredible Suoni Per Il Popolo Festival). Nick sent "Zoning" to me when it was more or less a finished product. Incredible record. But yes, Sandro/Constellation is a huge inspiration and pretty cool to see that connection (and hope to make more of it one day maybe).
The Astral Spirits art direction has always struck me as science fiction, lost art from the 1960s golden age of Science Fiction. How'd Jaime Zuverva become involved and was this always the intention? Also, who is naming these albums?!

Album titles are always from the artists! I don't want or have any say in that! The Astral Spirits artwork/aesthetic has always been important to me. I actually started the design of Astral Spirits Mason McFee (www.hellomaseman.com) who is a good friend and incredibly designer/artist. He did the label logo, the template design and so much more (including the amazing artwork for the Thurston Moore & Umut Caglar record). AND Mason actually deserves most of the credit for the 1960's sci-fi thing you're talking about as it mostly is due to the Cooper Black font that we've for the vast majority of Astral Spirits releases since the beginning. Jaime Zuverza is an equally amazing artist/friend/musician that I've known for a while from the Austin music scene (his band Hidden Ritual is pretty amazing, and released a couple albums on Monofonus Press). Back in 2017 after I'd had the label going for a few years, Mason just got a little too busy with other projects and didn't have the time anymore so I asked Jaime if he'd like to step in and "update" the template that Mason had created. I've relied heavily on Jaime ever since. Every time he sends artwork for a new release I get excited. Even after 3 years of working together, every new album design blows me away.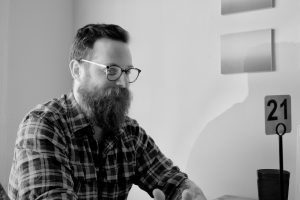 The Astral Spirits output has been recently brought back the Chicago Underground Quartet while working with Thurston Moore and even sporting a reinterpretation of the music of Moondog. How did these opportunities arise?

Most of it is luck! The Chicago Underground Quartet release obviously came to me through Rob Mazurek since I've been working with him on a whole slew of solo and group releases over the past few years (and since he now lives in Marfa, TX). I had to pitch the label and compete with others (obviously) to release "Good Days" and it truly means so much that I was able to work with them and release that album. Their first release back in 2001 seriously changed my life (and that is not a hyperbolic statement). 
The Thurston Moore release also came through someone I had worked with before – Umut Caglar of Konstrukt, but again Thurston was a pleasure to work with and incredibly supportive of the label and when that came out in 2016, that was probably the "biggest" record I had released at that point. 
Dustin Laurenzi had sent the Snaketime album to me and I loved it from first listen. It features (again) a whole slew of folks I knew and had releases with from Chicago (Quin Kirchner, Nick Mazzarella, Jason Stein, Ryan Packard, etc) so it seemed like a good fit. Luckily Dustin was pretty adamant about doing a vinyl release and eventually we figured it out as a co-release with Feeding Tube Records. Also important to note here is that my 3 1/2 year old can recognize Moondog songs within a few seconds of the opening bars of a song (no matter which version/artist it is) thanks to this album. We listened to this one A LOT. 
With a roster of talent that often jumps across tape label to tape label, how do you curate what is to be released?
It still currently feels pretty organic to me, and the overlapping with other tape labels is honestly probably a good thing for everyone. I don't think a lot of that is planned, it just kinda happens because we all end up following each others work and sorta pick up on the same things or hear releases from other labels and immediately think "I want them to do a tape for Astral Spirits!" It feels more supportive than competitive in a really nice way. 
As far as the curation goes though, these days a lot of it is through demos still…I honestly still try to release unsolicited releases on tape…although a lot of it now is solicited or demos sent to me from folks I've admired and loved. But I do try to curate/schedule things about a year out, currently I have most everything planned through the majority of 2021. I definitely leave a little bit of wiggle room here and there because you never know what will come your way but I'm really trying to be a bit more selective and not release as much as I have been over the first five years.
So, Astral Editions has recently launched physicals with the wild Voice Games and free improv from a three-of-a-kind pairing (Patrick Shirioshi, Dainel Wyche, and Ted Byrnes). Are there things with Astral Editions that you've wanted to do on Astral Spirits but wanted to single out separately?
I'm kinda pivoting with Astral Editions this year. Initially I went for digital only but it just didn't seem to grab hold, and there were a lot of great releases last year (everyone should go back and check out Rob Lundberg, Macie Stewart & Lia Kohl and so others). The physical pressings seem to be helping get a bit more attention (and even doing better with digital sales funnily enough). As far as the curation it's a work in progress still…I've always been interested in more outsider or fringe or just plain strange music that isn't jazz really and I'm hoping to use Astral Editions to explore the experimental side of things a bit more – hence the releases thus far and more to come for 2020. I'm hoping it can become a space to highlight different things that might tangentially be related to Astral Sprits but wouldn't necessarily fit perfectly on the label.
A rat is going to jump into your mouth and there is no way you can stop it: head or butt? (We used to ask artists this in the studio 🙁
Head.
✦