Factory Nights – Friday, November 10!!
✩✩✩✩✩✩✩✩✩Travel back in time to Warhol days with KCSB's Factory Nights! ✩✩✩✩✩✩✩✩✩
An immersive, multimedia, musical gallery space created to promote community and foster growing art and music scenes!
♡AND WE WANT YOU THERE! ♡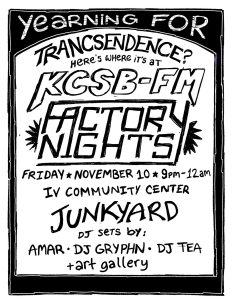 We are so excited to host our first ever art collective project, inspired by Andy Warhol's studios and the live music events they housed. Come nurture the Isla Vista art and music scene and support the talents of local musicians, DJs, artists, filmmakers, sculptors, and more on November 10 in the IV Community Center.
Enjoy a host of sensational art to the soundtrack of IV based band Junkyard and a number of KCSB DJ sets. If interested in performing or showing art at future events please dm @kcsbfm on instagram, email ext.md@kcsb.org, or fill out the interest form here.
EVERYONE IS WELCOME! Let's boogie 🙂