Tape Quarantine: Doppelgänger by Curve
With our 2019-2020 Internal Music Director under self-quarantine, Matthew McPherson (Wane Lietoc) has taken to their personal tapes, highlighting and documenting the most outstanding in their collection. This week, they take a look into the evolution of the shoegaze genre through various representative and influential albums.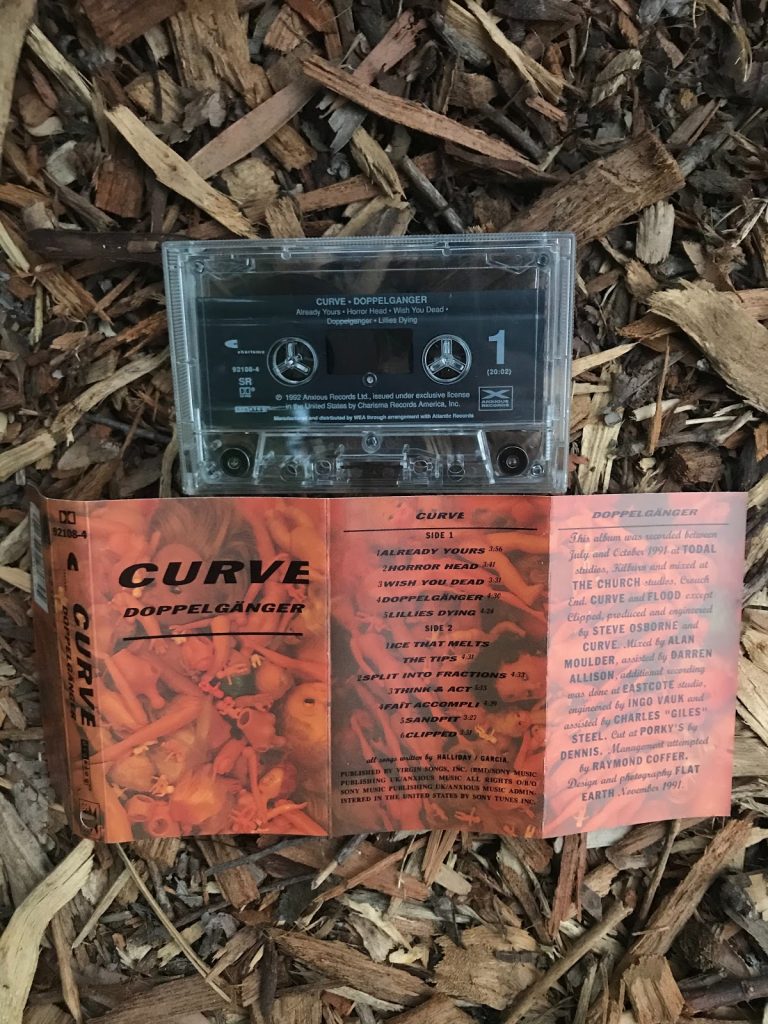 Loveless might as well have ushered in the end of the Shoegaze's first wave after its November 1991 release. After a continual three years of increasingly layered sonic development, Kevin Shields had arrived at a zenith of otherworldly sounds with the vaguest, ethereal sense of pop for a blissed out trip. Shoegaze officially had a template of otherworldly sounds that bands would be eager to rip off, regardless of whether or not they could achieve a fraction of the emotional depths or had the money to do so.
Yet, for the first shoegaze releases of 1992, the focus was not on replicating Loveless. March 9th saw the release of two albums recorded in 1991. Ride's second LP Going Blank Again saw the band continue to lead a wave of guitar pop built in the wake of the Stone Roses. In opting not to go down the path of their Scottish labelmates and instead craft a critical and commercial guitar pop masterstroke, Going Blank Again succeeded at its one sureshot intention: to overwhelm your speakers with joy. The other shoegaze release of that day, Curve's Doppelgänger, ignored the bubbling britpop, and instead opted for an electro-shoegaze cacophony that still echoes.
Curve was the second act of Toni Halliday and Dean Garcia, both of whom had spent the 80s in various projects, collaborations, and session work that led to ill-fated results. The British music press was not particularly enamored by either of them before Curve, and perhaps this affected their sonic approach when the band was formed in 1990. Thanks to Alan Moulder's production work (he also produced Going Blank Again), they sounded more like an American alternative rock band that just happened to be from across the pond. They were quick to find themselves recipients of a plethora of MTV coverage (where they blatantly made a case they were different from contemporaries), giving them an audience abroad and connected to a larger alternative grouping of albums. With drum rhythms championing over the guitar textures in the mix, their 1991 EPs (collected on Pubic Fruit) leaned more towards noise rock squall and industrial percussive clash than British pop. Their teaming up with Flood (of U2 fame) for production of Doppelganger was continuing to further straddle this line between genres and sounds ripe for a radio crossover.
On Doppelgänger's opener "Already Yours", an electroclash fury emerges. Blending a seamless blend of Garcia's razor spike guitars skirt over bouncing four by four electronics ripe for a dance floor, this industrial shoegaze is icy hot, the perfect foil for Haliday's fierce vocal performance. Deeply enveloped in the sound, she cuts through a sensual taunt of a male gaze, "Oh you shouldn't treat me like a stranger/ you say I have the same effect,". It is the first of many moments that Halliday is critical of this gaze that for so long backed her in a corner.
As such, it seems that Instrumentals on other tracks are practically built around the power of Halliday's voice. Her swirling chorus against buzzing guitars on "Horror Head" are gothic flair. The in-your-face claim "you just hate me" comes fast up against the rushing motions of "Doppelgänger". The crescendos of "Ice That Melts the Tips" practically outlines its own peaks and valleys. Even the heavy EQ processing on "Split into Fractions" gives Halliday an extra subterranean umph that echoes through. That Halliday found a way to speak the language of those guitars is already an achievement of itself in a field of endlessly talented vocalists. That she practically dominates the songs with her sensuality while remaining never in reach, rivals the supposed best pop songs British shoegaze had to offer.
Outside of "Sandpit", a curvaceous throwback recalling the cavernous feel of amany 1980s 4AD albums, Doppelganger adheres to this fusion sound. It was profitable enough for Garbage to jump on it a few years later and ride it to the bank. Now in 2020, it might be the choice shoegaze album based on its influence. Long running shoegaze mp3 blog survivors No Joy and I Break Horses both released albums this year that saw them both diving further into electronic territory with wide-eyed grins. While both bands had utilized electronics to make their own Loveless soundscapes on a budget, this full embrace of electronic percussion against buzzing guitars sounds like the seeds of Curve finally finding a place years beyond where it seemed.
Coming up: So what's the ultimate "Budgetless" shoegaze? Next time, we'll check in with the Swiries' Blonder Tongue Audio Baton, a lo-fi marvel that might just be the peak of American shoegaze.