Live Reporting the Bank of America Burning: KCSB Oral History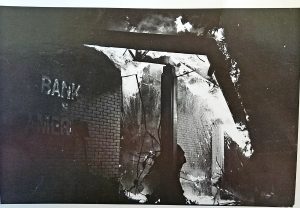 Words by Lekha Sapers, Archives Coordinator
Cy Godfrey is the owner of perhaps the best-known last words in KCSB History: I did not set the bank on fire. As General Manager between 1969 and 1970, Godfrey led the station through some of Isla Vista's most tumultuous historical touchpoints. Over the course of his tenure, the UC Berkeley Free Speech movement dovetailed with UCSB activism, sparking a series of anti-war protests all over Goleta. And, after the Kuntsler speech as well as some volatile journalism from El Gaucho (the Daily Nexus' pre-twenty first century alias), the Gauchos followed Berkeley's lead and began to riot. These riots, at their most extreme, took the form of flipping over a cop car and setting it aflame. Isla Vista police took a passive approach to retaliation: they left the area. So the people of Isla Vista, sans judicial pushback, took their anti-capitalist rhetoric to the bank. The initial motivation behind the attempt was to break into the building and search for valuable documents; the burning was incited only when a passerby lit a trash can on fire, which subsequently spread to the bank itself. The Bank of America burned for about a day, until the National Guard showed up nearly twenty four hours later. 
Arguably the most famous incident adjacent to the Bank Burning was KCSB's shutdown, ordered upon the station by the Sheriff's office. As a result of the corrupt nature of the police department as well as their distaste toward the station, Godfrey was forced to take the station off air. This interaction set a precedent for less-than-placid university/student interactions throughout the 70s, but also elevated KCSB to a new standard of local notability. Devoted to free speech, even in the face of the law, KCSB has since strived to amplify the non-commercial voice in all aspects of its broadcasting. 
Listen to Cy Godfrey's Bank Burning story via an excerpt of his 60th Anniversary Interview with Lekha Sapers, KCSB's Archives Coordinator.

Also attached is a live excerpt of the burning itself, linked below. 
As a part of the newly instated Throwback Thursday series, Archives Coordinator Lekha Sapers will be blogging about KCSB's collection of audio archives. For the remainder of the school year, you'll get a chance to explore our 60th Anniversary audio collection, highlighting the stories of some of our most formidable alumni.