Tape Quarantine: Chorus by Flying Saucer Attack
With our 2019-2020 Internal Music Director under self-quarantine, Matthew McPherson (Wane Lietoc) has taken to their personal tapes, highlighting and documenting the most outstanding in their collection. This week, they take a look into the evolution of the shoegaze genre through various representative and influential albums.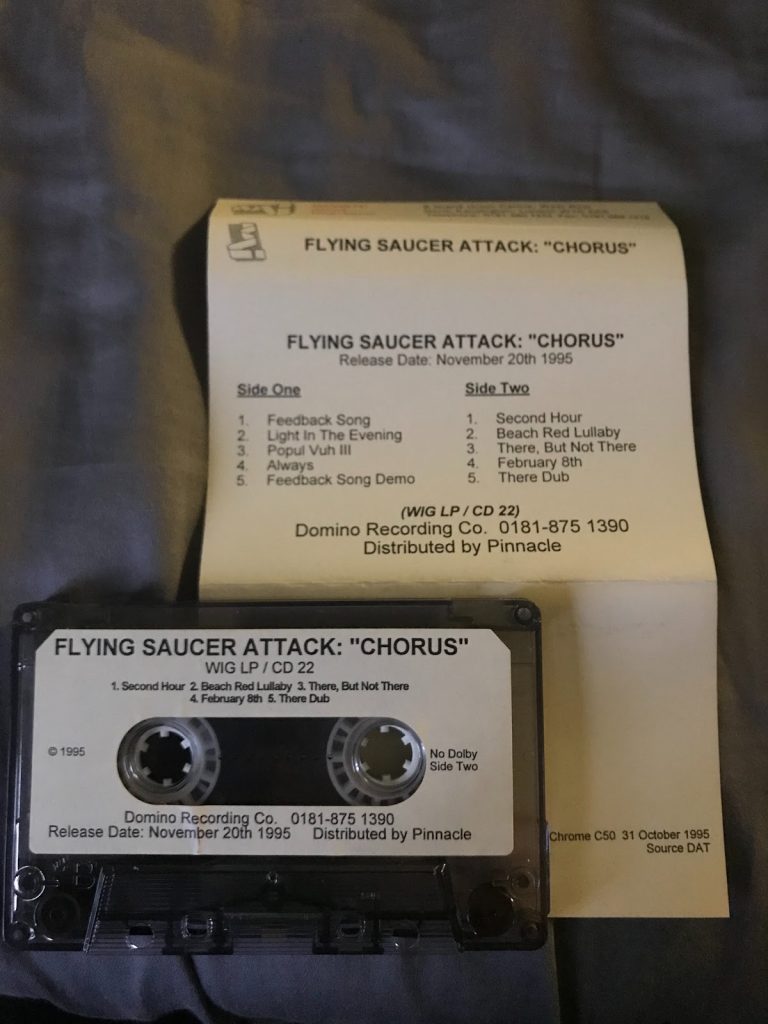 Post-Loveless, the prospect of shoegaze, past its pop infancy and into territories unknown, was being spearheaded by a couple of tapeheads in Bristol. David Pearce and Rachel Brook started Flying Saucer Attack in 1992, crafting hissy tracks that took British pastoral folk into otherworldly labyrinths, self-releasing and taping these documents. They dubbed their first LP "Rural Psychedelia", and there really could not be a more apt title that surmises the raw intimacy and new age meditative qualities that were culled from this steady diet of taping. By their second LP, Further, the band had declared on the record spine, "home taping is reinventing music" and their declaration proved correct, stretching their sound out to capture mystical beauty, drone drenched space rock, and everything in between, sometimes in the same song! Even Pearce's voice had finally settled into a range that felt less shaky and more assured, practically sounding like the streaks of UFO light beams on the exceptional "In the Light of Time."
FSA were fearless and peerless, fortunately attracting the attention of two burgeoning indies on both sides of the Atlantic-Domino & Drag City. Both would co-release a plethora of singles and one-offs that garnered a dedicated cult audience, including patron John Peel, who provided consistent airplay and two sessions on his show during their run of releases in the 90s. All together, these produced at least two compilations, Deeper and Chorus. Yet, to dub them as mere compilations feels backhanded. Especially for Chorus, which is nowhere close to being the breadcrumb trail of Further, and deserves to be seen instead as a full-fledged continuation of that albums' promises.
A central irony of FSA is that up until 2015, the band never actually released proper cassette editions of their albums. When I discovered that Chorus existed in a promotional cassette edition, I splurged it up, wondering if the object would actually have any real promotional info about the band and its ideas. Alas, the chrome tape is just it, with ten track titles that refuse to reveal any details let alone where the tracks are compiled from; just that it was sourced from a DAT on Halloween 1995. I found that part ironic, as there must exist a few die-hard FSA fans that would have the first five tracks dubbed from the live Peel broadcast–in a different order nonetheless! 
The re-ordered session from 1994, which takes up all of Side A, sees them concocting the slickest set of tracks they can off a 4-track. Joined by occasional member and percussionist Rocker, tracks like "Feedback Song" become new age vapor trails. The faint patter of a cymbal keeping one ear to the ground, while the swirling guitars race to the horizon line, paving out new territories. "Always" (also with Rocker) and "Light in the Evening" push as much of a wall of sound out as possible, with the former summoning an orchestra of guitars for a proper Jesus and Mary Chain-style rocker, while the latter summons a thunderous drone storm. "Popol Vuh III" offers the aftermath of that storm, hushed with only faint guitar murmurs and static, emitting a kind of ambient slowcore that Radiohead would nearly replicate to their own device years later. "Feedback Song Demo" may seem like a breadcrumb, due to Peel Sessions being legally limited by British law to 4 tracks. Yet, the significant change in quality and addition of faint mechanical-esque percussion (a la early Labradford) reveal how minor changes to the FSA formula could open completely different avenues for this sound, regardless of fidelity.
Side B functions as a grab bag of whatever this band wanted to accomplish, reveling in the band's dexterous whims. Opener "Second Hour" is a psychedelic noise monster that foreshadows Pearce's full-band pivot on Mirror more than the other pastoral tracks, "Beach Red Lullaby" and "February 9th." For as noisy and raucous as the band could be, the sheer intimacy of these folk songs are akin to hushed whispers, with the former including Brooks' lone singing appearance on the album, coming in faintly as the patter of raindrops drifting off the side of a wooden cabin. 
If Further revealed how transcendental home taping could be, then Chorus revealed just how limitless the sonic palette could be with just a few tools. On "There But Not There," Rocker's throbbing drum pushes forward like a locomotive while guitar lines skip like stones. Little changes in the base tracks outside of additional effect pedals being manipulated. Untethered from popgaze and the band's own noise freakouts, the track maintains an astronomical state of attentiveness. An indefinite horizon line, it pulses to its own vaporous beat, completely outside the orbit from whatever the hell shoegaze reflected in 1995.
And therein lies FSA's greatest legacy: taking shoegaze beyond pop and into the textured abyss of ambient and post-rock, but without the need for studio wizardry. Even if in 1992 there were no FSAs, by 1995 they had inspired and were releasing alongside a larger wave of home recording, especially in the United States. A fledgling Kranky (which Pearce would record for in 2002) signed acts like Labradford, Stars of the Lid, Bowery Electric, and Windy & Carl. These artists had all nurtured their signature sounds via home recordings of their reverb laden guitars, but chose to reflect the sound of their respective location. In turn, they crafted sonic niches that further collapsed the bounds of shoegaze, linking towards drone, ambient, and post-rock. Not too shabby for a couple of tape heads nor for a sound that was approaching its terminal stage.
Of course, there are great acts that followed past 1995 and into the 2000s and 2010s, further collapsing the bounds of what shoegaze could offer and be…but that's a story for another week.