November's Add of the Month: Chester Watson's A Japanese Horror Film
KCSB's music department is sitting down each month to write to you about one album added to our music library that left a strong enough impression on them to be crowned Add of the Month. This month, Internal Music Director Yousef Srour goes in depth on Chester Watson's latest album, "A Japanese Horror Film," released on POW Records.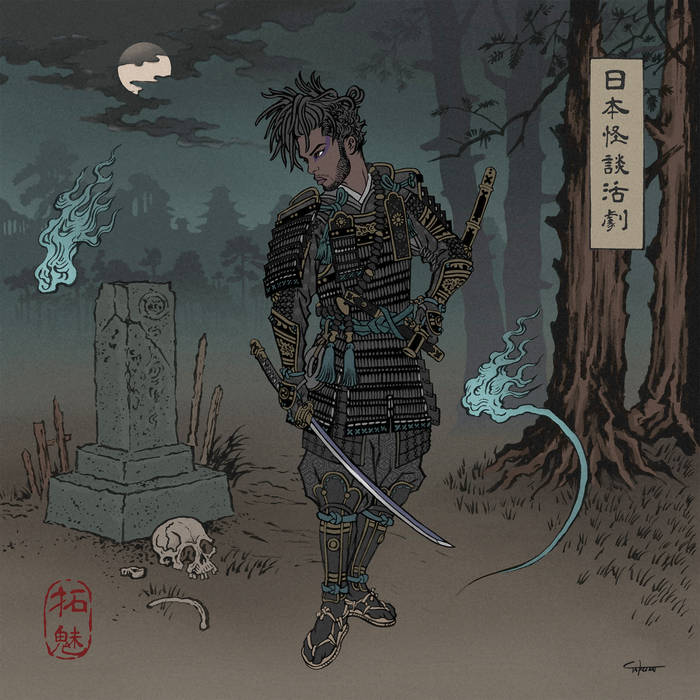 Image courtesy of POW Records, 2020
Chester Watson has dubbed himself the "Monotone Samurai" on several occasions, and to be quite honest with you, the title fits him perfectly. When Chester raps, you're comforted by his spellbinding daze; you're sedated by his calm through the calamity – the puffs of weed smoke as he hazily maneuvers through his quest as a Japanese swordsman. I, myself, have been listening to Chester Watson since I heard his song "Museums" for the first time, back in early 2019. It was my introduction to experimental hip-hop, and there's something enthralling about the way that Chester is able to explicate all of his emotions and weed habits so nonchalantly–it's the way that he says the word c*nt without a smidge of regret or guilt – or perhaps it's the way that he can casually turn a dreary act like "scraping resin from a bong" into a vivid behavior that you, as the listener, can perfectly imagine and picture yourself doing. His delivery is like dry, off-beat stand-up that's neither comedic nor energetic; Chester Watson becomes your own stream of consciousness, guiding you through the mundane aspects of your life, channeling your inner hostility and frustration into music that both relaxes you and allows you to unravel in the complexities of his cadence and flow.
Chester Watson released his first mixtape, Phantom, in 2012, exactly 8 years (to-the-date) before his latest album, A Japanese Horror Film. Even though he was 15, Chester's lyrics were still THC-infused and mesmerizing, with looped, sample-heavy instrumentals that allowed him to passively rap about his mom catching him with weed, while experimenting with MF DOOM-caliber rhyme schemes. In modern terms, he was the Earl Sweatshirt of the underground, but instead of writing through a lens focused on depression and trauma (although still thematically present in his music), Chester Watson wrote short songs, ranging from around 1 to 2 minutes, where he'd describe his many pseudonyms and deconstruct his most existential thoughts. Projects like Phantom, and later in 2015 with Summer Mirage, Chester honed in on his ability to immerse listeners into this world of his–one without time; one without a focus on the past or the future–a world that's sole focus is to think about the now, accompanied with a fresh bowl of greens.
A Japanese Horror Film starkly contrasts the Nü Age Syndicate-member's previous tapes because this is his first project that's conceptually-driven, as opposed to being structured through lo-fi, DIY-style beats. The album tells the story of a Japanese samurai, Chester Watson, as he travels through a fantasy version of Japan, encountering demons and sprites while traveling to the depths of the ocean and the spirit world. The album's narrative may be fictional, but the teachings of spirituality that Chester manifests allow the listener to lose themselves in a world of mindfulness, built on abstractions from Japanese lore.
The album begins with "Life Wrote Itself," a nuanced characterization of our protagonist, the "prodigious sensei," Chester Watson. He wastes no time, immediately asking robust questions about the existence of gods, making reference to pyramids and shamans, but coming to the conclusion that we're all just observers in a constantly moving world. Chester's raps are fueled by stealth and meditation, a direct explanation as to why he has reincarnated himself as a samurai–he's writing his own narrative, moving with speed and caution, with spliffs and his sword.
In "Transportation Interlude," Chester enters a mysterious taxi in Japan, and by "Taxi Ghost," we realize that this is no ordinary car ride. Here, our protagonist is beginning his ascent to the spirit world, and in doing so, he's seeing ghosts and extraterrestrial beings, and we can't even decipher whether or not there really is a taxi driver. The acid kicked in. Chester's flow is beginning to be more and more drawn out, the ends of his sentences are trailing off, and the voice of the taxi driver slowly fades into the background until the car abruptly halts. "Porcelain Geisha" is eerie and sonically iridescent, as you can hear a shimmering, high-pitched spirit in the background–is she crying out or is she drawing us in closer? Chester is dazed, travelling foot-after-foot, with a cadence that's reminiscent of a backpacker whose only thoughts are "keep moving forward." He's reconstructing himself in Japanese form, perhaps transitioning from his body that's tethered to the real world to an avatar in the spirit realm. He's now "one with the land," he's now "one with the tides." The beat is wavy, textured with arpeggiating soundscapes, and Chester is following suit after ingesting a purple drink given to him by this mysterious Porcelain Geisha. The Geisha explains to Chester that he's a reincarnation of himself from a past life; he's a repurposed soul, and he's being reintroduced to the spirit world that he once knew.
In "Yokai" we're met with a light and airy beat, set in an abandoned dojo, but the setting is unimportant – our samurai is here to relax and experience everything there is in this temple. Chester's clearly drugged out, with his voice pitched-down, grumbling about his time with the Yokai, who, according to Japanese mythology, are Japanese supernatural beings (from ghosts to demons to spirits). The "Monotonous Samurai" is indulging himself in vice, taking him back to his roots–thinking existentially about his endless pursuit of knowledge and how Chester perceives this as his ultimate goal in life. In contrast, "Witch Hunter," becomes a drug-induced darkness, prompted by rosé and purple sprite. His tone becomes much more aggressive and carnivorous, indicating his distrust for his peers and the world around him, proving to himself that he can be a lone samurai that doesn't need support. It isn't until he meets his spirit guide, Veeri, that he learns that the lean he ingested made him weak.
Once the album reaches "Kushiro," Chester reaches the tipping point in his travels; he must truly let himself go in order to fully engross himself in the spirit world, and more importantly, to receive its guidance. The beat spells this out, with K. Raydio singing this enchanting mantra in the background as Chester raps of zen and broad attempts to find peace through hits of his wax pen. He's a monk on his road to self-realization, and his cloth is his signature brand, I Love Ugly. Veeri guides Chester to tranquility, teaching him about astral projections, and how to leave his own body as his mind and spirit travel to the unknown. "Camp" is Chester Watson's first attempt at astral projecting, fighting vigorously to escape his shackled body, delivering his lyrics in restrained screams while questioning his own reality. Our samurai is attempting to leave the material world behind, along with his life that has become saturated with never ending thoughts of money and ganja. By "Teleportation," Chester has finally mastered the art of astral projection, rapping over a minimal, drowsy beat, peacefully smoking at the beach.
Now that Chester can astral project, he transports himself to Atlantis on "Nujabes," a testament to the late Japanese producer, Jun Seba, whose atmospheric production pioneered lo-fi music, a sound that's been heavily utilized by Chester Watson in the past. In the song, our protagonist is much happier, as if he's riding the excitement of life and his newfound ability to travel the world with ease and serenity. Chester's flow is fast-paced and joyous, thrilled to see what's in store for him once he enters the long-lost city. He's infatuated with it, mesmerized by the architecture, and when he finds out that the Empress is performing on "Atlantic Interlude," our now-mindful warrior deciphers that "Nothing is a coincidence," illustrating how his journey has fostered growth in his psyche.
Finally in "Atlantis," we're met with ethereal acoustics, complemented by beautiful humming in the background by Salami Rose Joe Louis. We're reintroduced to a version of Chester that has intrinsically disciplined himself with the ways of the samurai, turning pain into beats (as a producer), looking to the cosmos and realizing himself as the chosen one in his own world. His reaching of a personal nirvana through astral projecting not only allows Chester himself to find solace, but he's met with applause in Atlantis–although, the applause is more so directed towards the performance of the Empress (but keep in mind, "Nothing is a coincidence").
The "Hypnagogic Interlude" is Chester's farewell to the spirit world, and "Ronin" marks his descent. He's attempting to make sense of everything that he just experienced, from his interactions with the Yokai to astral projections to simply existing in another dimension. The beat is quiet and undemanding, allowing Chester to question his own existence outside of the fantasy that he has created, a superfluous existence filled with gold chains and a sense of nothingness. "Sunken Place" continues this query of the material world, a dialogue that effortlessly describes the emptiness associated with living a life that revolves around money.
"Fog" proves to be a reflective piece on Chester's travels as a Japanese samurai, navigating through his contact with Yokai and spirit guides and lost cities. Meanwhile, in the real world, Chester finds himself trying to "defog" and reconnect with his true plane of existence, but he finds it difficult because he's constantly in a loop of buying and smoking pot. He doesn't feel famous so he doesn't feel any pressure to lie low, but at the same time, he feels like his demons (the Yokai) are catching up to him. It's a call for an easier life; a disappointment with the fact that his trip to the Japanese spirit world might have just been a dream all along.
Concluding with "Daydreams", the album's final piece includes chirping birds and an elusive, slowed-down guitar strumming quietly. Chester Watson decides that although his life is becoming more and more detached and not-quite-fulfilled, he's going to do the best he can to manifest his dreams and create beauty from all the madness. Just as Dua Saleh ominously sings, "Break me out" of the confines of this reality, and that way we'll find peace.
Album review by KCSB's Internal Music Director, Yousef Srour