January's Add of the Month: Boldy James' Manger on McNichols
KCSB's music department is sitting down each month to write to you about one album added to our music library that left a strong enough impression on them to be crowned Add of the Month. This month, Internal Music Director Yousef Srour goes in depth on Boldy James' latest album, "Manger on McNichols," released on Sector 7-G Recordings.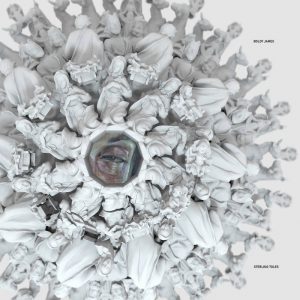 Image courtesy of Boldy James
There are few artists as consistent as Boldy James. In 2020 alone, he released four projects: The Price of Tea in China with The Alchemist, Real Bad Boldy with Real Bad Man, The Versace Tape, and of course, Manger on McNichols with Sterling Toles. It feels as if by the time you finally appreciate one of Boldy's albums, he's already moved on to the next. He treats his craft like working the block: push, push, push.
Now this isn't to say that his music is without merit, because both the The Price of Tea in China and Manger on McNichols have been in constant rotation for me for the past couple of months, ever since I heard "Surf & Turf" for the first time, where Vince Staples casually drops one of his best verses to date. When he's rapping alongside Boldy, the curtain vanishes; he forgets that he's even rapping, spilling his gang ties in the LBC, how many shots he's popped, and almost even mentioning who the bullets were meant for. That's the Griselda effect.
Boldly signed to Griselda records, home to Westside Gunn, Benny the Butcher, and Conway the Machine—his Eastside Buffalo counterparts. They were all dealing in the streets (whether New York or Detroit) until they finally built enough of a cult following through coke-rap to make it in the industry, with Conway and Benny receiving their first Grammy nominations for their features on Freddie Gibbs' own collaborative album with The Alchemist, Alfredo.
To Boldy James and Sterling Toles, Manger on McNichols isn't just an album—it's an archive of Detroit, it's art therapy for Boldy, it's a magnum opus on life and death and everything in-between. Sterling Toles began this album when Boldy was still known as James Clay Jones III, when he laid down his first verse ever in Sterling's studio in his mom's basement. They worked together for five years, and finally in 2007, they began working on the album. This was even before Boldy's first feature on The Cool Kids' mixtape, Tacklebox. Chuck Inglish of The Cool Kids was Boldy's cousin, so he had some guidance and knew his way around a studio, but it wasn't until Murf, a friend of Sterling, heard Boldy mutter lyrics under his breath that he was given the chance to disentangle the string of stories that had built up inside him over the years.
While Boldy recorded his vocals from 2007 to 2010, he wanted to paint a picture of Detroit like no other artist had done in the past. Now, this isn't to say that he didn't have predecessors. Slum Village and the late-J Dilla brought Detroit's hip-hop scene to where it is now, from artists' flows to their sample-heavy production, but nevertheless, that's still not Boldy James. His father was in law enforcement, he never felt any love from his mother, and he lived a double life on the streets pushing dope. His best friend was raped and killed when he was five years old, bank robbers used him as a human shield to protect themselves from the police, and he had already received a felony charge before the age of 18. There's pain in Boldy's lyrics and it doesn't make itself more evident than on Manger on McNichols, while he was still coming to terms with the love and the loss.
During the recording process, Sterling Toles kept telling Boldy, again and again, to dig deeper. A firm believer in art therapy, Sterling wanted the 20-year-old to understand his trauma and pushed Boldy to get to a place where he can speak on it in a way that would help him come to terms with everything he's seen on the East Side of Detroit—from the drug trafficking to the murders to the extortion. On the first track, "Medusa," Boldy announces that he's got a baby on the way and how everything's a mess, that all he knows is how to use Pyrex to make coke. He describes that "this is every dope fiend's dream," but is it more of a nightmare?
The tracklist responds with "Welcome to 76," illustrating the nonsensical nature of Detroit's violence, with streets praising those who pour bullets, while in fact Boldy is constantly reminded that the those same streets robbed him of his innocence and his opportunity to have a normal childhood – or at least a childhood not tainted with loss. The narrative carries on into "Detroit River Rock" and "B. B. Butcher," where we see Boldy continue to be more and more aggressive, trudging through lyrics about moving weight, persistently reminding us that he could never shed a tear, whether packing bullets into the barrel of the pistol he keeps by his side or witnessing his own friends getting murdered in cold blood. He's still young; he's barely broken the age of 20 and he's already showing signs of paranoia saying, "Reachin' for my piece when I feel the slightest movement." Boldy's tired of selling dope, he's tired of working the streets, but it's a concrete jungle and he has to make some money somehow.
"The Middle of Next Month" is sonically spiraling and heart wrenching to say the least. His baby that he alluded to on "Medusa" ended up being twins, but in the first sentence of the first verse, he slowly utters, "I just lost my two twins in an accident." No sugarcoating, no glamour, just irrepressible despair. Boldy raps as if everything he loves is slowly fleeting from him, whether that be his kin or his friends, as he's growing leery of them too. All I can think about when I hear "The Middle of Next Month" is how my skin curls every time he promises that, "Somebody gotta die." Once in the intro. Each time he repeats the hook. Once in the second verse.
The latter half of the tape plays out like a spiritual rebirth; yearning to go back to his youth, as far back as the womb, continuously cycling through his family trauma. In "Mommy Dearest (A Eulogy)," Boldy James recounts his relationship with his mother, from her favoritism of his younger sibling to him feeling like an unloved orphan to how his mom should have just gotten an abortion; the pain stings and it's clear that this song was tremendously difficult for Boldy to pen. Toles even includes a snippet of an interview that Boldy James did with The Cypher podcast, where he discusses the song not being released in time for the podcast, the inspiration he found in The Notorious B.I.G.'s "Suicidal Thoughts," and how working with Toles allowed him to go deeper and darker. That being said, the song doesn't end with the snippet—the last verse resumes, furthering the theme of continuity on this album, with Boldy bleakly retorting that, "You tried to kill me, I died, and I came back."
For the rest of the album, Boldy James confesses stories of drug addiction that he's been forced to witness, the anguish that comes with mixing love with the unpredictable nature of the streets, and the thoughts of death that loom over his head. Even then, it becomes easier and easier to imagine him in the studio; you can hear Boldy begin to pick up the pieces from the life he once lived and how he forces upon himself a newfound optimism, choosing life and success and love for the children he now has. With the project's closer, "Got Flicked (The Rebirth)," Boldy James recognizes the power of his music and determines that it's for "every convict waking up in jail," and preaches hope like he never has before.
After recording the majority of Manger on McNichols in 2010, Boldy was off to the races. He was releasing mixtapes, albums with The Alchemist, and he left Sterling Toles with an album's worth of material, all recorded over chopped up, soul samples—or boom bap, as Toles likes to call it. The album wasn't finished though. It sounded too much like its samples, when in fact Toles wanted to have a project that could be sampled itself, representing the true blood of Detroit. With that, he completely reworked the album with recordings from various jazz musicians that he'd come across over the next ten years, a Sanskrit-singing monk that he met on the street, and even neighborhood kids—one of which, First Lady Deja 😉 on "Welcome to 76," who ended up as quite the successful artist herself (even more so in mainstream music than Boldy James) after working on this album; she began rapping under the moniker Dej Loaf, and the rest is history. As for Boldy, he returned to record new lyrics to the modified beats of "Requiem" and "Birth of Bold" in the summer of 2018, and just like that, the project was reborn.
The most integral part of Manger on McNichols is its sound. From the foreboding strings of the cello-playing Mother Cyborg on "Medusa" to Nick Bruno's godlike screams into the abyss to Bubz Fiddler's wonky basslines, the project's instrumentals take on a life of their own. There are flutes that flutter across "Welcome to 76;" experimental hip-hop and chamber jazz converge on "Detroit Rock River," with the trumpeters in the background and the tongue-twisting scat samples creating a cacophonous trembling to accompany Boldy's voice as he prepares for war. The soul and jazz continue throughout the entirety of the project, ever emergent with historical organs and saxophones and a blend of musicians that serve as a reminder of the deep-seeded culture that lives on in the city, and when joined with Boldy's open rapping about the streets, family, and unwavering love for 7 Mile, we're truly presented with a holistic archive of Detroit. 
Album review by KCSB's Internal Music Director, Yousef Srour