Vote KCSB-FM in the SB Independent's "Best Of Santa Barbara" 2021 Readers' Poll!
For the first time ever, KCSB-FM prevailed last year in the Santa Barbara Independent's "Best of Santa Barbara" readers survey.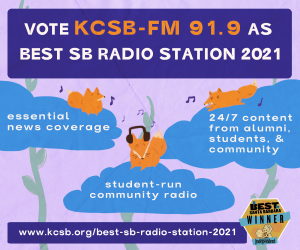 Now in its 34th year, the Independent's "Best of Santa Barbara" contest has become a celebration of local businesses and other parts of our community. Several thousand readers voted and acknowledged KCSB as the "Best SB Radio Station."

Student-run KCSB-FM is the only full-power, noncommercial, freeform, public-access radio station in this region dedicated to the values of independent, grassroots, community-service broadcasting.

You can participate in this year's Santa Barbara Independent readers survey by clicking here: www.independent.com/bestof2021

Since it takes selections in 20 categories for your vote to count, we're again sharing a list of some recent KCSB sponsors you might consider adding to your ballot: www.kcsb.org/thank-you-to-our-fund-drive-2020-business-donors

    Voting runs from August 5th through September 1st.

You will find KCSB-FM in the Media section of the SB Indy's contest. Help us to spread the word as we build even more support this year and defend our title!
________________________________

Here are several reasons to vote for KCSB-FM again in this year's balloting:

• As KCSB enters its 60th anniversary year, our programming excellence continues. KCSB's 24/7 schedule of eclectic, freeform, and noncommercial radio shows features the contributions of a diverse roster of UCSB students and community members from throughout the 805 — and now Gaucho alumni too from around the globe!
________________________________

• KCSB's News Department has gained significant praise for its steady coverage of the coronavirus pandemic and its impact in this region, while growing in other ways too, such as expanding our daily COVID-19 e-newsletter to address all aspects of our community.

Our public-affairs shows likewise share perspectives and stories that reflect the diversity of the TriCounties, from "Inside Isla Vista" to "No Alibis," "Beloved Community Radio" to "Raza World Vision."

Innovations from KCSB News include a virtual town hall meeting this past spring, "A Year in COVID: Medical Racism, Care Disparities, & Health Misinformation," plus a new series, "Unmasking Isla Vista: A COVID-19 Community Archive," which is being co-produced in conjunction with the UCSB Daily Nexus.

________________________________
• KCSB allies itself regularly with other student organizations, UCSB departments, indie businesses, and fellow nonprofit organizations to amplify unheard voices and important causes in our community, from environmental campaigns (e.g., Save the San Marcos Foothills) to social justice initiatives. 
We work to grow the independent media movement through coalition building with the University of California Radio Network (UCRN), the National Federation of Community Broadcasters (NFCB), and the Grassroots Radio Conference (GRC).

We promote cultural events throughout the Central Coast, create public service announcements (PSAs) free of charge, and also prioritize partnerships on the air, such as our audio series of this year's official UCSB Reads selection, When They Call You a Terrorist: A Black Lives Matter Memoir.

In 2021, we released a new KCSB Zine: "Love and Light" in both print and digital formats, a reflection of the artistic and literary creativity of our entire community — and a new zine collaboration with college-radio stations from the UCRN is currently in the works!
________________________________

• KCSB Sports bounced back post-shutdown to air a live FM broadcast of the Big West basketball tournament final, while streaming a number of other games and also maintaining its focus on UCSB Athletics on the weekly "Gaucho Sports Spot."
________________________________

• Our curation of high-quality syndicated programs features the likes of Amy Goodman, Michio Kaku, David Barsamian, Richard Wolff, Reverend Billy and The Stop Shopping Choir, Deutsche Welle, Native Voice One, the Center for Investigative Reporting, the Pacifica Radio Archives, and many other illustrious news organizations and content creators.

________________________________
• Our commitment to provide no-cost training in broadcast fundamentals to volunteers from throughout our community required a complicated pivot to a safe, all-remote curriculum, and KCSB has added a number of new shows this year created by both UCSB undergrads and faculty, and non-Gaucho, SB-area recruits too.
We even set up a virtual "request line" to help you keep in touch with your favorite DJs. And folks also might not be aware that KCSB has archival streaming-on-demand of all our content. (Just click on the program of your choice on KCSB's schedule grid to keep up with your favorite shows: all broadcasts are available for two weeks after their original air date!)
________________________________
• What's more, our series of free KCSB Courtyard Concerts likewise evolved during the pandemic into a program of online performances featuring Dirty Bird (co-presented with KZSC-FM at UC Santa Cruz), Indigo De Souza, and Jasper Lotti (Yullola).
We look forward to a return to normalcy, so that we can bring you more of the emerging artists and cutting-edge events you've come to expect of KCSB over all these years.
________________________________

• During the 2021-2022 school year, we will celebrate our six decades as a premier college and community radio station with further development of an ambitious historic preservation initiative that we're undertaking with the renowned Department of Special Research Collections at the UCSB Library.
We are also planning a big gathering of alumni programmers at the next UCSB All Gaucho Reunion in the spring of 2022!
________________________________

Your support will help us to kick this momentous school year off right. Vote KCSB-FM as "Best SB Radio Station" in the Santa Barbara Independent's "Best Of Santa Barbara" 2021 Reader's Survey!