September's Add of the Month: Bbymutha's Muthaland
KCSB's music department is sitting down each month to write to you about one album added to our music library that left a strong enough impression on them to be crowned Add of the Month. This month, Internal Music Director Yousef Srour goes in depth on Bbymutha's latest album, "Muthaland," released independently.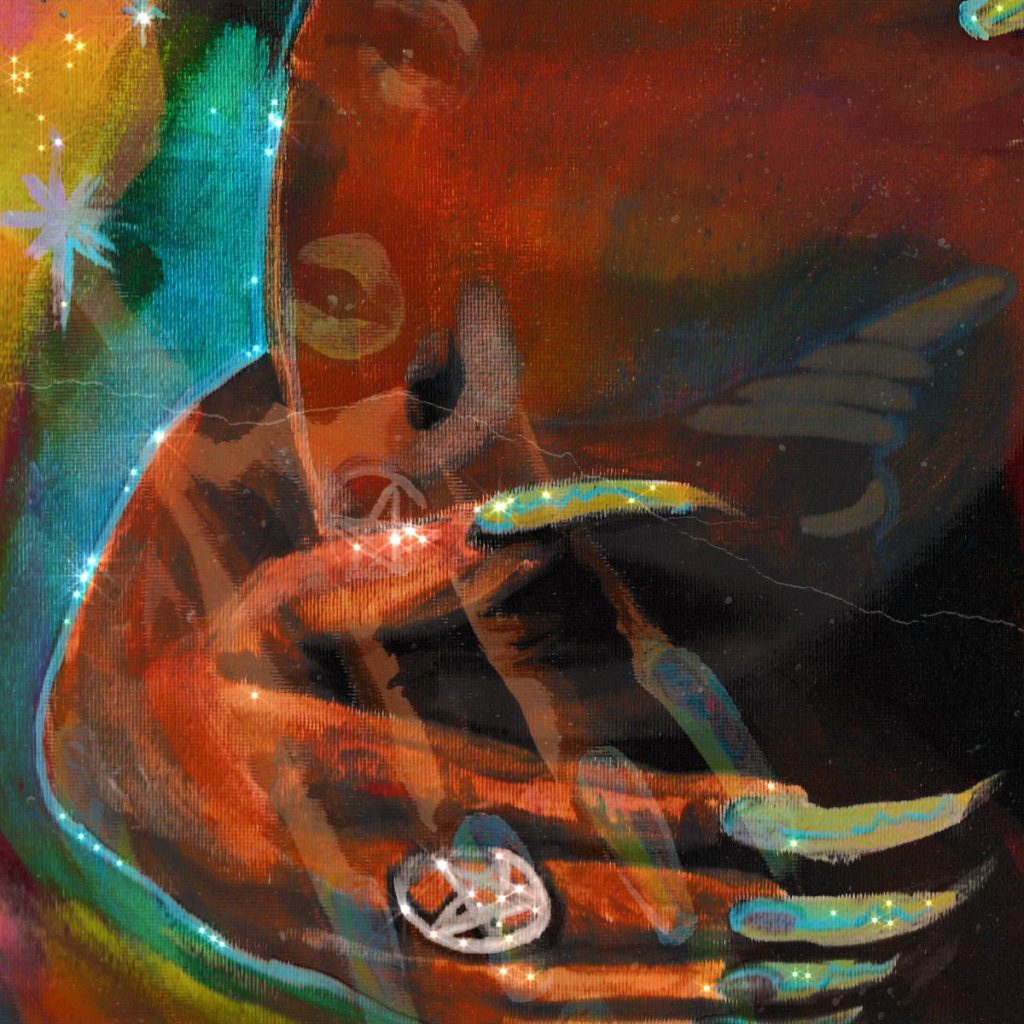 Image courtesy of Bbymutha, 2020
Hailing from Chattanooga, Tennessee, Bbymutha has had a short, yet prolific career. In the past 6 years, she's released 10 projects, only one of which is a full-length album; she followed this album, Muthaland with an announcement of her own retirement, citing the stress of creating an album to be the main reason why she doesn't want to continue. In the future, Britnee Moore plans on continuing with Mutha Magick Apothecary, where she sells hand-packed oils, soaps, and candles to her customers. Despite the fact that she has no plans to continue her musical craft, Muthaland has single-handedly set a new standard for Southern rap music.
The Dirty South has long since been defined by its groundbreaking superstars. The long list of talent that has come out of the South includes (to name a few): OutKast, Lil Wayne, Three 6 Mafia, and most importantly, Gangsta Boo. Their sound has been defined by their gritty beats and their reverberating basslines. These Southern rappers have slurred, legato flows that make their larger-than-life lyrics appear dazed and thoughtful. Gangsta Boo in particular paved the way for female artists to come out of the South because of her ability to deliver neverending, stream-of-consciousness bars about her superiority in the rap game. Her braggadocious energy and unrelenting belief that she's the hottest artist out (not just in the Dirty South) has informed any rapper to succeed her.
Inspired by being called a "baby mama" by one of her ex-boyfriend's girlfriends, Cindyy Kushh transformed into the artist that we now know as Bbymutha. She is, in fact, the mother of four children, but that doesn't change the fact that Bbymutha does whatever she wants, whenever she wants. Her music has been labelled as hypersexual and vulgar, but when you enter Muthaland, it becomes astonishingly clear: Bbymutha couldn't care less what you think of her.
Muthaland is oddly reminiscent of De La Soul's debut album, 3 Feet High & Rising, with its skits scattered throughout the project to transport you into an outlandish game show, hosted by Marcus Zuckerberg, played by Bbymutha's alter-ego, Bootyholisha, and set in the "Spooky Mutha Mansion." This tape's fantasy-esque storyline is charismatic and eccentric, and at 31-years old, Bbymutha raps harder than she ever has before. On her previous works, most recently with Muthaleficent and Muthaz Day 3, the direction has consistently been a mix of semi-industrial, semi-psychedelic beats. But in Muthaland, however, the Tennessee native showcases a more animated version of herself. It feels cartoonish how she incorporates flutes and vibraphones, making the beat feel dreamy and transcendent, most prominently after Bootyholisha enters a dream state in songs such as "11 11" and "Gimme Dat." Bbymutha has perfected this sound which has been popularized by artists such as SahBabii and Young Nudy, whose entire discographies divulge into hypersexual retellings of their encounters with women, narrated over ethereal beats. It is important to note that her male counterparts have received little-to-no pushback for the content of their songs, while Bbymutha's lyrics, on the other hand, are constantly mulled over and questioned for being too provocative, when in fact, they prove to be empowering and create a space for new female artists of the same caliber to start their own careers.
Listening to Muthaland, it's impossible to not be entranced by Bbymutha and the world she creates so seamlessly. The setting of the game show is clear and vivid, to the point where you can easily picture the Luigi's Mansion-inspired backdrop, accompanied by woozy beats and cutting bass drum kicks that remind you of how your controller would vibrate whenever you'd come in contact with an enemy. The album is nostalgic, but it's much more catered to her adult audience that enjoys reveling in sex and drugs; it's the musical equivalent of taking psychedelics and watching animated cartoons from your childhood. Bbymutha doesn't care if this isn't your cup of tea–you don't have to agree with her lifestyle, you can call her whatever slur you want, but you're going to have to sit back and listen as she reclaims any and all slander that she comes face-to-face with.  
2020 has been the year of female rap. WAP has become a pop-culture phenomenon, Noname has outrapped J. Cole, and the line, "Flo Milli shit," has been stuck in my head since July. Bbymutha is no exception–in fact, I would say that Bbymutha has shattered the glass ceiling for new-age female rappers in the South. Her flow is wildly entertaining, as if you can't wait to see what her next sentence unravels, and her beat selection is simultaneously clean & refined, as well as raw & uncut. There's a certain duality to Bbymutha's music, where you'd like to think that it can be appreciated by the provocateurs and the innocent, the sober and the inebriated, and the old heads and the new generation. Bbymutha pushes lyrical boundaries as an artist, and as a new fan, I'm hoping that her retirement is short-lived.
Album review by KCSB's Internal Music Director, Yousef Srour