April's Add of the Month: PUNK GOES DRILL +** HOSTED BY SHOKURADIO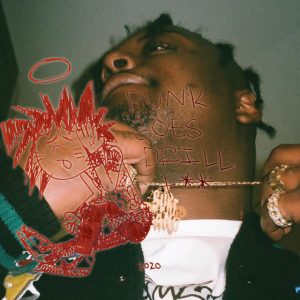 No one does "sample drill" better than New Yorkers. From Shawny Binladen to Pop Smoke, these new-age drill artists have been reworking popular culture's biggest radio hits into grimey, bass-heavy tracks about running drills (i.e., hitting a lick, using your tool, etc). Of all the newcomers, the Surf Gang collective stands out like none other. There are 12 of them. Some of them producers, some of them rappers, some of them alternate between the two. The group dates back to 2018, but each of their discographies are vast enough to where you would assume that they've been rapping together since at least 2014, alongside Bobby Shmurda and Rowdy Rebel.
In terms of their flow, the crew blends Brooklyn drill with trap music; POLO PERKS <3 <3 <3 has that deep voice that demands attention, drawing inspiration from smoking cookie packs and aiming semi-automatics at any opp he comes across. Their content is laced with percocets, the ruffle of a money counter, and more than anything, loyalty. Collective is too loose of a word for Surf Gang; they're family. The majority of their production comes from in-house producers – most notably: Evil giane, Tommytohotty, GonerProd, and Harrison. They're pioneers in changing the sound of drill music. Their work has received backlash for being gimmicky, but what better way to evoke nostalgia than using songs like "Paparazzi" by Lady Gaga and "Goodbye Horses" by Q Lazzarus? Just like recording over an old VHS tape, Surf Gang reconstructs classic songs so that you can listen to new rap anthems with that same fuzziness that keeps those samples in your memory.
With eleven songs, totalling at about twenty minutes in run-time, Punk Goes Drill is nonchalant. Polo Perks (stylized as POLO PERKS <3 <3 <3) hails from the Bronx and has been making genre-bending music for over ten years now, so he's a bit blasé to maximalism. His voice is subdued and drowsy. The first song, "Everlong (evil giane)" begins with "Said that she loves my voice/Said I sing her favorite song." He's moved past rapping for attention and impressing his peers. This is common for Surf Gang artists, with artists like Babyxsosa having songs that have blown up on Tik Tok. But even so, Polo Perks commandeers trap music to make it interesting in an area where drill music has completely taken over. He raps languidly with a comforting benevolence. Think Lotso from Toy Story 3, but less sinister and more nihilistic. Polo Perks named the mixtape Punk Goes Drill because his music is inherently punk. It's twisted and self-serving, drugged-out and sinful, all the while being recorded over suppressed Y2K samples with heavy-footed bass drum kicks and oddly-patterned hi-hats.
Songs like "Mr.Brightside (Tommytohotty)" and "snowpatrol (GonerProd)" are exemplar in showcasing two of the different functions of sample drill. Where "Mr.Brightside" is buoyant and brushes off its shoulders over the instrumental of The Killer's 2003 song of the same name, "snowpatrol" is reflective and meditative in its flip on Snow Patrol's 2006 hit, "Chasing Cars." This brief juxtaposition illustrates the versatility of the subgenre, and more importantly, its broad expressiveness. You can scream Polo Perks' lyrics to "Mr.Brightside" in the same way that you can sing along to the original. He's mildly boastful, but pensive nonetheless. "Bitch, I feel alone/I'm on my G-lone." A reference to the popular streetwear brand, VLONE, he feels the part. Sure, he's got a little bit of money in his pockets from doing underground shows and being a full-time artist, but he reminisces with a solemn eye. Polo Perks finds beauty in the madness, melodically singing about drills and a nameless victim that "got hit with a hundred shots." He's "made it out the mud," he's proud of how far he's come over the years, and he has every right to be. "snowpatrol" touches on similar themes of loneliness and struggling with his mental health. He opens the track with "I'm outside with them demons," but his voice becomes more and more triumphant as the song goes on. There's a moment of light in the song when Polo Perks breathes, "They used to talk down a lot, now they say they proud of me." He doesn't care about "how you feel" because he's self-made, and he only cares about his friends who have been pushing him since the start. "snowpatrol" is his personal rehabilitation – insight into a beautiful mind that knows hurt all too well. The same way that Snow Patrol croons on "Chasing Cars," he maneuvers a sober reality with resilience. 
Even though the majority of the songs on Punk Goes Drill hover around two minutes, Polo Perks paints a heavy-hearted self-portrait through radio hits from his childhood. By doing so, he becomes a forerunner of sample drill and shines a brilliant light onto Surf Gang and their ability to boast excellence through whatever ostentatious drum kits and synthesizers that they can. POLO PERKS <3 <3 <3 is the bridge between mainstream music, cloud rap, drill, and everything in-between.