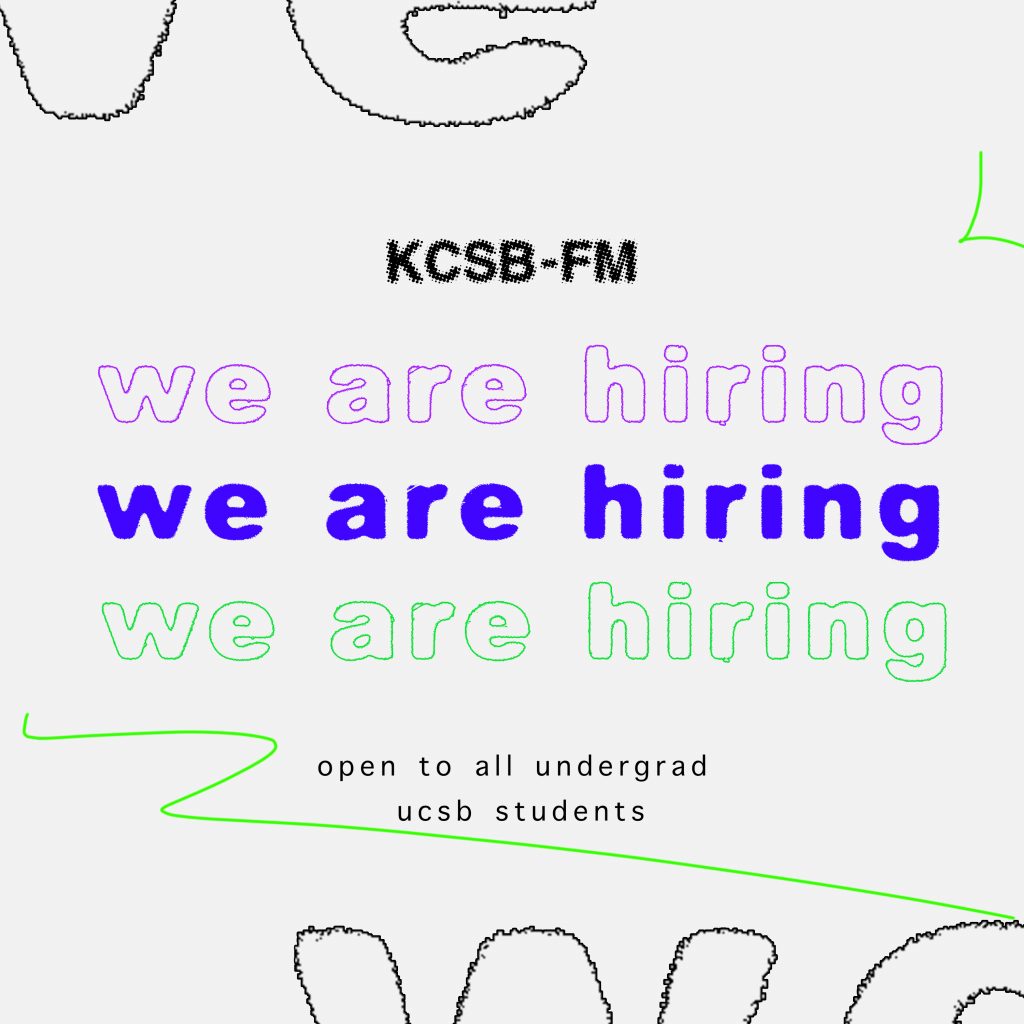 KCSB-FM 91.9, the community radio station located on the UCSB campus, is hiring student staff for our 2019-20 Executive Committee. There are currently 16 paid student leadership positions open for applications. KCSB is managed by a student-led Executive Committee, comprised of 17 positions which divide the numerous responsibilities required to run a full-powered, 100+ volunteer-based radio station. Most notably, ExComm members work independently and collectively on outreach, event coordination, news and sports journalism, program scheduling, music servicing and cataloging, and training.
KCSB is the first-ever UC radio station and has been broadcasting for over 57 years. We pride ourselves on being one of the premier, independent, people-powered, community-access radio stations in the country. Follow KCSB-FM on  Facebook, Instagram, Twitter, and YouTube channel.
Go to KCSB's Handshake Profile (or click the links below for each respective position). You are definitely welcome to apply for multiple positions.

Apply! Make sure you answer all the required questions on a separate document to be attached to your application. A resume is optional.

Prepare! The interview process will begin shortly after. We greatly encourage all applicants to CONTACT the person who is currently in the position that you are applying for. You can find out each person's email here. 
The application period closes on Monday, April 27th at 5pm. 
POSITIONS
PROGRAMMING
The Program Director is responsible for creating the KCSB's quarterly program schedule and ensuring program quality with the help of the Program Mediation and Review Committee (PMRC). The Program Director convenes and leads this PMRC committee, reviews KCSB Programs, handles show substitutions, and notifies the GM of programmer violations when they occur.
They are also on call 24/7 to fill in for programmers in the event they do not arrive to host their show (at times with the support of the General Manager, Assistant Program Director, and select career staff).
NOTE: The KCSB Program Director will join the hiring committee to interview all other candidates for KCSB's Executive Committee immediately upon notification of appointment.
The Assistant Program Director mentors the new KCSB staff after they've completed the KJUC training. They work with the Program Director in managing and tracking substitutes and also tracks errors in the station's logs. The Assistant Program Director is a member of the Program Mediation and Review Committee (PMRC) and aids the Program Director in preparations for quarterly PMRC scheduling meetings.
The KJUC Manager leads the operation of KCSB's "KJUC-AM" training station. They work to raise community awareness about the station by encouraging students and community members to apply for individual programs on KJUC, to become members of our News and Sports departments, or to volunteer otherwise behind the scenes. Subsequently, the KJUC manager works closely with KJUCers to guide them through KCSB's broadcasting expectations and to prepare them for their own FM programs.
The KJUC Program Director is responsible for being familiar with the shows on the KJUC schedule and for giving weekly feedback to KJUCers about their shows. The KJUC PD is also a member of KCSB's Program Mediation and Review Committee (PMRC) and advises in the process of adding shows to the FM schedule
MUSIC
The Internal and External Music Directors (MDs) are responsible for maintaining KCSB's music library and ensuring it is constantly stocked with new music that aligns with our mission statement. The MDs review the music that is sent to the station and are responsible for corresponding with music industry representatives, labels, and artists to solicit music for the station, and to track the music that has been sent.
Note: The Internal Music Director is a member of KCSB's Program Mediation and Review Committee (PMRC).
The KCSB Music Librarian is in charge of maintaining and improving systems for organizing, cataloging, and digitizing KCSB's music. This includes inputting the entire physical collection of CDs and vinyl into databases that people can easily access and navigate for locating physical releases and also digital playback.
The Librarian will work closely with both Music Directors. A crucial part of this job involves recruiting and training volunteers to assist with library maintenance and reorganization projects.
PROMOTIONS
The Publications Coordinator designs, produces, and manages distribution of KCSB publications including flyers, ads, swag, and most importantly, KCSB's quarterly printed schedule. A penchant for art/graphic design is a must. Experience with Photoshop and or other digital design programs is useful.
The Promotions Director coordinates station promotion opportunities such as ticket giveaways, interviews, and tabling at events. As a result, they correspond regularly with local venues, promoters, artists, and others to set up these opportunities.
The Promotions Director also maintains a calendar of community events. The Promotions Director works closely with the Production Coordinator to ensure PSAs are made for events the station sponsors or otherwise promotes. The Promotions Director also works with the A.S. Assistant Director for Independent Media and KCSB Advisor on the annual fund drive and other projects to raise the radio station's visibility.
Under the guidance of the KCSB Advisor, the Digital Media Coordinator is responsible for regularly updating the KCSB website, e-newsletter, and other social media platforms. The DMC is responsible for producing and curating content that creates interest in the site and in the station, including photography, videography, and social media posts.
The KCSB Business Coordinator provides support to A.S.'s Assistant Director for Independent Media, the KCSB Advisor, and General Manager in all fundraising activity, which includes assisting in the year-round preparations leading up to and following the annual KCSB-FM fund drive.
PRODUCTION
KCSB's Assistant Engineer assists the KCSB Chief Engineer in the technical operations of the station. They help check that equipment is in working order, helps maintain this equipment, and installs new equipment when necessary. The Assistant Engineer also assists the Chief Engineer with engineering live in-studio performances and coordinating / conduction of the sound mixing at KCSB-FM events.
KCSB-FM's Production Coordinator is responsible for creating and maintaining the station's Public Service Announcements (PSAs) and other prerecorded audio. They work closely with the Promotions Director to ensure PSAs are made for upcoming "KCSB Presents…" and other local events. They also conduct regular production trainings for programmers and assist in live sound mixing. Much of the work for this position is done using Audacity and DadPro software.
NEWS
In collaboration with the News and Public Affairs Director, the Internal and External News Directors are responsible for producing the daily KCSB newscast. This includes researching, coordinating and writing news stories, and producing stories and periodic special broadcasts on topics that have been lacking in coverage locally or at KCSB.
KCSB-FM's News Department is also responsible for coverage of elections at the national, state, local and University levels. Other duties involve training and managing news interns and volunteer reporters as well as coordinating outreach to the community. Areas of coverage will be prioritized on a quarterly basis by the News Department.
Note: The Internal News director participates in the Program Mediation and Review Committee (PMRC).
SPORTS
The KCSB Sports Director is responsible for training KCSB sports volunteers in sports journalism and broadcasting. This includes training reporters in the art of non-commercial, alternative sports broadcasting for both the "sports spot" and special live sports events.
The Sports director works to strengthen and to expand KCSB Sports Department and to offer sports programming to the campus and wider SB community that is otherwise unavailable from commercial outlets.
ARCHIVES
Researches and guides the efforts to establish an organized archive of KCSB programming from our current library of historic materials, including digital and physical archiving of our audio and print collections.