KCSB's own DJ Steely Friedan had the immense pleasure of hosting Los Angeles based band Guppy on his show Welcome to Xanadu where they shared some of their favorite music and tour van song choices. Guppy's tour kicks off in Los Angeles on September 25th; check out some interview highlights and Guppy's playlist picks below!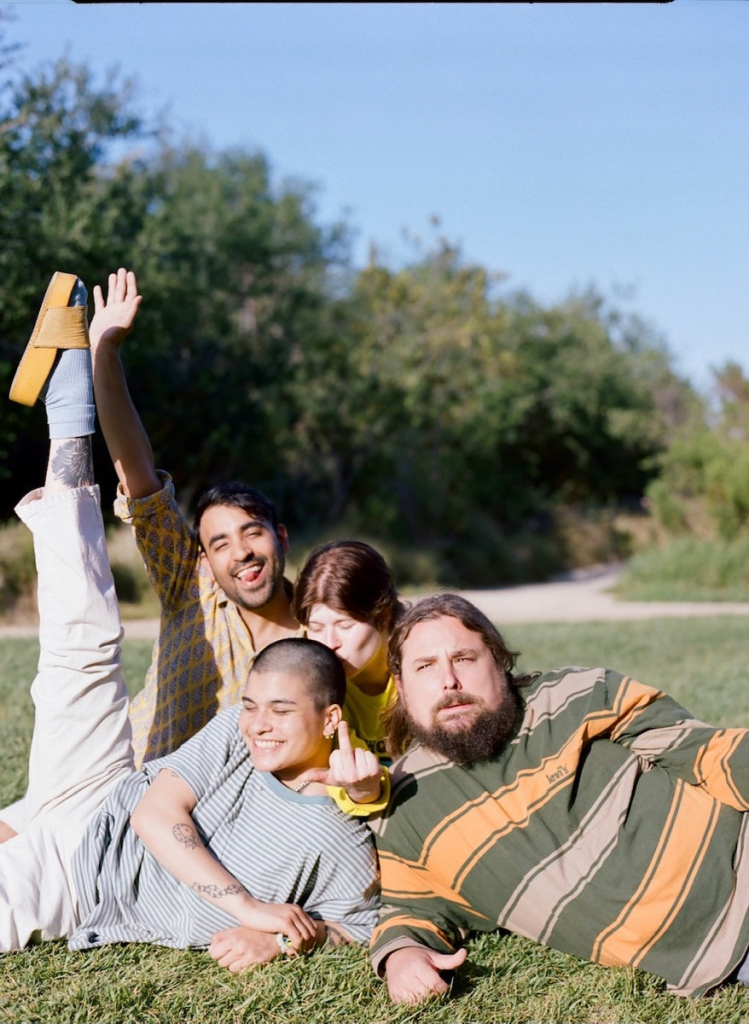 ---
DJ SF: Welcome back to Xanadu everybody. It is a thrill and an honor to have Guppy back here in our vaunted halls once again. Before we get into your set here, I want to ask, what is going on in Guppy World? I know last time we talked you were getting ready to do the 2022 fall tour with Illuminati Hotties. I know there have been singles that have come out since then. What is the state of Guppy? 
J: Great question. I'm here to update you. We went on a brief little jaunt in the spring. We played Boston and New York, which were great shows. Definitely want to get back out there as soon as we can. We will be going back on tour again with Chris Farren at the end of September through October. We're hitting some west coast cities: San Francisco, Portland, Los Angeles, Denver, Minneapolis. 
We also released Burrito in January and I'm In The Band in April, and have something coming out soon. I can't announce the exact date yet, but it'll be in the next month so keep an eye out. Allegedly. 
DJ SF: So we don't have a Xanadu exclusive, but we do have a Xanadu hint. Keep your eyes peeled towards the horizon, there is stuff coming! Let's get into your playlist picks. 
---
J's 1st pick: water baby by June Swoon 
J: June Swoon is a band we've played with live. They're a great LA local act. Their front person, Julie, is super sweet. I've always enjoyed being on a shared bill with her. I saw them play this song live in February, at a show that we played with them. I believe it was a Valentine's Day show. I had chills. It's a really great song and it just came out. 
J's 2nd pick: Many Times by Dijon 
J: I wish I knew more about [Many Times] as a track, but I just heard it recently and really liked it. Great song with some southern twang in it, which I love because I'm from Georgia. I love any song that has a little bit of a country sound but turns it on its head. 
Ian: [There's a] great combination of electronic and country and R&B with those drums that are super choppy. 
DJ SF: It honestly fits really well with Guppy; you guys have a bit of that twang in your music as well. It's interesting to see that that's something Jay would pick up on with this pick here. Any other thoughts here? 
Marc: Dijon is great, super groovy stuff. Has definitely made appearances on multiple Guppy tour playlists, so I'm not shocked to see it come across on this DJ set. 
DJ SF: When it comes to the Guppy tour playlists, has the peace been maintained? Is this something that might have been a source of conflict perhaps? I see some eyes that are dancing around and looking away…
Kabir: I feel like at this point we have a pretty good system. Usually we make a playlist for every tour, they all have different names, and we're basically like "add whatever song you want." The playlists end up being like 500 songs and we'll just shuffle it. If we have a really long drive though, we'll each pick an album to listen to all the way through. The driver can usually veto songs… But I would say we have a good system going, we respect the vibes, and we can usually agree if a song is just not what we're trying to listen to right now. 
---
Ian's 1st pick:  Paper Thin Walls by Modest Mouse 
Ian: Modest Mouse is probably the only album I've been listening to this year. I get very fixated on albums. I don't remember what tour we were on, but that was one of my album picks from that tour. The reason I chose it today though is because I have been binging the OC, and seasons 1 and 2 are so incredible. It has some of the most incredible needle drops. There was an entire episode that was just Modest Mouse. So it's been really sticking with me. 
DJ SF: I haven't watched that much of it, but that show was definitely formative for me in terms of the soundtrack. That's how I learned about Of Montreal and (…) some [other] really cool bands. 
Ian's 2nd pick: Fatalist Palmistry by WHY? 
Ian: Fatalist Palmistry is my more random pick. It's been coming up in my playlists a lot… It's a band I haven't listened to since I was on Tumblr, and only recently did I get into this album, Alopecia. This song just keeps coming up for me. There is something simultaneously very romantic and very devastating [about it]. It's a song I like to listen to when I'm driving through the mountains, under an open sky, where it feels like there's a lot of danger but at the same time a lot of openness. It's just a very nice listen. 
---
Marc's 1st pick: We Can Get Down by A Tribe Called Quest
Marc: Tribe Called Quest and Midnight Marauders in general is like a top 10 and comfort album for me. Recently, I'm back on the East Coast in New York so I've been listening to it a ton. A mentor/coach of mine who introduced me to Tribe Called Quest recently passed away so I've been super deep on this album lately. It's one of those songs that will pick me out of any low. It's been on constant repeat in my house as of late. 
DJ SF: We love Tribe here on Xanadu. 
Marc's 2nd pick: Share the moon by Indigo Girls
Marc: I've been back on an Indigo Girls kick recently and I've actually started learning [Share the Moon] because it's a very bass heavy song. Super harmony heavy [as well]. It's also very stripped down, which obviously as a songwriter, I love. It's one of those songs that really warms your heart, you know? 
---
Kabir's 1st pick: Bite Me by Pacing 
Kabir's 2nd pick: Taking Care of Business by Jolee Gordon 
Kabir: Jolee Gordon is an artist that I recently found. My partner Nicole sent me a song of hers and I think she's been doing stuff in DIY bands for a long time. I think her music has a really cool combination of sweetness and sincerity and complex musical stuff. She was a vocal major and the whole album is really down to earth but progressive and interesting. 
---
DJ SF: Do you guys want to plug anything else? I know you're playing LA on September 25th at El Cid. Any upcoming music, etc? 
J: Keep an eye on the horizon, early September, new Guppy track… 
Kabir: We go places we've never gone before. 
DJ SF: We will tease that in the future. Thank you so much for coming! 
Guppy's new single Texting and Driving was released on September 7th. Check out their instagram @guppytheband to stay updated on all things Guppy World!
Tour dates w/ Chris Farren:
09/25: El Cid – Los Angeles
09/27: Bottom of The Hill – San Francisco
09/29: Mississippi Studios – Portland
09/30: The Vera Project – Seattle
10/02: Kilby Court – Salt Lake City