An Interview With Elliott Fullam
KCSB's External Music Director, Bella Genolio, got the chance to interview Elliott Fullam about his new album, End of Ways. Read on to learn about Fullam's creative process, inspiration, and future plans.
Trigger Warning: Mental, Physical, and Sexual Abuse 
Bella Genolio: Can you introduce yourself with your name, pronouns and your album?
Elliott Fullam: Hello, my name is Elliott Fullam, my pronouns are he/him, and my brand new album is called End of Ways.
BG: Your album came out at the start of this month, but I'm sure there was a lot of build up to get there. Can you talk a bit about the process of creating and releasing this album?
EF: Oh, man, it was definitely a process. We set up a studio time before I had all my songs ready and done. I think I had a month or two to write all those songs and get ready, and I didn't really start writing full on until it was getting closer and closer. So a lot of those songs were actually me writing at like two or three am in my living room while my parents and girlfriend were sleeping. A lot of it was just literally being up at like three or four AM, drinking some coffee or having a little cookie or something just to keep myself up and awake. Many times writing that album was like, "Oh my God, I feel like I'm about to fall asleep." And then I'm like, "No, you got to stay up!" Then I'd end up making a song that would be on the album. And of course, we went to the studio. Some of the songs we just kept as demos and other songs we used in the studio because I like to get a little bit of variety. The last album, my first album, What's Wrong was actually full on, all recorded at home. But now I'm on a label and we had a budget, so we were able to go to the studio. We got to use real strings. My friend Jeremy Bennett did a lot of piano on this album, which is absolutely incredible. It was definitely a unique, cool experience.
BG: I can't believe you whipped that up so quickly. A month is not a long time, especially if you push it to the end.
EF: Yeah, I mean, one of the songs I already had written and that's the track "Timeless Tears." I wrote that song before I even released my first album. I just felt like that song didn't really fit the vibe of the first album and I felt that the real strings would kind of make it feel more alive. But we still used the old school recordings with my old vocals and my old guitar playing from way back then.
BG: You've shown a lot of growth in this new release, End of Ways; throughout the album the lyrics have a lot of raw emotion. Can you speak on some of the main themes of the album and what inspired your lyrics and overall sound?
EF: I'm just gonna say a little trigger warning before I go on to the main theme of everything. My girlfriend, she went through all forms of abuse. She went through mental, physical, and sexual abuse. It was horrifying. This was before I met her, before I was talking to her. My dad and I drove down to get her out of this abusive home at three AM, picked her up, went to the police. We did all the proper things and it worked out. Now she's home, she's here with me, safe, sound, healing, which is very, very important. But she's obviously feeling much better now. She's doing her own art, spreading her wings and potentially doing music with me one day. She's been much happier and it's such a beautiful thing. Most of this album is about going through all that and just the unimaginable pain that Josie, my girlfriend, went through. This album is dedicated to her. She's on the cover. The very last song of the album, because I wanted it to end in a good way because that's how it did in real life, is a love song dedicated to Josie.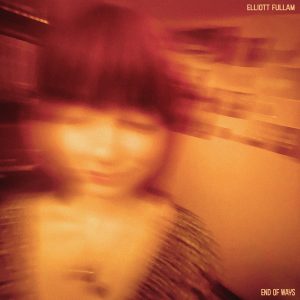 BG: It's so empowering that you can write an album about such a heavy topic and still come away with so much hope and love at the end of it.
EF: Yes, I mean, in life, that's something I always strive for. To always have hope during the negative things. Always try to make it out in the end and have a happy ending. Thankfully that was what happened with Josie, she got out of there. She was strong. She was brave. And somehow even going through everything she went through, she's still an all around beautiful soul. Very good energy, very positive person. That's something I really wanted to get the effect of on this album. This album is basically Josie. 
BG: That's really amazing. On the album itself, do you have a favorite track? And what makes it your favorite?
EF: I'm gonna say I have two, but it's not a tie. The one that I feel overtakes the other one is "Over the Moon," which is the love song for Josie. It's the first full on love song I've ever had. A lot of the songs I've been making in the past were about wanting love and trying to find love and being alone. Now this song is, like you said, it's a lot of growth, because now it's me finding love, and finding that good positive energy. Honestly, it's one of my favorite vocal melodies and one of my favorite songs in general. The ending is very, very cool. Jeremy's piano playing, sprinkled almost like a little candle throughout the song is very wonderful. But then the other song that is very, very close is "Throw It Away." A lot of this album is about me trying to help Josie, but that song in particular is about Josie helping me. She gave me life, she saved me. And honestly, that song also has another deeper personal meaning. It just was one of those songs that kind of just came about when I was writing the bulk of the melodies, it just snapped right in. The chords snapped just like that. And I was in this very room, this is actually my parents bedroom. Sitting right here is where I made "Throw It Away."
BG: On this album, besides your voice, the guitar is the star instrument. How long have you been playing guitar? And do you have any artists that inspired your style of songwriting?
EF: Oh, man, I've been playing guitar seriously full on since sixth grade. I am now 18 years old, I've graduated from high school. So it's been a decent amount of time, maybe around six years. I have a few favorite artists when it comes to guitar playing and inspiring me to play guitar. Elliott Smith is always up there, I was named after him, but I also simply really love his music. Nick Drake is a huge one for me when it comes to that classical fingerpicking type of style of guitar. And I actually give a lot of credit to my dad as well, he also was a guitarist for a hardcore band, which is very, very different. But he knew how to do that classical fingerpicking type of style and he taught me how to do that when I was younger. So he's definitely an inspiration for me as well.
BG: You can totally hear those influences on this album. You're on Kill Rock Stars, which is an amazing indie label that's produced albums for artists like Elliott Smith, Bikini Kill, Sleater-Kinney. How did you feel getting approached by and eventually signing to such an iconic label?
EF: Oh, it was a dream come true. Before I even released my first album, I was telling my dad, it'd be an absolute dream if I could be on an awesome indie label like Kill Rock Stars. That was the main one I had in mind. Because, like you said, they have that discography, Bikini Kill, Elliott Smith, so many others, and they just seem like a very artist friendly label. And that's what they are, they are fully artist friendly, they let me fulfill whatever vision I have. So it was honestly a dream come true. It was kind of funny, because when "What's Wrong" was blowing up, I was getting pushed by a lot of major labels, but not any indie labels. So I was like "What's going on? I want to be on an indie label, I'm surprised I'm not getting contacted by a label like Kill Rock Stars." But we still found a way. We contacted my music lawyer, Richard Grable, who is also a very incredible, very cool person and he was also Elliott Smith's lawyer for music. He had that connection to Kill Rock Stars and he helped us get into a Zoom call with Slim Moon, who's the owner. Honestly, it was just such a perfect fit, Slim Moon seemed like just such an honest, cool, kind, down to earth person. And that's exactly the type of person I would want to be working with.
BG: From a non-artist standpoint, it seems very daunting to approach a label that has some of your favorite artists on but it's very cool that they're down to earth and let you do whatever you want artistically.
EF: I feel like that is very, very important, especially for artists right now, to be able to create without restriction. It's just such a beautiful thing. In general, not just right now, for all time, artists should be able to do their art wherever they want, whenever they feel like it, because art can strike at any moment. It could strike right after this interview, I can make the best song I ever wrote in my life. So to Kill Rock Stars, I owe a lot of credit and I have a lot of love for them. 
BG: Speaking of art, you have a lot of content on YouTube, Tiktok, and Instagram. A big part of that content is interviews. I'd love to hear about how you got into interviewing so young, and generally about how you decide what content to produce.
EF: You know, it was actually kind of funny, because when I was younger, I started doing interviews when I was like eight or nine years old. That all kind of started because I was just a fan of YouTube when I was a young kid. I was watching all the Minecraft YouTubers, and Call of Duty clips and I was like, wow, this is really cool, I want to make content. I want to bring joy to people. My parents sell their art at horror conventions and we would meet all these awesome art, artists, celebrities, bands, all these incredible, beautiful people. And my parents were like, "I mean, we're meeting all these awesome people. Why don't you do interviews?" So I was like, "Sure, let's do it!" It kind of just all started from one of our friends Ben Wyman. He's the guitarist for the Dillinger Escape Plan and he's also toured with Suicidal Tendencies. He was one of the very first interviews I ever did. It helped me grow my resume to the point where I interviewed James Hetfield from Metallica, Drea de Matteo from the Sopranos, Gaten Matarazzo from Stranger Things, Ice-T, so many very wonderful, talented people. I will forever be grateful.
BG: Do you have a favorite interview you did?
EF: I would say my favorite interview of all time has to be James Hetfield from Metallica. I mean, that is my most popular interview. I loved it because I was, especially at that time, such a huge Metallica fan. He was at MetLife Stadium, which was insane. We got to see the show afterwards, which was insane. And, it was on Mother's Day as well. My mom's a metalhead as well and she loves Metallica, so it was kind of a bit of a Mother's Day present in a way. I was also just very excited to meet James Hetfield and he was such a cool dude to me.
BG: Many of the interviews you've done have been with metal artists, do you have any desire to shift towards a more metal sound down the line?
EF: Honestly, I feel like indie music is the main thing that inspires me to make music. If I ever shifted into any sort of way, or maybe did a different type of side project or something, it would probably be post punk, or grunge, maybe some sort of alternative, a little bit more rock. But I think for a while, I'm definitely going to be sticking to the more indie, slow core, acoustic vibes for sure.
BG: Aside from music, you've also been in a couple of TV shows as well as Terrifier 2. Can you tell me a bit about how you got this role and what your experience was like being in the film?
EF: A while back, in sixth grade, also when I started playing guitar – sixth grade was a very great year for me. I started acting and I got into a talent agency. I was doing auditions and auditions and auditions, booking small roles, maybe a commercial or flashback scene on a TV show. Little stuff like, "Oh, hi, like I'm over here!" for one scene. Then eventually, my dad looked at a website called Actors Access, which is basically a website that just has a bunch of auditions for movies that are looking for actors and actresses. It's got mainly independent films, and we saw Terrifier 2 on there. We were already huge fans of the first movie, because we're horror fans so we were like, "Oh my god Terrifier 2! We loved the first movie!" So we submitted an audition, literally just of my face. That was the first thing we gave, just pictures of my face. Then they were like, "Oh, this is exactly what we're envisioning for Jonathan. We're gonna have you do a self tape audition." A self tape audition is where we record ourselves, and we send it in. So I did a self tape audition. Then the next one was an in-person callback audition with the director, Damien, and Lauren, who plays my sister Sienna. That was a very nerve wracking experience for me, but I felt so confident after that audition. When we walked out, outside my dad and I hugged, we were like, "Oh, my God, we might have gotten that role. Maybe I got that role."
We didn't hear back for weeks. It was like, wait, what? I thought I did incredible. But then randomly, I got another self tape audition for Terrifier 2 just of me screaming, they wanted to scream test it, which was pretty fun. Then we did one final audition, the very last one. It was an in-person callback audition with the producers. That was super duper nerve wracking. Definitely one of the most nervous experiences in my entire life. We got there early, we were outside in the car, I was rehearsing the lines, and the producer's house was right over there. I was like, "Oh my gosh, I have like 20 minutes left." It was an overwhelmingly nerve wracking experience. But I ended up doing an incredible job in the audition, and I got the role. It definitely is a process, acting, doing auditions is a whole other beast of its own. That's why I have so much respect for any successful actors, actresses. It's just like, you go through a lot to get some of these roles. But it's beautiful. It's for art, you know? That's why people do it. So that's why I do it.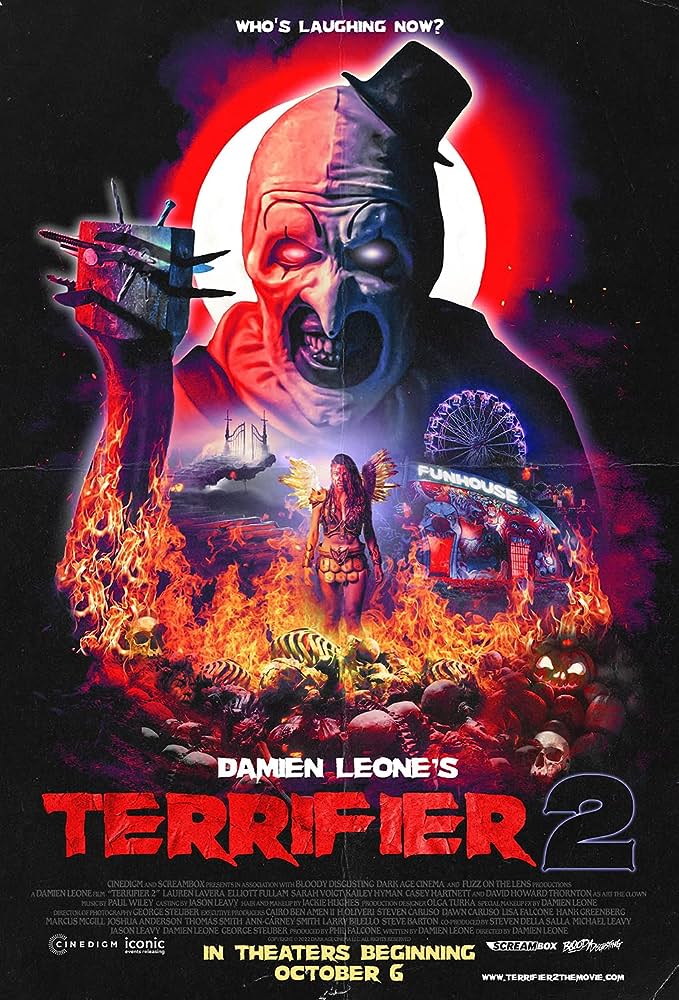 BG: You've released your second album and starred in Terrifier 2, you're only 18 years old, but you've already accomplished so much. Do you have any plans for any future artistic endeavors?
EF: Oh, man. Honestly, the way I've been living my life is I've been trying to just go with the flow, whatever is inspiring me the most at the moment. The good thing with music is that I can do it whenever I want. I can do it after this interview, I can do it tonight at 2am, I could do it tomorrow, whenever I want. With acting, I do not have any control over that. I don't have control over when I can audition, I don't have control over whether I get a role. The only control I have is if I do a good performance for an audition. With that mindset, I've just kind of been going with the flow. Doing Tik Toks whenever I feel like it, whenever I get the motivation to do them. But if anything, it would be an absolute dream if I was ever able to make a movie, to get on the other side and maybe direct something, that would be an absolute dream. It would also be a dream to just make music and just work on art for the rest of my life. That is my vision and my number one goal, just to enjoy life, bring joy to others through art, and just be able to do that for the rest of my life.
BG: Before we end this interview, do you have anything else you'd like to say regarding the album or anything else?
Oh, man. Well, I would like to say thank you to everyone that has already listened to my album. Thank you for all the support. Anybody that has supported the album, anyone that supported the movie Terrifier 2, anyone that supported Josie just simply supporting her through everything that she's gone through. I love you. We appreciate you. And if you haven't heard the album, it's called End of Ways. My artist name is Elliott Fullam, just my name, and if you're a fan of Alex G, Elliott Smith, Duster, Big Thief, Mazzy Star, Crumb, Loving, on and on, I really think you might enjoy this new album.