A Year-End Message from KCSB-FM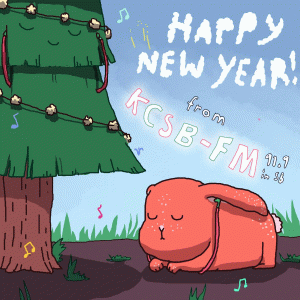 (click image for gif <3)
Hello Radio Friends,
Our world has changed radically since the close of our 2020 Fund Drive nine months ago. Terms like "unprecedented" and "essential work" have become fixtures in our everyday conversations, and "pivoting" is now a regular part of our workday as we've adapted to meet the challenges of remote broadcasting. We've been incredibly resilient in response to the pandemic, and kept focus on KCSB-FM's mission to educate, provide a platform for underrepresented artists and voices, and have fun!
That might be why KCSB was voted "Santa Barbara's Best Radio Station" in October's SB Indy Reader's Poll, marking the first time ever KCSB has been chosen for such an honor! But then, there are many achievements to be proud of this year:
– KCSB News developed a daily and weekly COVID-19 Updates newsletter to help inform our Isla Vista community (and beyond) about case rates, resources and events;
– We've innovated our operations to include expanded automation, making it possible for many producers to contribute pre-recorded content for broadcast;
– We continue to broadcast original content produced by students, community DJs and now, KCSB alumni.
– Our digital music library is growing, and our KCSB archives project has entered a new phase in collaboration with the UCSB Special Research Collections.
We couldn't do it without YOU. That's why we'd like to send you a hearty THANK YOU for supporting KCSB-FM with your listenership and donations this year. Your contributions have made it possible for us to have a greater impact as a student-led college and community media organization.
We hope you'll join us again in February 2021 for what we're calling our "quiet" one-week fund drive that will be focused on building up our community. Save the dates February 17 – 24, 2021 and follow our website kcsb.org and social media to stay up to date with the latest.
We are so happy to count you as part of our KCSB community. Thank you for tuning in and supporting Santa Barbara's Best Radio Station of 2020!
Sincerely,
The KCSB Executive Committee
Emma M * Zeena * Kevin * Yusef * Sabrina * Aidan * Finnegan * Yousef * Ashley * Aubrey * Diana * Maddy * Emma G * Erika * Sherry * Ashton * Alfred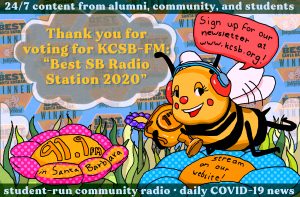 If you'd like to give a donation to KCSB, consider visiting our Network For Good page and becoming a member of our radio community. (Note: Your donation is tax deductible to the extent allowed by law.)