Something's Happening in CDMX
Words by Marion Suchowiecky, edited by Ava Kuredjian
KCSBfm's External Music Director, Marion Suchowiecky, sits down to reflect on her Thanksgiving weekend, a knee-deep delve into Mexico City's music scene. This article is a dispatch and scene report from CDMX, from the point of view of a former resident, and chilanga at heart. Read on for her thoughts on both the troubled and booming aspects of this capital city. 
It is Wednesday, November 23rd 2022, and I am flying into Mexico City for a family event. It is already dark as the plane starts its descent, allowing me to see the millions of lights that illuminate the city. I haven't been here since last December, but not too long ago, I called this place home. The magic of Mexico City comes from an unstable collection of social and economic factors- it is densely populated (8.5 million!), greatly divided between the rich and the poor, and often an unsafe place. However, there's another side to Mexico City. It is a beautiful and dynamic city, absolutely brimming with art and creativity, always reinventing itself, and constantly teetering between political and artistic revolution. This weekend, I made some time between family events to see my oldest friend, Isabelle, and explore the city with her.
Isabelle and I met in fourth grade and immediately bonded over our love of reading, music, and art. In the twelve years since I have moved, we have remained faithfully in touch, flying out to see each other whenever we could. Each time we meet again it's as if no time has passed. Today, she studies art at E.N.P.E.G (Escuela Nacional de Pintura, Escultura, y Grabado), also known as "La Esmeralda," where artists like Frida Kahlo, Diego Rivera, and Francisco Zúñiga have been professors. She also has her own stick & poke tattoo studio (@mango.ttt on Instagram) on the side. I asked her to take me to some record stores in CDMX's trendiest neighborhood, La Roma, on Saturday November 26th so I could find some records for KCSBfm's music library. She picked me up and we drove to an incredible Udon restaurant called Fideo Gordo where we both ordered birria ramen (it was even more amazing than it sounds!) and we caught up. After lunch, we walked around La Roma and stopped by two record stores, first stopping by Venas Rotas Discos. The owner sits outside, having a smoke and laughing with friends as we walk in. The first thing I notice is that this store is tiny compared to the Los Angeles and Santa Barbara record stores I'm used to. The second thing I notice is that the curation at this record store is outstanding. 
Right away I find a few records that seem interesting: 707 by Umoja (a synthy, funk duo from the Netherlands), Vida Espinosa by Ricky Espinosa (a fast-paced, classic sounding punk album released in 2018 in Buenos Aires), and Interferencias Vol. 2: Spanish Synth Wave 1980-1989 (a compilation by various artists showcasing a genre I didn't even know existed). 
The next record store we visited was called Georgetown Records. This record store was even smaller, and it showcased lots of deep cuts on its walls. 
My absolute favorite album I found here was called Wild Echizen by The Fuzziyama Surfers, super traditional-sounding surf rock from Japan (with an unbelievably sick cover)!
After a successful record hunting trip Isa and I head back to her apartment. On our way there, we start talking about the city and its burgeoning art/music scene. It feels imperative to emphasize that Mexico City is complex- complex in the way New York City was in the 1970s. There is extreme, gut wrenching poverty present throughout the city- it is not uncommon to see mothers carrying their babies through traffic and selling packs of gum to people stuck in their cars for a $5-10 MXN (that's about .50 American cents). There's relentless violence (both domestic, and drug-related)- women disappear every single day, people turn up dead in garbage dumps, and you hear of muggings in parks, restaurants, and even cars occupied by people. The grand majority of these crimes are not investigated due to the corruption present in the police force and in the government at large. Mexico City is also a city that has been crippled by earthquakes time and time again (notably in 1985 and 2017). Yet, CDMX is and has historically been a city of intellectuals: it is the city that Leon Trotsky fled to after being exiled from Russia, where he found refuge in Diego Rivera and Frida Kahlo's Casa Azul, it is a stop on the "Beat Trail," featured in books by Jack Kerouac and William S. Burroughs– a city that has always been on the intellectual map. With all these complexities comes resistance and resilience. The people of this city have shown their ability to band together in times of catastrophe, they have marched and protested for years- shutting down the formidable Reforma street time and time again, demanding to be taken seriously by those in power.
Because I grew up in Mexico City, I have never forgotten all of the negative, often terrifying, aspects of the city. However, as a lover of art, music, food, and culture in general, it has also become undeniable that something special is happening here, something that can only happen in cities which possess this sense of complexity and duality. The amalgam of its complexities and hardships has evidently resulted in a breeding ground for artistic, musical, and gastronomic innovation. 
The duality of this city is perfectly encapsulated by its hippest neighborhood- La Roma. When you walk down a couple blocks in La Roma you'll see some of the best restaurants in the country, and in the world. You'll see perfectly curated boutique shops selling unique pieces of clothing, home decor, art, music and books. You'll see American and international expats, speaking and laughing in their native languages with friends, cigarettes in hand, drinking cups of coffee, or "chelas" (beers). You'll see beautiful 19th century French-inspired buildings, sometimes perfectly preserved, and other times in deplorable conditions due to an earthquake. You'll see taco and esquite stands and folks selling helium balloons for children. But you'll also walk on streets riddled with cracks, you'll almost run into a downed telephone line, and you'll see quite a few houseless people sleeping on the street. And, if you stick around in Mexico City long enough, you're bound to hear of people getting mugged in the patios of even the nicest of restaurants. That's life here, even the hippest and most interesting parts of the city are marked by poverty, governmental negligence, and violence. 
I am not a sociologist, so I cannot say with certainty what it is about these conditions that foments the incredible artistic developments that have occurred in Mexico City. But, I have heard it said that in 1970s New York, it was the low rents, resulting from deplorable conditions in the City, which drew flocks of young artists to settle down there. A similar thing occurred in San Francisco's Haight Street, and in the canyons of Los Angeles in the 60s. Going even further back, Paris became a safe haven for The Lost Generation in the 20s, partly because the rent there was considered cheap for Americans and other expatriots. I am not the only one who sees this same phenomenon occurring in Mexico City- the city has recently been repeatedly called "the next Paris", "the next Berlin", or even "the next New York" by popular media. With all that being said, let me tell you about the current music scene in Mexico City. 
After lunch and record hunting, Isabelle invites me to her friend Marco's gig at a bar called Barezzito in Polanco. Marco is the lead guitar player in a band called Chakrúnah, and has recently launched another project called Gis, which also performed that night at Barezzito. Chakrúnah describes their sound as being influenced by reggae, pop, disco, and latin rhythms. The band is composed of lead guitarist Marco González, drummer Lalo Maya, bassist Yayo Villegas, and rhythm guitarist, Rol Alatorre. They are fronted by Kelly Pérez, who has an incredibly charismatic stage presence and an astoundingly versatile voice. While we waited for the band to play, we all sat at a table and talked over drinks. There were many other musicians present who were not a part of the band, but who were linked to the members of Chakrúnah through other projects. There was a general sense of excitement and anticipation, but not just about Chakrúnah's performance- it seemed like all the musicians who attended and sat around our table felt like they were part of something bigger, something important. 
Chakrúnah's performance was spectacular. Their sound is explosive, groovy, and full of texture. Each member of the band is perfectly locked in with their instrument, and it is clear that the band is bound together by an incredible chemistry. There were several acts before Chakrúnah, all of which seemed dull and uncoordinated when contrasted with the band. The bar exploded with energy when Chakrúnah took the stage- people danced and cheered, filling the entire venue with noise. Throughout the performance, I told myself to try to remember every detail about what was happening around me, because someday, people are going to want to know what it was like to be here.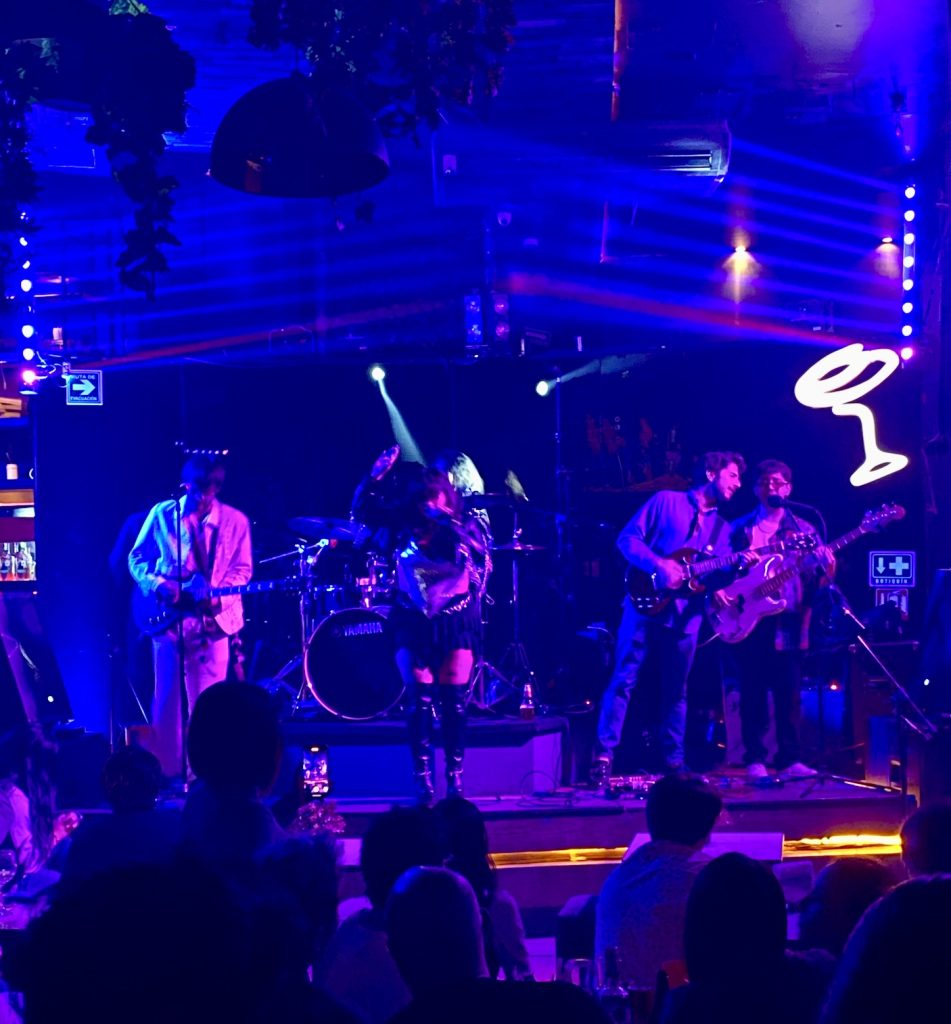 After the performance, I chatted with Marielle Muniga, Marco's girlfriend and close friend of Isabelle's. I told her what I was seeing and feeling about the city, about the sense that something important was about to happen there. She told me about an experience she had this past summer in Paris. Marielle said she had idealized and romanticized Paris all her life, it was her dream to leave Mexico City behind and live there. So, this past summer she visited her friend in Paris, and, to her surprise, living in Paris made her appreciate Mexico City and realize how lucky she is to be living there right now. I share this sentiment with Marielle. While it is true that cities like Paris, New York, Los Angeles, and San Francisco have historically been the great hubs of art and culture, and even though it is still true that they are presently hugely important cultural centers, the art and music scene in Mexico City is different. It is expanding and innovating every second, it is developing now, and it will produce something that nobody has ever seen before. As I sit down to write this, I also realize how lucky I am to have grown up in and to have an ongoing connection with this great city. The scene there is raw, explosive, and on the verge of coming into its own as something truly special. So keep your eyes fixed on CDMX, you might bear witness to something great.