Music Department's Top Albums of 2022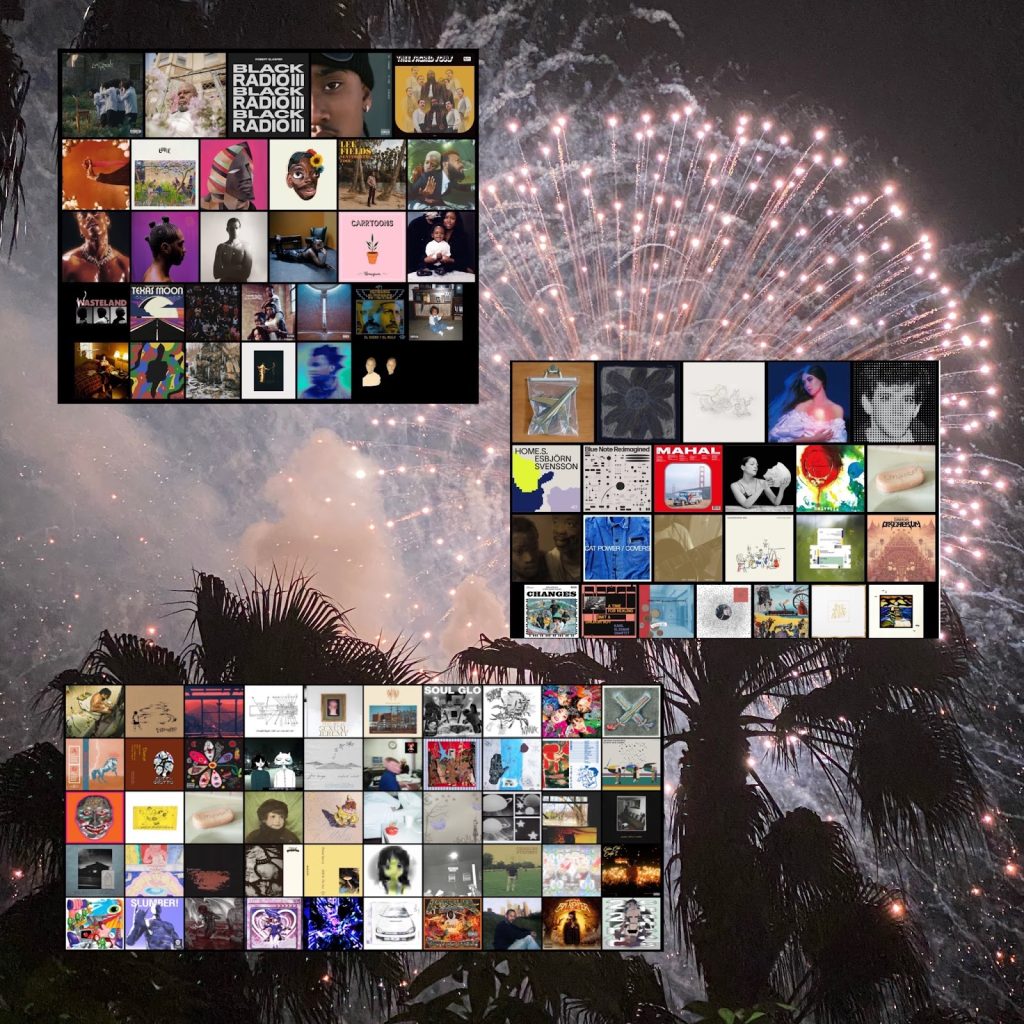 Words by:
 Jack McKinnon (Int. Music Director), 
Justin Africawala (Music Librarian), 
& Marion Suchowiecky (Ext. Music Director)
As 2022 has wrapped up, and 2023 has begun, KCSB's music department has reflected upon their favorite releases of the year, and compiled them all, along with some thoughts, for you to check out! If you want to listen to these tunes while you read, here's a playlist that includes one favorite track from each album mentioned in the blog! Happy New Year <3 
Jack's Picks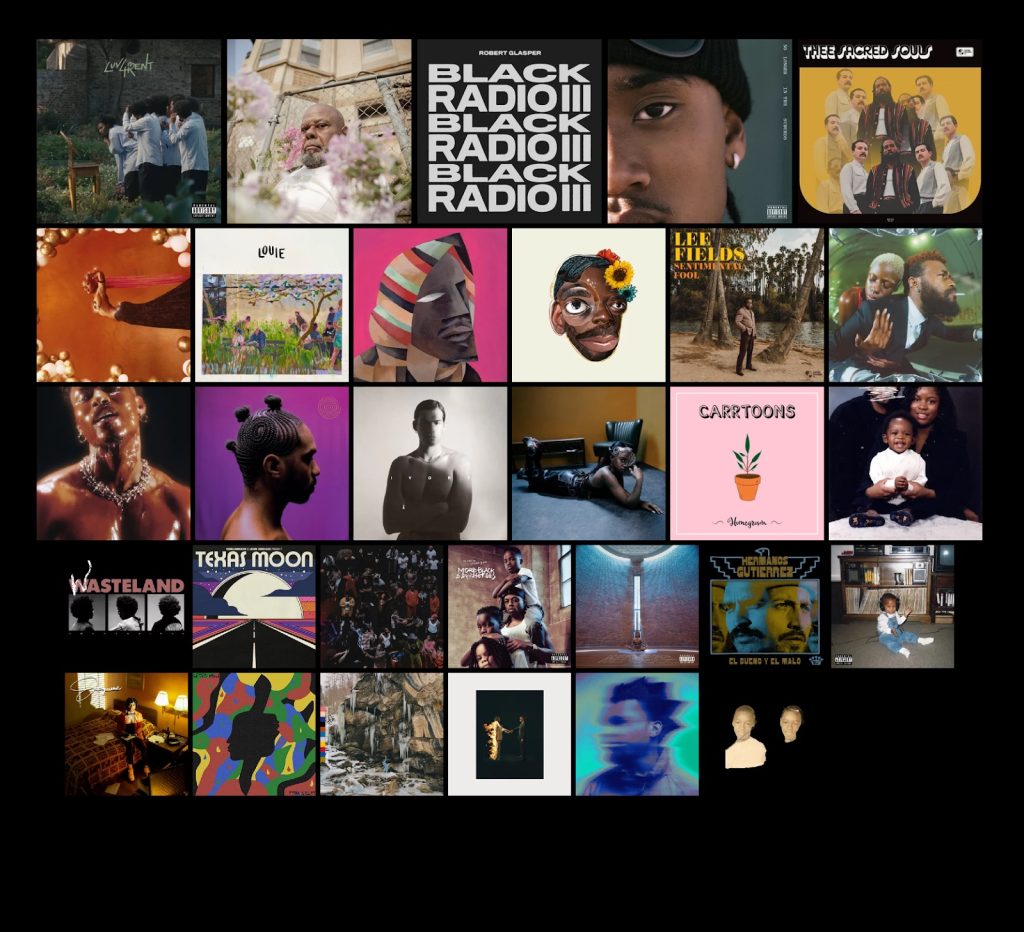 In some crazy sequence of events, 2022 has somehow already come to an end. As with every year, the one constant that gets me through the year is music, and this past year has left us with a plethora of amazing albums. 'Twas a beautiful year of music.
Although there were many other great singles and other projects in 2022, we focused on what we believe to be the best albums. As this list will clearly show, I am definitely someone who listens to a lot of R&B and hip-hop/rap, so although this may not be all genre encapsulating, that's what we have the other two music department heads' lists for. This list of albums is a culmination of music that got me through the highs, the lows, and all the in-betweens of what was a very eventful 2022. Some of them I listened to while I was alone with my thoughts and the stars in the sky, some when I was having fun with friends, and some purely just to appreciate an artist I know and love. I hope these songs make you feel as many different emotions that I felt/feel listening to them and even more. I love each of these artists and groups so much in their own different ways. I've been waiting years for some of these albums, and I've even discovered some of the artists on this list in just this past year, so I was truly blessed with all these new and known voices.
Once again I hope you enjoy, take the time to listen to these incredibly talented people, and maybe even create some new memories with all of these wonderful collections of sounds that make up what we call music. The first five albums are very arguably my top 5 (ranking music being one of the hardest things to do for me), and the rest are in no particular order, but are all still amazing albums that you should definitely give a listen. 
Enjoy, and happy new year!!
1. Luv 4 Rent by Smino
This album falls under the category I mentioned before of artists that I have been waiting years for to release new music, and man were we treated well with this album. Although I knew before this album was released I was gonna love it (purely based on my love of this artist), it definitely still surprised me in a multitude of great ways. One thing I love about Smino and what is evident especially in this album is his constant mix of genres. Although he will usually be labeled as hip-hop/rap, he is so much more than that, and that shines through in this album, with its sound spanning from neo-soul, to gospel, to rap, to modern R&B, and everything in between all of that. Because of those gospel undertones, along with many other factors, this album definitely places you on cloud 9, literally and figuratively. The production throughout is done beautifully, featuring some of my favorite producers, and constantly elevating you to another plane. It is hard to describe this feeling so you definitely have to give the album a listen to really experience it yourself.
☆ "Modennaminute"
2. Few Good Things
by Saba
Yet another highly anticipated project for me, Saba produced such a beautifully done album once again. As with his first album, Care for Me, Saba does a great job of actually being vulnerable and expressing his emotions and thoughts through song. This is something that I respect so much about him and it is evident on any track of his that you hear. In his words, "at the beginning of making this record, I was beginning to realize how big of a hold fears actually had on me. With big decisions to make, I was never sure if I was doing the right thing…" And this quote is something that he inscribed on inserts in every vinyl he sends out. He and the rest of his Chicago music group Pivot Gang always work together on the production of their albums and this one is definitely special. It definitely got me through some hard times in this past year so it is and will always be pretty meaningful to me.
☆ "Soldier"
3. Black Radio III
by Robert Glasper
Here is an album by an artist that I semi-knew but knew that I wanted to get more into. This album is just beautiful. Robert Glasper is a producer and Jazz pianist who never fails to produce a groovy track that is so pleasant to listen to. When I first took a look at this track list I was in disbelief of the talent he was able to gather as features. He was able to get more modern artists such as BJ the Chicago Kid, H.E.R., and Yebba all on the album, while also enlisting legends like Common, Musiq Soulchild, and Q-Tip. The pure talent on this album is unmatched, and it does an amazing job of blending new and old R&B, which I always love because it really is a bonding experience for people across generations, all because of music.
☆ "Everybody Love"
4. No Longer in the Suburbs
by Dylan Sinclair
Dylan Sinclair is a newer, rising R&B artist who I am very excited to follow as his career develops more and more. Being from Toronto, he was fortunate enough to catch the attention and work with a Toronto-based producer that has been grammy nominated, and has even worked with the likes of huge names in R&B such as Daniel Caeser, Mariah Carey, and Chris Brown. If that doesn't show you he has potential I don't know what does. He has an incredible voice that I was drawn to immediately, and once again he is another artist where you can really hear the emotion in his voice when singing. This album and his music in general consists mostly of slower ballads and songs that cater to that traditional R&B style of showcasing vocal control (such as crazy runs) and range, which I will always love.
☆ "Open"
5. Thee Sacred Souls
by Thee Sacred Souls
Right off the bat, I just love this album. It is so easy to listen to, and is just such an uplifting album. With the usual theme of love in mind, Thee Sacred Souls make music reminiscent of 60s and 70s soul and R&B, but with a slightly more modern twist. Once again they state it best, "hints of Chicano, Philly, Chicago, Memphis, and even Panama soul turn up here, and while it's tempting to toss around labels like "retro" with a deliberately analog collection like this, there's also something distinctly modern about the band that defies easy categorization." This album is great to throw on at the beach, with the one(s) you love, while doing school work, or even just on a random sunny day. It is an album you won't want to skip out on, and brings some of those throwback R&B/soul vibes back to light in such a refreshing way.
☆ "Lady Love"
6. Natural Brown Prom Queen
by Sudan Archives
☆ "Ciara"
7. Louie
by Kenny Beats
☆ "Still"
8. Simple
by IDK
☆ "Zaza Tree"
9. Please Have a Seat
by Nnamdi
☆ "I Don't Wanna Be Famous"
10. Sentimental Fool
by Lee Fields
☆ "Sentimental Fool"
11. Chrome Bull
by Duckwrth
☆ "Ce Soir"
12. Candydrip
by Lucky Daye
☆ "Used to Be"
13. V O R T E X
by Terence Etc.
☆ "In Contemplation of Clair's Scent"
14. Ivory
by Omar Apollo
☆ "Personally"
15. Bad Influence
by Ojerime
☆ "All I Do"
16. Homegrown
by CARRTOONS
☆ "Read My Lips"
17. Almetha's Son
by SwaVay
☆ MONEY CAN'T EASE YOUR PAIN"
18. Wasteland
by Brent Faiyaz
☆ "JACKIE BROWN"
19. Texas Moon
by Khruangbin & Leon Bridges
☆ "B-Side"
20. The Forever Story
by JID
☆ "Lauder Too"
21. More Black Superheroes
by WESTSIDE BOOGIE
☆ "NONCHALANT"
22. As Above, So Below
by Sampa the Great
☆ "Shadows"
23. El Bueno Y El Malo
by Hermanos Gutiérrez
☆ "Los Chicos Tristes"
24. Herbert
by Ab-Soul
☆ "ART OF SEDUCTION"
25. Sincerely For You
by Jacquees
☆ "Start Over"
26. Let It Rain EP
by Leven Kali
☆ "EVERYTHING I WANT"
27. Pigments
by Dawn Richard and Spencer Zahn
☆ "Coral"
28. Heroes & Villains
by Metro Boomin
☆ "Feel the Fiyaaaah"
29. Melt My Eyez See Your Future
by Denzel Curry
☆ "The Last"
30. Ramona Park Broke My Heart
by Vince Staples
☆ "AYE! (FREE THE HOMIES)"
Justin's Picks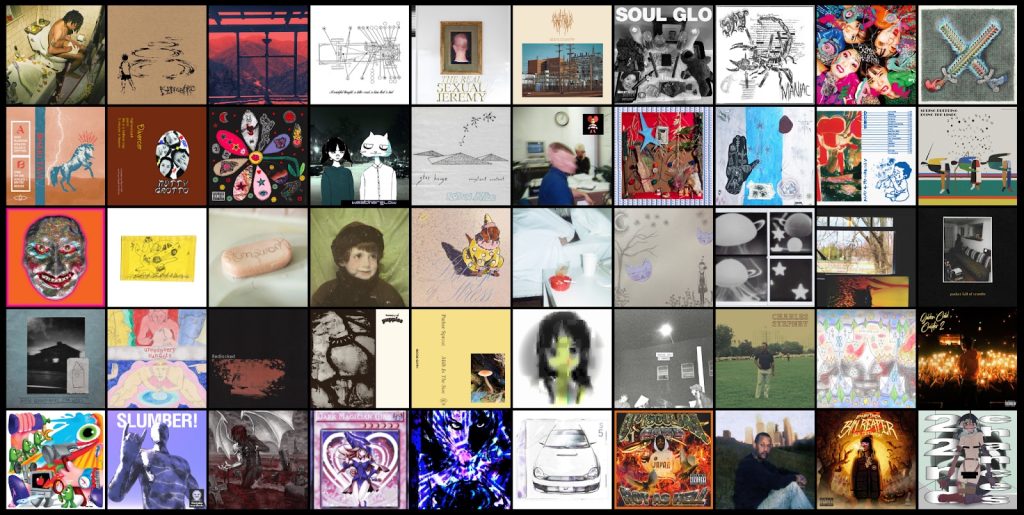 2022 was an incredibly formative year for me when it comes to my relationship with music. It's crazy to look back on it now, but before I got involved with KCSB I almost never openly spoke or wrote about the music I enjoyed. My taste in music has mostly been shaped by different crevices on the internet over the years (plus the Jet Set Radio Future soundtrack), and online music culture always struck me as pretentious and unfulfilling to be a part of. Then I started actually meeting people who are passionate about music and not massive nerds about it and it broke me out of my shell. Crazy what going outside can do for someone. 
Other than that 2022 was sometimes good, sometimes bad. I met some cool people, went to some shows, and made like four different recipes.  
This list isn't ranked outside of the top five but is somewhat organized by genre. Here's how I'd categorize them: 
 6-11: punk/emo/hardcore
12-25: post-somethingsomething guitar music
26-37: slow music and ambient 
38-41: fugazi
42-50: in their spawn with a chopper gunner
1. A Shout To See +
vs self
split by Knumears 
Knumears and vs self are two of my favorite active California bands, based in Upland and Apple Valley, respectively. Knumears' sound is a throwback to the sound of 90s second wave emo – a cross somewhere between Saetia and Calm – while vs self calls back to the twinkly-er "emo-revival" period of the early 2010s. Give them a listen, and if you like what you hear make sure to look out for them at a garage near you.
2. V@st0@L0rd333
by Hi-C 
Unique, creative, inspirational, fun, Online™, rare. Hi-C's sound scratches an itch in a way that I find hard to put into words. The best way I could describe that satisfaction is as a mix between spiking someone with the second hit of Donkey Kong's down-B, and repeatedly smacking Dogen with a PSI-Punch on the training course level in Psychonauts. 
3. Super Champon
by Otoboke Beaver
Some more bombastic, overstimulating music, this time in the form of mathy, hardcore punk songs that often barely span a minute long. Otoboke Beaver sounds a thousand times more pissed off on this album compared to ITEKOMA HITS, their 2019 album which originally put them on the radar of Western music dilettantes (myself included). I'm a huge fan of this shift to a more abrasive tone. 
4. Golden Child, Chapter 2
by Autumn!
2022 was the year Autumn! truly blew up, and it was well deserved for one of the main pioneers of pluggnb. I really love Autumn's candidness on this EP. His personal reflections on humble beginnings, self-doubt, betrayal, and appreciation for his family are arguably cliché, but to me are a breath of fresh air in an era of one-dimensional alpha male rap and whatever other corny reactions to "mumble rap" tend to serve as the inverse. Shoutout also to the producers on this EP: XanGang, Goyxrd, and 30nickk. Especially whoever made the beat for "Jay N Bey!"
5. Lucky Styles
by They Are Gutting a Body of Water
TAGABOW is the best shoegaze band in the world. They're also the best nightcore-rock band, the best drumandbassplunderphonics-core band, and the best jangle pop band, all in one. Love, love, love this album and the fact that TAGABOW wear their incredibly eclectic influences on their sleeve. 
6. A wishful thought, a letter read, a kiss that's lost
by whats yours is mine 
☆ "I knew I wanted to be alive"
7. Pomona & Catalyst
by Catalyst
☆ "12.28"
8. The Real Sexual Jeremy
by Sexual Jeremy
☆ "Diamonds"
9. God's Country
by Chat Pile 
☆ "Why"
10. Diaspora Problems
by Soul Glo  
11. Split
– Manic/SPY
12. Flaming Swords
by Fievel is Glauque
☆ "Boîte à Serpents"
13. Cadastral Maps
by Tin Ear
☆ Fling Straw Man
14. Shaki Tavi – Shaki Tavi
☆ Believe in Everything
15. nutty groto
by divorcer
16. Nineteen in Love
by Hotline TNT
17. Weatherglow
by Weatherday & Asian Glow 
18. Star House: Constant Contact
by Rotten Apple
☆ "Sun Chaser"
19. PUSHPIN
&
PROOFS (OF THE TRICKS WE PLAYED)
by MENU
☆ "SORCERY"
20. Зачекай ще трохи
by plaaaato
21. Pray 4 Tomorrow
by Dumb
22. Doing the Limbo
by Spring Breeding 
23. Plastic
by Oog Bogo
24. Mowing the Leaves Instead of Piling 'em Up
by Wednesday
☆ "Sacrifice (For Love) [Greg Sage]"
25. Stumpwork
by Dry Cleaning
26. Summoning & Florida
by Deadharrie 
☆ "Tower" & "Jubilee"
27. Let Go of Stress
by Petite Garçon
☆ "No Going Back"
28. Together
by Duster
☆ "Familiar Fields"
29. cats in the cold
by mage tears
30. Anti-Resonance
by Bug Bus Piano
31. Roach Friends
by Melaina Kol
☆ "Nx"
32. Pocket Full of Crumbs
by Pocket Full of Crumbs
☆ "Comfy Couch"
33. Home Doesn't Have Four Walls
by Poorly Drawn House
☆ "Night Hawks"
34. Relaxed and Confessed
by Unrecovery & sundots
35. Bedlocked
by Bedlocked
36. Mitt stora nu
by Treasury of Puppies
37. Milk in the Sun
by Parker Sprout
☆ "Peace and Love"
38. Living Document
by memory card 
☆ "Want2"
39.  Songs
by Monde UFO
40. Step on Step
by Charles Stepney
41. Printed On The Soul
by Cage World
☆ "Not Pilled"
42. Town Topic
by Snõõper
43. The Kaizo Manifesto
by Kaizo Slumber
☆ "The Carbon Menace"
44. Cyber Trance
by #ff85f7
45. LoranaMzee
by Bacleo
46. s5
by 5ubaruu & saves
47. Charge It To The Game
by WifiGawd 
☆ "Da Spot"
48. One Day You'll See Me Again (1997​-​2009)
by Viper
49. Bin Reaper 3: Old Testament
by Babytron
☆ "8th Wonder of the World" 
50. 22nd Chances
by Marjorie W.C. Sinclair
Marion's Picks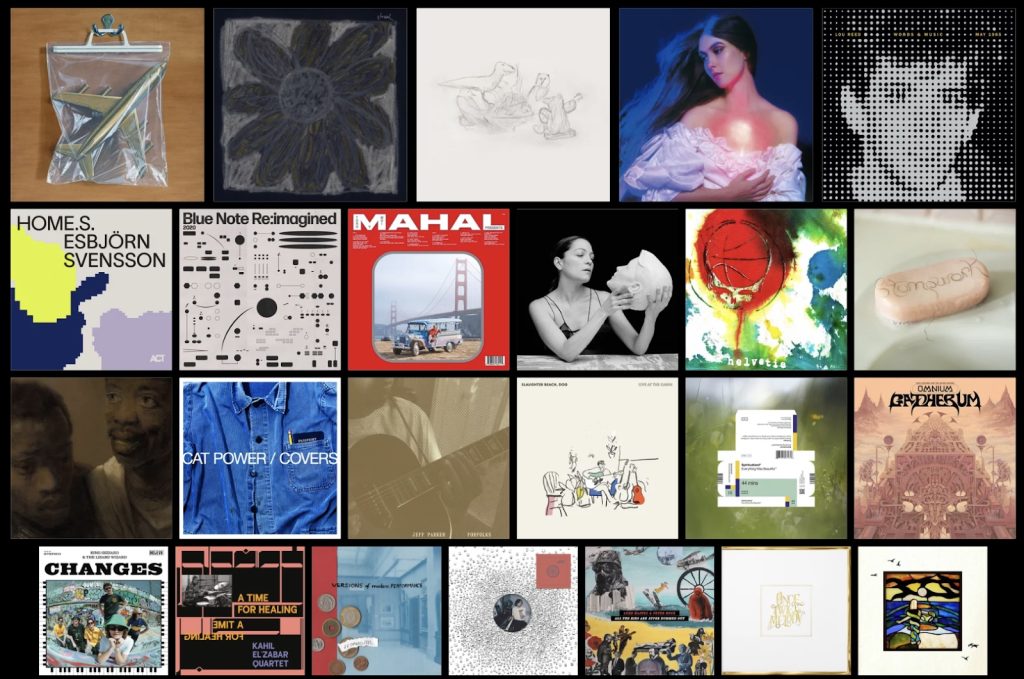 For me, 2022 has been synonymous with growth and forcing myself out of my comfort zone. The year as a whole has felt like one big leap of faith- and as always, music has been right by my side through it all. 
I started the year off with some difficult personal decisions, which ultimately led me to being the happiest I've ever been, and I blasted tracks from BC, NR's Ants From Up There in the process. In the spring, I turned 21 and sang karaoke with my family, I danced regularly with my friends, and relished in every laughter-filled adventure I stumbled upon. Big Thief's Dragon New Warm Mountain I Believe in You provided a soundtrack for these great times. In the summer, I traversed Northern and Central Italy on my own, and listened intently to Lou Reed's Words And Music throughout train rides and walks in strange cities. When fall came around, I was ready to come home to Isla Vista, and Florist's self-titled album kept me company as I packed up my childhood bedroom, moved myself into a new place, and settled back into the rhythm of life in our little beach town. In the last few months of the year, I've found myself feeling reflective (as one does) and Weyes Blood's on-point observations have made me feel less alone in this endeavor. 
Maybe some of these albums will resonate with you too, maybe they'll provide a soundtrack to the memories you will make in 2023, or maybe they have already accompanied you through some special moments. Either way, I hope you enjoy reading some of my thoughts on them. The first five are the albums I listened to the most out of this year's releases. The rest are ranked in no particular order, and they are all equally deserving of some love <3 
1. Ants From Up There
by Black Country, New Road 
What hasn't been said about this one? Though it is unfortunately the last album from this group, this has to be my favorite album released thus far by BC, NR. The lyrics are poignant, painful, often self-referential, and full of nuance. I particularly love the incorporation of a wide range of instruments- clarinets, saxophones, banjos, and even violins. Every single musician in this band knows exactly how to stay in the pocket, which means that the quick and complex riffs in songs like "Chaos Space Marine" are executed perfectly, while in songs like "Concorde," the band can hang loosely to match the mood of the lyrics. It makes me sad to listen to this album because I know there won't be more from BC, NR, but I am so thankful that they left us with an album that will undoubtedly withstand the test of time. 
☆ "Chaos Space Marine"
2. Florist
by Florist 
Florist's self-titled 2022 release is innovating on the genre of soft acoustic folk music. There are so many sounds embedded through this project, and I don't just mean synthesizers- there's the sound of water falling, floorboards creaking, voices mumbling, the sound of an unlocked snare in a room, and of crickets chirping. Each of these sounds, which we usually take for granted in day to day life, gives a greater degree of texture to the work as a whole. It makes the album feel deeply personal, yet approachable. This is a long album, but I highly recommend sitting down and really experiencing it one sitting, it truly feels like a window into another world.  
☆ "Red Bird Pt. 2 (Morning)" 
3. Dragon New Warm Mountain I Believe in You
by Big Thief
Another long and folky album, another masterpiece. Big Thief dominated the indie-rock scene with this 2022 release, and for good reason. Adrienne Lenker's vocals, with their country-twang, deliver the endearing lyrics with a charm that is hard to pin down but easy to feel. This album was conceived in Upstate New York, Topanga Canyon, and the Rocky Mountains. I grew up minutes away from Topanga Canyon, and I can definitely feel the canyon's spirit embedded in these tracks. It is a sprawling collection of songs, but somehow they come together in a magical and purpose laden way. 
☆ "Certainty"
4. And In The Darkness, Hearts Aglow
by Weyes Blood
You can read more about this one in January's Add of the Month. However, I will summarize my fascination with this album here. Weyes Blood's newest release is a complex concept album, which is, in my humble opinion, perfectly executed. Natalie Mering explores both the personal and societal struggles of our post-pandemic life, and analyzes through a humanist lens. Lyrically, the album is beautiful and sharp all at once. Meanwhile, every instrumental element is masterfully threaded together to create a beautiful sonic tapestry. 
☆ "Children of the Empire"
5. Words & Music, May 1965
by Lou Reed
At the beginning of 2022, I watched Todd Haynes' documentary, The Velvet Underground. I have alway loved VU, but I felt particularly inspired after watching this documentary, as it was crafted to perfectly match the ethos and style of the band's music. So I started reading William Burroughs and Rimbaud, and I made my way through VU's musical catalog. When this collection of Lou Reed's demos, which was recorded in 1965, was released, I was overjoyed to get a peek into the writing process of the legendary songs. When one hears Words & Music, May 1965, it is easy to imagine Lou Reed holding a beat-up acoustic guitar, cigarette in mouth, inside some smoke-filled basement somewhere in the Lower East Side. 
☆ "I'm Waiting for the Man"
6. HOME.S.
by Esbjörn Svensson
☆ "Gamma"
7. Blue Note Re:imagined II
by Various Artists
☆ "Don't Know Why"
8. MAHAL
by Toro y Moi
☆ "The Loop"
9. De Todas las Flores
by Natalia Lafourcade
☆ "De todas las flores" 
10. Star Gazer Trials
by Helvetia 
☆ "Questionable Youth"
11. Stumpwork
by Dry Cleaning
☆ "Don't Press Me"
12. Aethiopes
by billy woods
☆ "Asylum"
13. Covers
by Cat Power
☆ "These Days"
14. Forfolks
by Jeff Parker
☆ "Off Om"
15. Live At The Cabin
by Slaughter Beach, Dog
☆ "My Girl"
16. Rapscallion
by The Murlocs
☆ "Compos Mentis"
17. Everything Was Beautiful
by Spiritualized
☆ "Always Together With You"
18. Omnium Gatherum
by King Gizzard & The Lizard Wizard 
☆ "Magenta Mountain"
19. Changes
by King Gizzard & The Lizard Wizard
☆ "Hate Dancin'"
20. A Time For Healing
by The Kahil El'Zabar Quartet
☆ "A Time For Healing"
21. Versions of Modern Performance
by Horsegirl
☆ "Anti-glory"
22. Flickering i
by Astrel K
☆ "You Could If You Can"
23. All The Kids Are Super Bummed Out
by Luke Haines and Peter Buck
☆ "The British Army On LSD"
24. Once Twice Melody
by Beach House
☆ "New Romance"
25. Giant Palm
by Naima Bock 
☆ "Campervan"