EVENT: Listening to Cumbia
Next week, Tuesday, April 11th through Wednesday, April 12th, UC Santa Barabara's Center for the Interdisciplinary Study of Music hosts Listening to Cumbia, a symposium, screening, and DJ event which highlights the contemporary cultural and political history of cumbia music in Mexico and the United States. Listening to Cumbia brings together scholars, filmmakers, artists, and archivists, who will all share their work in this field. 91.9 KCSB-FM in Santa Barbara is excited to be playing a part of this unique, and far-reaching, collaboration.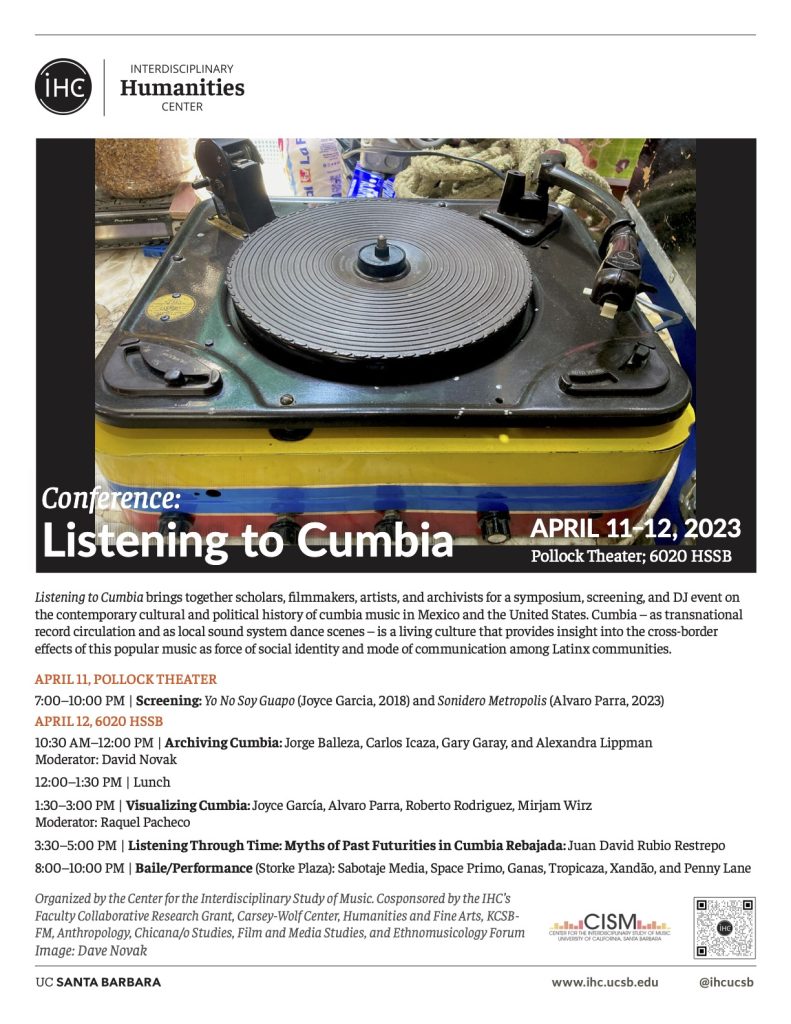 The key focus of the proceedings over those two days is research on cumbia in Mexico, the United States, and beyond, focusing on the material archives of cumbia in informal collections and media representations, as well as in sonidero (DJ) performances at bailes (dances). Both of these contexts – the transnational record circulation and the local dance scenes in Mexico and the United States – are living cultures that provide insight into the cross-border effects of sound media and the broad effects of popular music as a force of social identity among Latinx communities.

The symposium — the first of its kind focused on cumbia as a transnational media project — incorporates roundtable discussions and panels with a film screening, an on-site archival exhibition, and a cumbia sonidero DJ performance.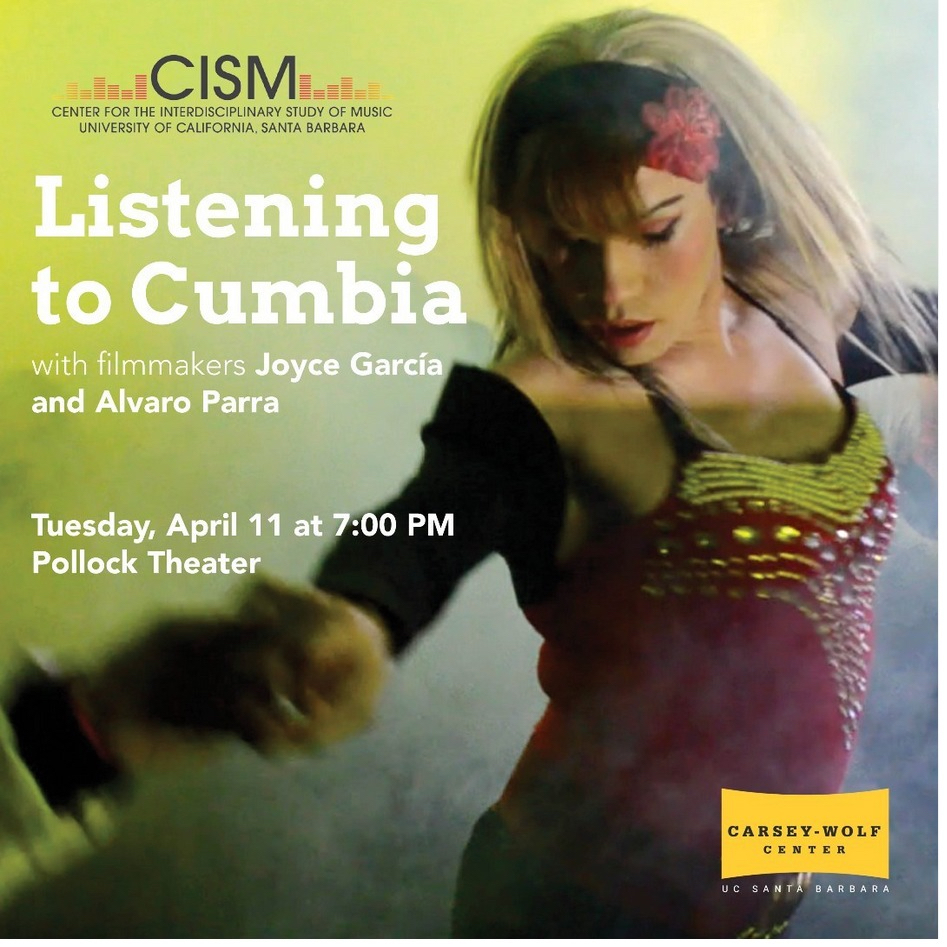 Listening to Cumbia opens at the Carsey-Wolf Center's Pollock Theater on Tuesday night, April 11th, at 7pm, with a public screening of two documentary films on cumbia sonidera in Mexico City and Los Angeles, Joyce García's award-winning Yo No Soy Guapo (2018, 81 minutes) and the premiere of Alvaro Parra's "Sonidero Metropolis" (2023, 22 minutes). The films will be followed by a discussion and Q&A with Garcia and Parra, mediated by Professor Alexandra Lippman (Pomona College).

Yo No Soy Guapo is a heartfelt and authentic portrait of Tepito, one of Mexico City's proudest barrios. In her debut feature-length documentary, Veracruz-based filmmaker Joyce García focuses on cumbia sonidera (sound system cumbia), a record-based dance music scene performed in the street on locally-made sound systems. As the city begins to gentrify, prohibitions on street dances by local government threaten to shut down parties and public gatherings.

"Sonidero Metropolis" is the first episode in Alvaro Parra's documentary series about Mexican sound system culture. This short film explores the connection between the cumbia epicenter of Puebla, Mexico, and Los Angeles, California, a city where thousands of Poblanos now reside. It depicts themes of migration, cumbia music, and labor, examined via the lives of two sonideros at opposite ends of their trajectories. Antonio De Jesus, aka Sonido Fantasma, has been a working sonidero for 31 years. A consummate veteran at the top of his game, he often plays in cities across the U.S. and Mexico. Seventeen-year-old Gardena resident Abimael Amaro, aka Sonido Profeta, played his first show at LA's Salon Lazaro's at the age of thirteen. Sonido Profeta is part of a new generation of sonideros that utilizes livestream technology to make a name for themselves in the U.S. and abroad.

More information on Tuesday's film screening can be found at the CWC website here.

The Symposium, on Wednesday, April 12th, will feature two panels and a keynote lecture, and takes place in the Interdisciplinary Humanities Center's McCune Conference Room in UCSB's Humanities and Social Sciences Building, Room 6020.

The first session is the panel Archiving Cumbia (1030am-12noon), with guests Jorge Balleza, Carlos Icaza, Gary Garay, Alexandra Lippman, and moderated by Professor David Novak (UCSB Music / CISM Director).

This roundtable discussion presents sonideros as archivists and knowledge producers and features a conversation on caring for, curating, making public, and performing these archives.

The second panel, Visualizing Cumbia (130-3pm), features guests Joyce García, Alvaro Parra, Roberto Rodriguez, Mirjam Wirz, and moderator Raquel Pacheco (UCSB Anthropology).

This roundtable discusses cumbia as a visual culture via conversation between directors García and Parra, designer Roberto Rodriguez, and photographer Mirjam Wirzon documenting cumbia through film, photography, design, and book publishing.

Symposium proceedings culminate with the keynote lecture (330-5pm), "Listening through Time: Myths of Past Futurities in Cumbia Rebajada" by Juan David Rubio Restrepo.

Keynote speaker Juan David Rubio Restrepo is an artist/scholar and is currently Assistant Professor of Music and Chicano Studies at The University of Texas at El Paso. His creative practice and scholarly research consider different types of Latin American popular musics and global experimental practices.

For complete information and the up-to-date schedule, visit the symposium's page at The Center for the Interdisciplinary Study of Music here.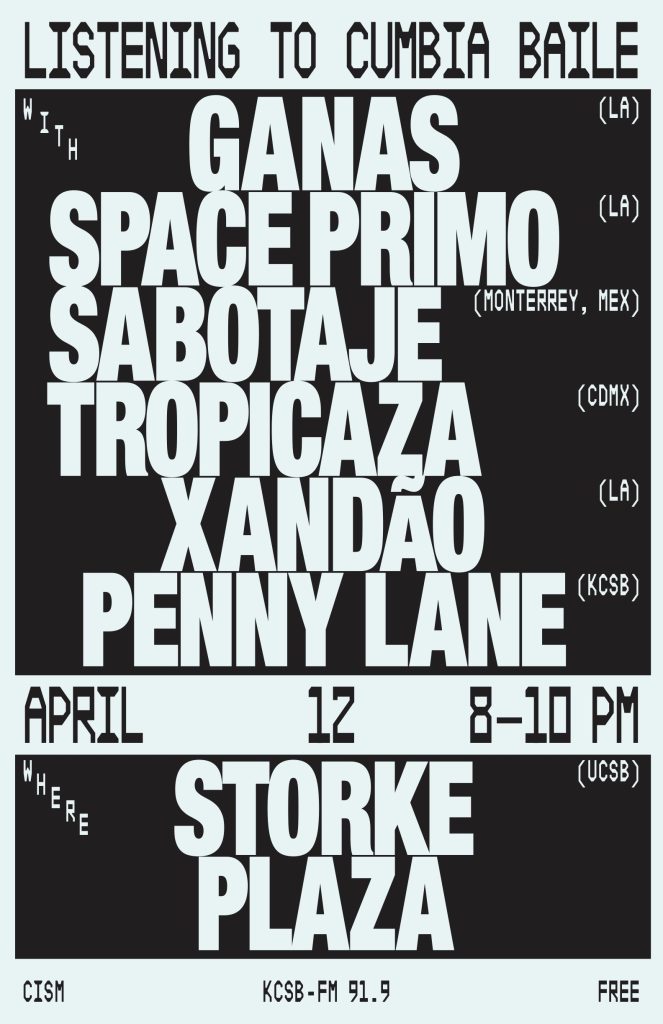 Finally, there will be a Baile Closing Event in Storke Plaza from 8-10pm.

The lineup of music features mostly vinyl DJ sets by the following:

Ganas (Gary Garay) is a multi-disciplinary artist, performer, disc jockey, and record collector based in Los Angeles. Garay is host of the Dublab program Mas Exitos con Ganas, and co-founder of Discos Rolas, a record label and collaborative project dedicated to the cosmic sounds and musical histories of Latin America.

Space Primo (Alvaro Parra) is one of the documentary filmmakers whose work is featured at Listening to Cumbia. Currently, his studio is in production on a documentary series called Sistema: Sound System Culture in the Americas. He is also a deejay based in Los Angeles.

Sabotaje (Jorge G. Balleza) is a photographer, archivist, and DJ born in Monterrey, Mexico, with roots in Sonora and Coahuila. He is a member of Sabotaje Media, a platform focused on narrating, navigating and mapping. They document the crossroads where politics, music and culture meet.

Tropicaza (Carlos Icaza) is a musician, DJ and researcher from Mexico City. Having extensively documented cross-cultural relations between Mexican and Latin American under-the-radar music throughout the 20th century, Icaza is a contributor, curator, and producer with numerous indie record labels, and currently is working on releases for Light in the Attic and Analog Africa. He is also involved with radio stations Dublab, Worldwide FM, WFMU and Radio Gladys Palmera.

Xandão (Alexandra Lippman) is an anthropologist, DJ, and Visiting Assistant Professor of Anthropology at Pomona College. She hosts "Sound Study," a monthly radio show on Dublab, founded the Sound Ethnography Project, and co-runs Discos Rolas.

Penny Lane (Marión Suchowiecky) is a third-year philosophy and sociology double major at UCSB, and External Music Director at KCSB-FM. Raised in Mexico City, she hosts "Echoes of the Revolution" on 91.9 KCSB, and plays in the rock band Acacia, from Isla Vista, CA.

Listening to Cumbia is organized by the Center for the Interdisciplinary Study of Music. 
Co-sponsors: Carsey-Wolf Center, IHC's Faculty Collaborative Research Grant, Humanities and Fine Arts, 91.9 KCSB-FM, UCSB's Department of Anthropology, Department of Chicana and Chicano Studies, Department of Film & Media Studies, and Department of Music.