KCSB SUMMER SESSION B ORIENTATION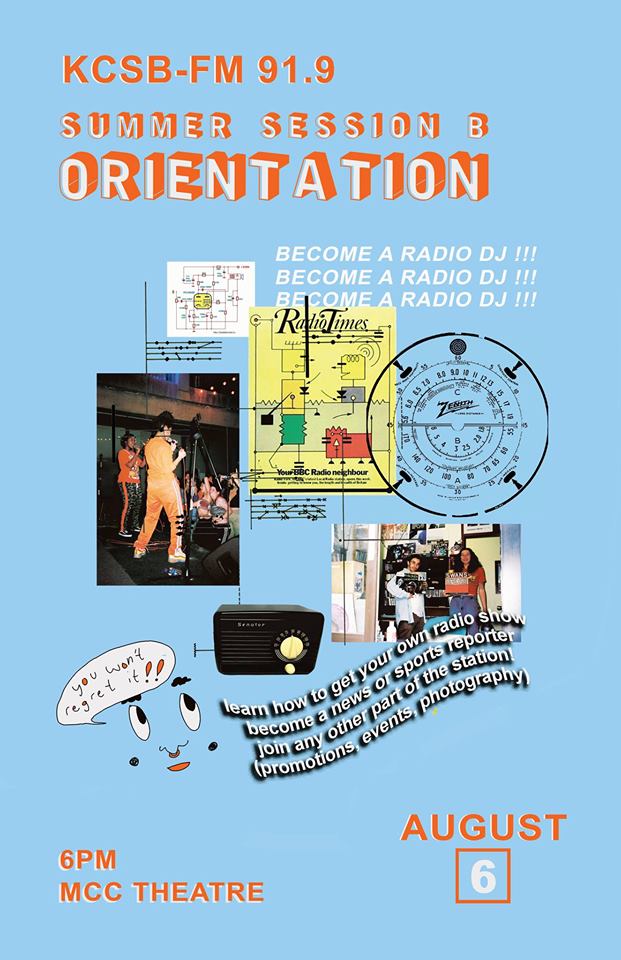 KCSB 91.9 FM is your campus and community radio station and we want to meet you at our next recruitment meeting for new programmers, news and sports reporters, and behind-the-scenes volunteers!
Our Summer Orientation for Session B will be held on Tuesday, August 6thh at 6pm at the MCC Theatre on the UCSB campus. Join us for info on becoming a radio programmer and / or to get involved in any of the following fields:
☆ MUSIC ☆ NEWS ☆ SPORTS ☆ PUBLIC AFFAIRS ☆ CULTURAL ARTS ☆ PROMOTIONS ☆ ENGINEERING ☆ SPECIAL EVENTS and more!
Orientations are open to ANYBODY; interested college or high school students, community members, faculty etc. are all invited to attend. NO EXPERIENCE NECESSARY! We are a hybrid of a college and community radio station, so everyone has equal access to our airwaves (provided they go through our wonderful training program, KJUC).
If you are unable to make this event, we hold orientations at the beginning of every quarter. So stay tuned for more details regarding our next orientation this coming Fall!
For some more info on the station and what we do, feel free to watch the videos below.
KCSB PROMO VIDEO
https://www.youtube.com/watch?v=u9WRY_UtvLo
KCSB: OFF THE AIR PT 1 /
https://www.youtube.com/watch?v=q24-bMaR-IY
CONTACT US AT
phone: (805) 893-3921
email: dmc@kcsb.org
on the dial: 91.9 FM
web: kcsb.org