KCSB-FM Co-Presents: Ceylon International Film Festival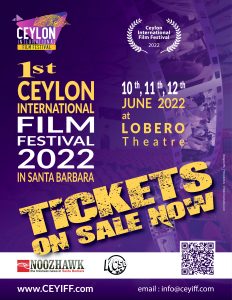 The Ceylon International Film Festival (CEYIFF) will be held Friday, June 10 – Sunday, June 12, 2022, at the Lobero Theatre. Dedicated to presenting international and Sri Lankan cinema to film enthusiasts, CEYIFF is the first-ever Sri Lankan Film Festival organized outside of Sri Lanka. Their mission is to screen independent films of all genres from around the world, promote new filmmakers' projects, and showcase their films to international audiences. Learn more about the history of film around the world and enjoy an eclectic mix of cinema, from spanning everywhere from documentary to animation.

More information and tickets can be found here.

Find the complete festival schedule here.