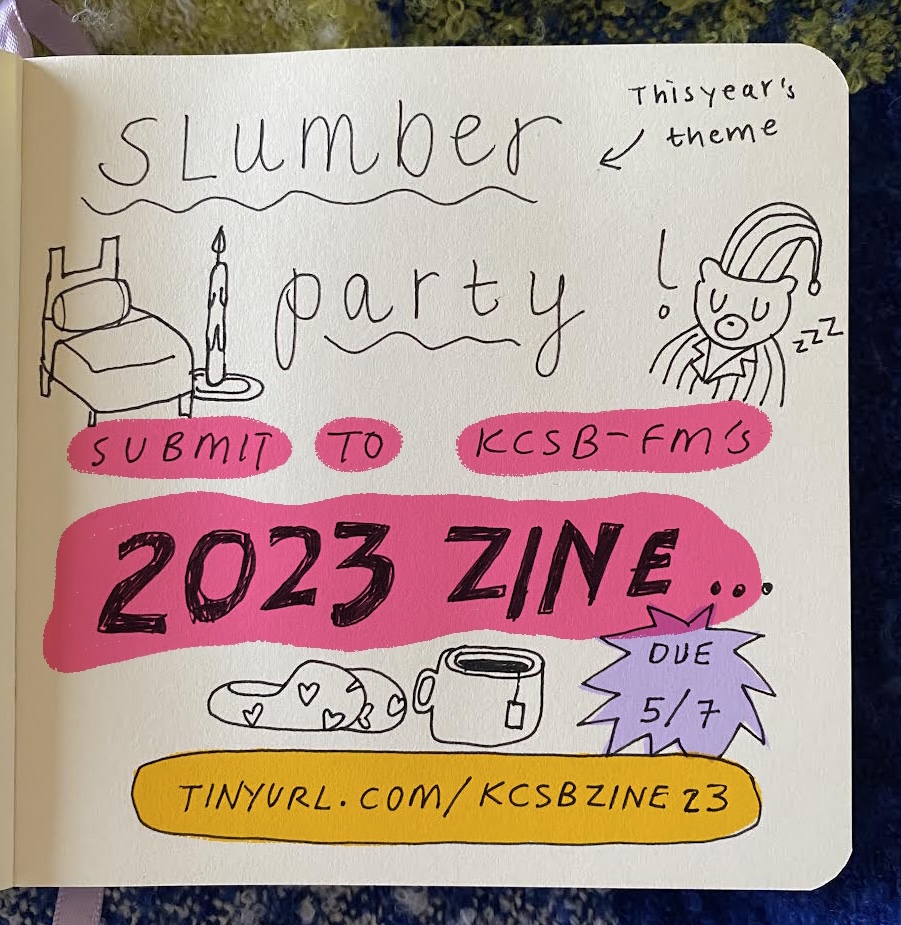 Wanna be part of our zine? Submissions are now open!
This year's theme: ✩ SLUMBER PARTY ✩
We want your sleepiest, coziest, pajammiest work! We accept any kind of creative material, but some ideas include: recipes, playlists, collages, creative writing, comics, and interviews! Head to the submission form here, and to check out our latest zine for inspo! 
Questions? Reach out to our publicity coordinator Shirley –> (publication@kcsb.org)
✰ SUBMISSIONS ARE DUE: SUNDAY MAY 7 @ MIDNIGHT ✰
General Guidelines
1. Submissions are open to all.
2. All applications will be blind reviewed by a committee to eliminate bias.
3. Consider KCSB-FM's mission of being non-commercial, independent, and educational (https://www.kcsb.org/about/).  
4. We do not require pieces to be made new or exclusive for the zine(ie. you can send in previous work), though this will be considered in the reviewing process.
5. ALL SUBMISSIONS MUST BE ORIGINAL WORKS.
6. You can make multiple submissions.
Artist Guidelines:
1. Each page is 8.5″(h)x5.5″(w) with 0.5 in. margins. You may submit a full page, half page, or pieces to be combined with other submissions.
2. All work must be 300dpi. PNG or .psd files are strongly preferred.
3. Make sure to follow copyright guidelines.
Writer Guidelines:
1. All work must be sent as a Google Doc or PDF.
2. If you would like to scan in your writing, please see the above artist guidelines.
3. Pieces may be edited or shortened, but any changes will be cleared with the author.
4. Your work may be combined with other art submissions.