meet our djs!

Alfred | The Creek Walk
The Creek Walk is a collection of classical and folk music that depicts themes of the natural world either through lyrics, title, instrumentation and more.
I am a student in the Music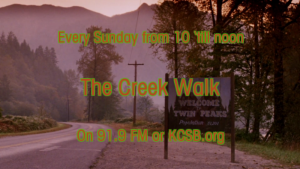 Department at UCSB and like to use this show to highlight interesting subject matter I have picked up on both academic and performance settings. Through the creation of this show, I aim to narrow my focus on the study of ecomusicology–the overlap of nature, music, and culture–something I would love to study after my undergrad. I am from Napa, California where I was raised on what used to be my family's dairy farm so from a young age I have learned to love the outdoors.
current KCSB Music Librarian ☆ Tumblr (works as a great visual accompaniment to my show!) ☆ Instagram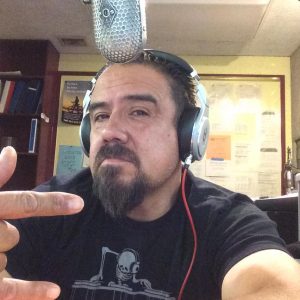 Angel Lopez | Rock Latino
Rock Latino is a fusion of Latin culture, music, and popular events while exploring the many new subcultures that have grown internationally though the love of Rock En Espanol.
Ever since I first listened to KCSB, I knew that I had to be part of this beautiful music community.  I'm very enthusiastic, passionate and have always had a love and appreciation for music.
Latin Rock has been part of the Latin American culture since the 1950s. I felt that since I was a local DJ to the Santa Barbara area, I needed to encourage our community to learn more about this impactful genre of music.
fun facts: I used to breakdance in the 80s, I used to have a motorcycle, and many other things that I can't tell!
DJ on KCSB since 1995 ☆ zodiac sign: leo
Facebook ☆ Instagram ☆ Twitter
Ashbee | Secondhand Sounds
tunes that make you feel, make you pine, make you move, make you groove.
about ashbee: raised in the southwest and west. pro-labor feminist doing her thing in the heart of texas.
absolutely blissed out to be back at KCSB, my favorite independent community radio station in all the land.
returning alumni programmer ☆ DJ on KCSB from 2008 – 2012 ☆ KCSB External Music Director 2011-2012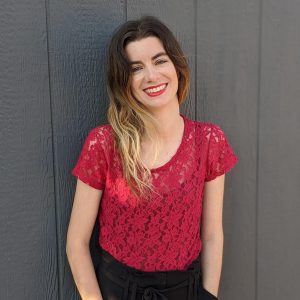 Avalon | The Best Music You've Never Heard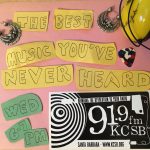 I currently host The Best Music You've Never Heard and had previously hosted it from 2007 to 2010, when I was a student at UCSB. The format for the show hasn't really changed, I play mostly indie rock from artists that are well-known, but are not mainstream. I am now a mom and hope that my daughter will have the same love for music that I have. I love going to concerts and sometimes mention some of the artists I have seen live in my show. As a proud Mexican American, I try to highlight Latinx artists who may not get a lot of exposure in radio.
returning alumni programmer ☆ DJ on KCSB from 2007 – 2010 ☆ valleygrrrl.com ☆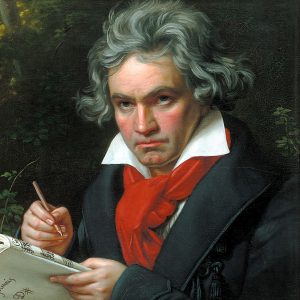 Benjamin Sawyer | Orchestral Oasis
A survey of Western classical music from the Middle Ages to the contemporary. We share with listeners great Western art as it takes the form of music, including background introductions to each piece. The show has evolved into being extensively programmed by suggestions from listeners and friends.
about: I am a retired librarian, organic farmer, and amateur viola player. Susanne and I did a number of years of backstage work with the Santa Barbara Symphony and the Rogue Valley Symphony in Oregon.
favorite memory on kcsb?: There are of course many memories, but I
believe the most intense was the day I got a call during a show from
"Firefighter Mike," who was on the front lines of the Thomas Fire in
the mountains behind Santa Barbara, asking me to play Wagner's "Flight of the Valkyries" to bolster his fatigued crew. With on-the-spot help from Eric Fredricey we were able to put that moving piece out over the airwaves almost immediately in real-time. That is community radio at its best.
DJ on KCSB since 2014 ☆ 11 years of programming classical music, beginning with 4 years on KQNY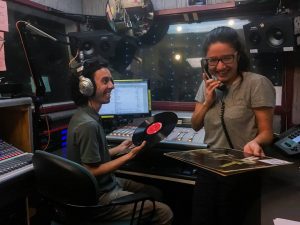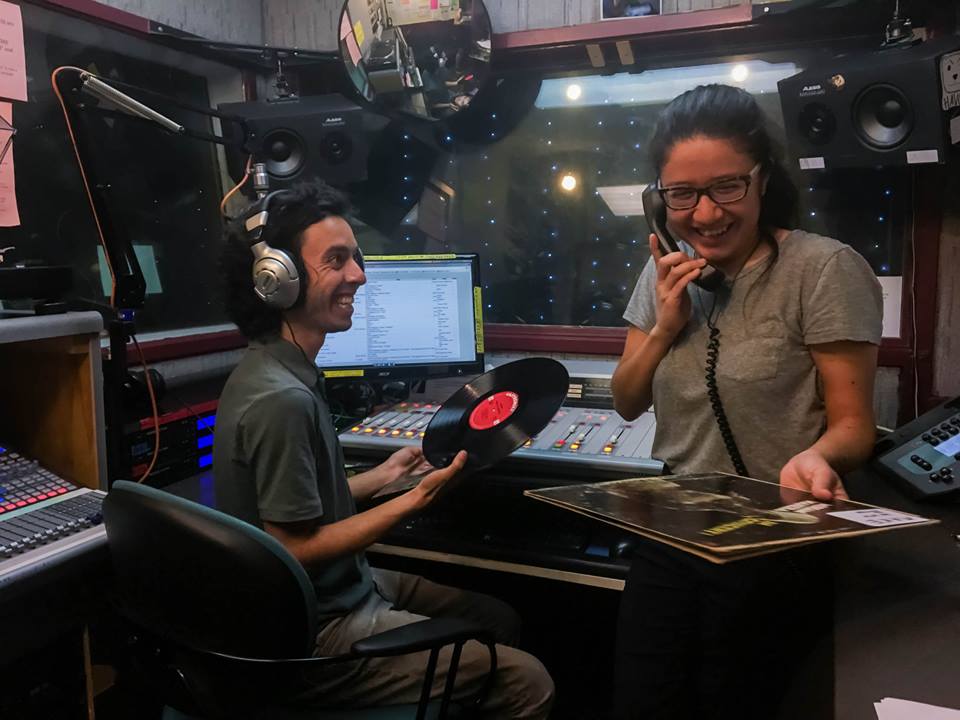 DJ Blanq Wahl, DJ Ina Rume | The Transatlantic Phenomenon
The Transatlantic Phenomenon is a fun and educational show highlighting the music of Africa, Latin America and the Caribbean from the 50s, 60s & 70s. We use the definitions of these geographic regions as described by the United Nations M49 standard. We provide political and cultural context to our musical selections, and share artists' stories as well as our own, to help frame the song's significance to a particular time and place.
DJ Ina Rume, aka Daisy Muralles, a UCSB alum (2012), worked at the UCSB Library's Special Research Collections up until 2020. This is where she conspired with other archivists to make the archive a fun and engaging place for researchers, which included UCSB students, faculty, and the SB community. She is now a CSU East Bay Librarian, collaborating with her co-host from the Bay Area!
DJ Blanq Wahl, aka Dain Lopez, also worked (and met his co-host!) at the UCSB Library's Special Research Collections. As part of the performing arts team, he worked alongside his colleagues to make the Library's huge collection of historical 78rpm and cylinder recordings from around the world accessible to the public. He is interested in promoting language learning and linguistic decolonization, especially in francophone spaces in Africa and the Americas.
DJs on KCSB since 2015 ☆ DJ Ina Rume wants to be an Airbender but is probably a Firebender ☆ DJ Blanq Wahl is a direct descendant of Dáin II, Lord of the Iron Hills, and will one day return to Middle Earth
Instagram ☆ Tumblr ☆ DJ Ina Rume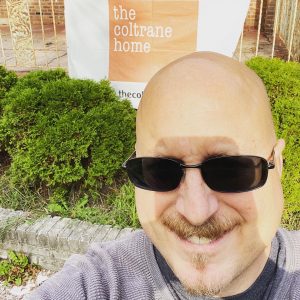 Bryan D. Brown | The Return of CoolMojo
I play a collection of avant garde and "free" jazz with some occassional detours into other genres.
favorite kcsb memory?: There were a lot of great memories… kind of hard to pin one down. The live broadcast of the Dalai Lama on April 24, 2009 from the Thunderdome was a pretty significant event and everyone worked really hard to pull it off, so let's go with that.
programming remotely from: Huntington Station, NY
Alumni Programmer ☆ DJ on KCSB from 1997 – 2011 ☆ KCSB Engineer and Chief Engineer 2000 – 2011 ☆ Twitter
DJ Benny B | Global Groove Portal
A late-night destination that will take you to the grooviest parts of the map.
what inspired your show?: It's not about the genre. Its the way it makes you feel.
zodiac sign: Cancer

The Candy Mountain Rambler, Hattie Belle | The Candy Mountain Mixtape
The Candy Mountain Mixtape is a runaway examination and soulful public display of the American musical and cultural landscapes.
Hattie Belle is a former contortionist for the traveling Deja Vu Circus. Her bar-room voice was discovered by the Candy Mountain Rambler, an uncompromising radio prospector from Indiana, at a roadside performance of Annie Get Your Gun.
They live in the shadow of oak trees, deep in the heart of the Candy Mountains. Every year when the harvest moon nears its peak, you can hear the sound of their lonesome fiddles blowing down from the hills to the Pacific Ocean.
☆
☆
☆
☆
☆
 D-Tragic | Word on the Streets Radio
Tune into Word on the Streets Radio representing the best of Independent Hip-Hop from the 805 and beyond!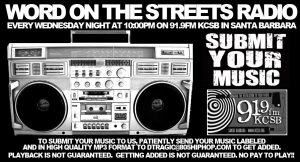 about d-tragic: I love to build with artists and help them get their music heard far and wide! There's nothing better than being the DJ who played it first!
what inspired your show?: I originally came to KCSB my first time at age 16 and got to rock with DJ T-Stone (Tim Stone) and he inspired me to keep the torch moving! After getting involved with DJing at clubs, promoting shows, and working in recording studios with artists, I decided to start a show to showcase our local hip-hop community and other independent artists worldwide. Here we are mad years later still rockin' it in Studio A!
13 years on KCSB ☆ 25-year veteran of the 805 Hip-Hop scene
☆
Dallas Riley (Jah Messenger) | African Sounds
about African Sounds: My program, African Sounds, draws from many different genres to bring the best of entertainment and educational music to the listening public. I endeavor to show the richness  and diversity of African music  as it pertains to the various groups of people in Africa and African in the diaspora. Also the show will draw on the local music community to feature live music on the air as well. Artist such as Bob Marley, John Coltrane, James Brown, BB King and Fela Kuti will be featured on African Sounds. The music of Jazz, reggae, blues, rhythm and blues, funk and Calypso are just a small list of musical genres originating from the African Drums beats. We will also play clips from the like of Martin Luther King, Malcom X, Marcus Garvey, highlighting the struggle for democracy and independence for the exploited and underprivileged people of the world. Black Lives Matter.
fun facts: I had a show from 1975 to 1982 when I was a UCSB student. One of my favorite memories as a KCSB staffer was getting tickets to attend the Bob Marley and the Wailers show at the county bowl in 1979.
DJ Darla Bea | ROCK IT PROPERLY
Your teacher of the radio airwaves, DJ Darla Bea holds class every Sunday at "Santa Barbara's School of Rock" with a 2-hour themed music show packed full of Darlapedia & FUN!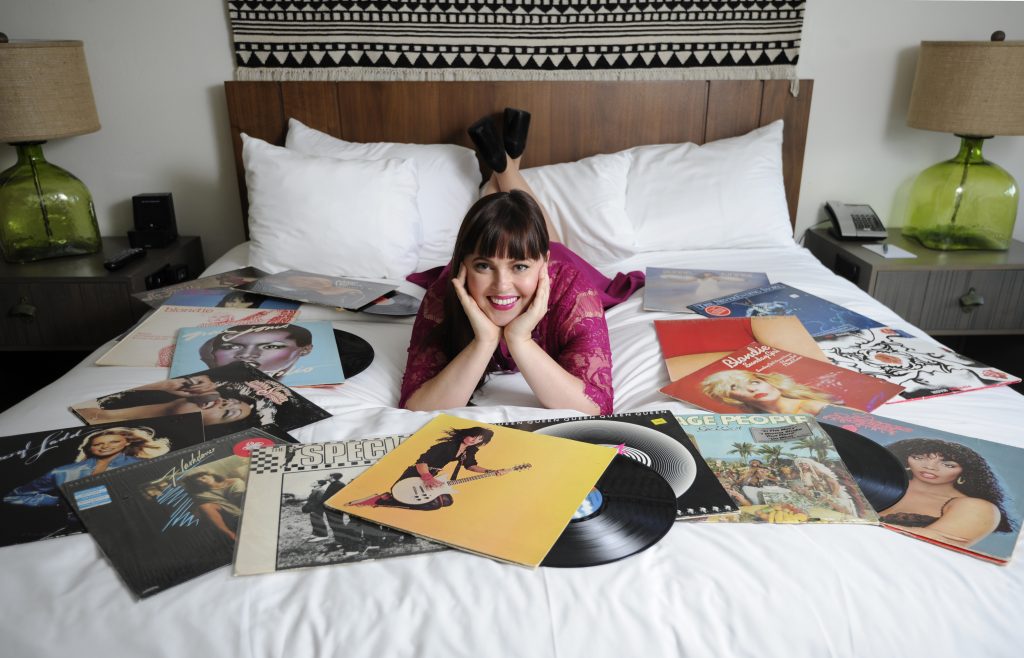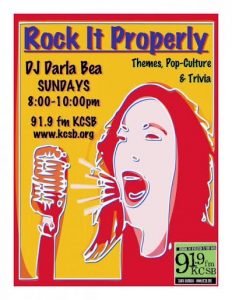 about dj darla bea: Winner of the "Best Event DJ in Santa Barbara" Award 5 years in a row! Born & Raised in Santa Barbara, CA, and a Graduate of UCSB 2003 in History of Art & Architecture.
favorite KCSB memories:
• Listening to KCSB-FM in high school during the mid to late 1990's and tuning into Ska La Carte and host Adam Korn. Which inspired my love of ska, rocksteady and reggae as well as Mr. Bungle. 
• Spencer Barnitz from Spencer the Gardener's call after every Cold Spring Tavern gig to let me know he was listening. John Palminteri our "Ron Burgundy" of SB help out on the mic for one of our annual Fund Drives. Dave from the Grave's weekly touch base calls. 
• Emailing Nardwuar in Canada to have him do a Radio I.D. for my show. 
• Watching Tony Fuze spin vinyl and nerd out on early hip hop or 90's house music. 
• Every Sunday is a great memory – locking the studio door, turning off the light and letting the magic flow over the airwaves!
what inspired your show?: "Rock It Properly" is a saying from Jack Black during an outtake of the School of Rock movie while the band of children (students) were practicing playing music. It encompasses my shows eclecticism as whatever theme, genre or music I'm focusing on it has to "rock" it properly – not necessarily rock music per se. 
My show is like the movie–a 2-hour class via your radio or listening device where gold stars are given for class participation. My 'students' of the school of rock are quite dedicated having had listeners for the past 12 years stay tuned in.
DJ on KCSB since 2007 ☆ zodiac sign: virgo ☆ top 3 artists: AIR (The French Electronica Band), Queen, Fela Kuti
Facebook ☆ ROCK IT PROPERLY Facebook Group ☆ Instagram
DJ Davy D | Selectric Davyland
Selectric Davyland is a totally freeflowing scheme, spooling out threads of sonic memory, rising from the depths of the historical public. A show indifferent to genre and theme, dedicated to inconsistency and strangeness and the counternarratives of global music culture.
about dj davy d: I am a music scholar, media anthropologist, and prof at UCSB, as well as a father, musician, writer, traveler and teller of tales. I have been off and on college radio waves for 3 decades, at WOBC, WESU, WKCR, and now KCSB, and freeform FM radio been a big part of my life.
favorite KCSB memories: Arrington de Dionyso and Hartyga live in studio, KCSB sponsoring Mdou Moctar's first US tour, Negativland and Irene Moon joining forces underneath Storke Tower, touring the studio with my son's 2nd grade class.
Japanoise ☆ The Center for the Interdisciplinary Study of Music
DJ E4 | Bay Area Type Beat
i host BAY AREA TYPE BEAT, where i play up-and-coming bay area artists while i talk about bay area culture & its music's history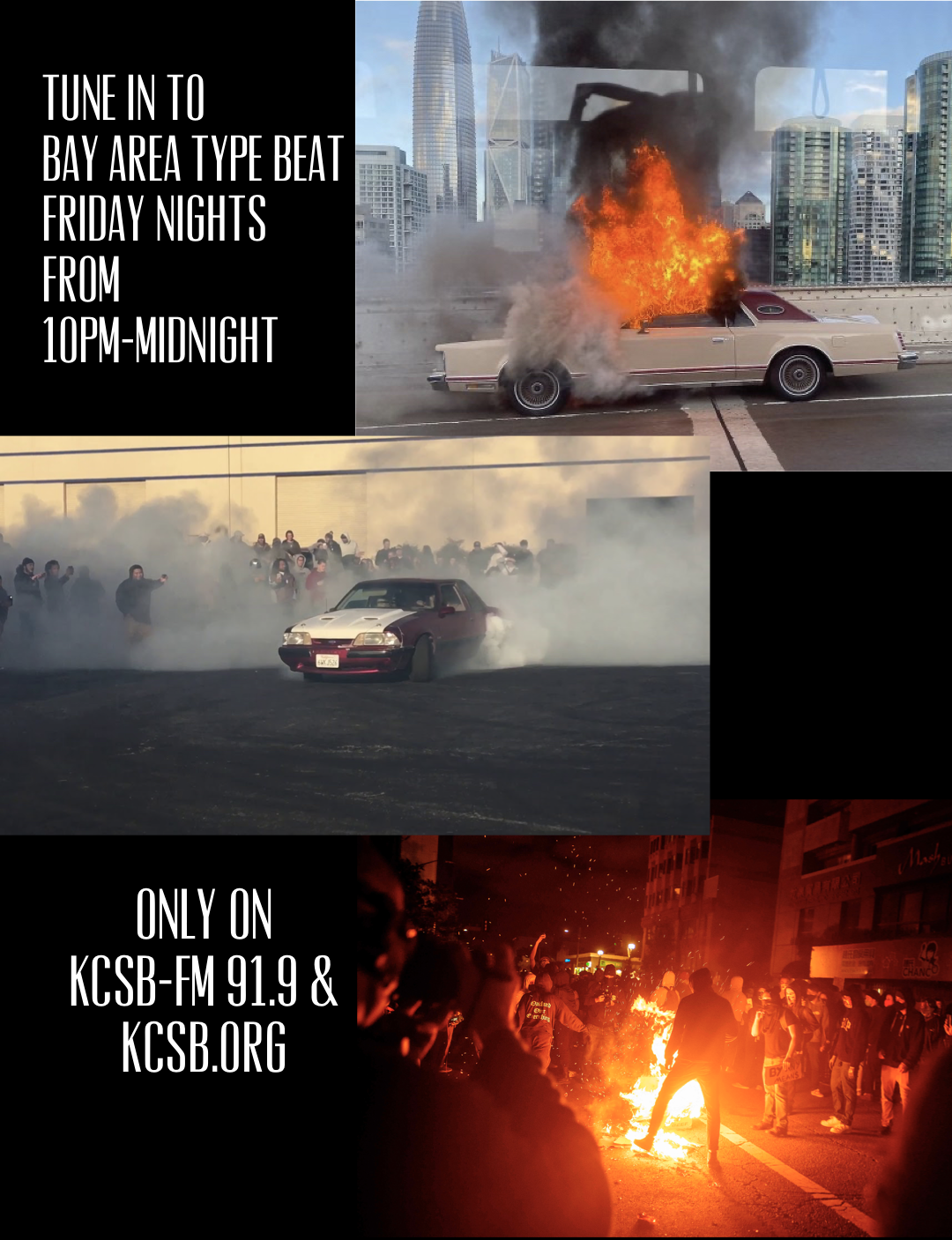 about dj e4: i was born and raised in the bay area! i'm known for thizzin',
telling ppl when 2 go, and getting hyphy
fun fact: i write for passion of the weiss & my show has been on FM since winter 2020
current KCSB External Music Director! ☆ zodiac sign: virgo
☆
Demis John (DJ D, Z, and Little J) / The Better Way Gospel Hour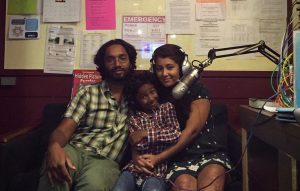 about the better way gospel hour: The Better Way Gospel Hour, started by Brother Matthew Brown in the 1980's, continues to bring gospel music to the central coast with D, Z and Little J. 
Pastors Bill and Bernadette Johnson from Providence 1st African Methodist Episcopal (AME), and St. Philip AME have called in weekly for about a decade, with a Sunday morning Teaching. The enormous variety of Christian musicians is highlighted, from the original old acapella gospel and modern choir gospel, to the many Isla Vista local musicians and modern music from around the country and world—all proclaiming the "good news."
When Little J was just 7 years old, D brought him to help "operate the board" for Brother Matthew Brown on Sunday mornings. They were both awestruck by this amazing man with a fantastic legacy, having run Santa Barbara's first black barber shops, personally promoted a great many gospel bands and run a number of gospel radio shows across the state. Full of great stories (like repeatedly seeing Sam Cooke driving through LA, or inviting gospel bands to crash at his parents house), not to mention his love for Jesus and caring for those in need, they loved spending time with Brother Brown. For a little more than a year, Brother Brown and D, Z and Little J hosted/guest-hosted as the trio took over the show, before Brother Brown's passing in November 2017.
☆
dj dolce, dj beanie baby (not pictured) | pitiless censors
an incubator for varied offbeat noise and scary stories to tell in the dark
about dj dolce and dj beanie baby: hectic eclectic ! jazz personality ! g mentality !
what do you love about your cohost?: dj beanie baby is the best cohost bcuz she has the coolest music taste ever and has a princess diana beanie baby
current KCSB Promotions Director and current KCSB Program Director ☆ zodiac sign: sagittarius ☆ Instagram

DJ Bliss Bunny | Sugar Rush
Sugar Rush (Mondays 10-11pm) was created to showcase as many of the talented femme artists in the world of independent/underground/underrepresented R&B/Soul as possible. It is a space to honor the divine feminine artistry that often gets overlooked or trivialized within this beautiful and versatile genre.
about dj BB: 21 years old, from San Diego, likes to dance, make clothes, watch the sunset, write songs, and make vegan food. This radio station has my heart.
what inspired your show?: Every week I discover more and more inspiring artists who I feel deserve much more exposure and recognition than they are getting. It's been amazing to see some of these artists majorly grow their influence and further develop their sound as time has gone on since I started the show; because that's all I want for these artists–to be empowered, grow with their art, and thrive. Just the thought that I could be playing any part, no matter how small, in helping that happen for them, is why I do this and love doing it.
favorite KCSB memories: Some of my favorite memories at KCSB happened before I even got onto FM, when I would be in the control room with my (now ex-) boyfriend at 4am every week as he showed me the ropes of programming. His name was Teddy James, or TJ the DJ, and he had a show called Rap by the Map. He passed away, much too early, the summer after his first year programming. Despite the grief of it all, I am so grateful that he got to do something he loved in such a beloved community, and that I got to learn from him and carry on his legacy in my years programming since then. Rest in Power TJ <3
current KCSB Digital Media Coordinator ☆ zodiac sign: cancer sun, sagittarius moon, cancer rising ☆ DJ on KCSB since Spring 2018 ☆ top 3 R&B/Soul artists: Ojerime, LOLA, Erika de Casier
El Profe Urbano Montez & Mercy Brown | Raza World Visions
about raza world visions: Raza World Visions is a public affairs and cultural arts radio show hosted by El Profe Urbano Montez, with news and commentary by Mercy Brown, on Thursdays 10:00 p.m. – 11:00 p.m. at KCSB 91.9 FM. The show explores Latinx life, culture, and politics in local and global contexts. The show offers honest assessments—and continual reassessments—of how power and counter- power really operate in Latinx communities vis-à-vis the world at large. Themes include the history and politics of barrios; Raza and the prison industrial complex; Raza gender and sexuality politics; Raza LGBTQI+ communities; Raza nationalism vis-a-vis internationalism; Raza cultural hybridities; Raza subcultures; Raza art and literature; Raza ideologies; y un chingo de otras cosas.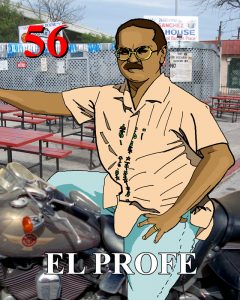 about el profe urbano montez & mercy brown: El Profe Urbano Montez is a Chicanx from the barrio of Magnolia in Houston, Tejas, and is an educator in the California Central Coast. His style is punk meets TexMex polka with lots of world riffs thrown in, mostly from Latin America and Spain, and a Harley Fatboy rumbling 'cause he's always on the run. Mercy Brown is a Goth Chicanx from the San Fernando Valley with her own vampire vibe radio show—The Hotel Bella Muerte (Tuesdays at midnight of course until 1:00 a.m.).
Raza World Visions features interviews with activists, academics, students, and laypeople from all walks of life throughout the world. The show also has the most awesome Raza playlist you'll find anywhere because it includes a little from everywhere! We appreciate feedback and are always looking for new takes on Raza life, culture, and politics, and welcome you as a guest on the show!
☆ email: RazaWorldVisions@gmail.com☆
Erin Eyesore | Ribbon Around a Bomb
Ribbon Around a Bomb with Erin Eyesore celebrates the genius of underground femme artists 1975-1985.
a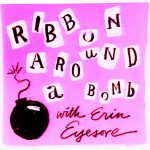 bout erin eyesore: Erin Eyesore is a scholar of ultra-rare new wave and post-punk of the 1980s, with a focus on music made by women, transgender and non-binary artists.  Her show, Ribbon Around a Bomb, celebrates this music and often highlights the global nature of these movements, by amplifying '80s bands from non-western countries. Outside of radio, Erin is a digital storyteller for museums, producing audio and video interpretive content for visitors. Most notably, she is the Executive Producer of SFMOMA's award-winning podcast, Raw Material.
returning alumni programmer ☆ past KCSB general manager!
G.R. Shottan, T.V. Howard, M.J. Marsh | Last Refuge of the Incompetent
Last Refuge is a sci-fi book club. Three friends have a conversation about literature, cinema, and Sean Connery in a bikini, interspersed with some related music.
favorite KCSB memory: NOT eating sandwiches over the mixing board
returning alumni programmers ☆ DJs on KCSB from 2008 & 2009-ish ☆ programming from philadelphia, oakland, seattle
the girl who got rattled | Lonesome Town
Lonesome Town. aka your dads favorite radio show. it's songs to kick rocks to. featuring outlaw country, gunfighter ballads, trail songs, and more. mondays 7-8am. yeehaw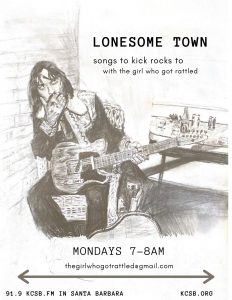 about the girl who got rattled: im sabrina aka the girl who got rattled (formerly known as the teenaged witch). im a 4th year at ucsb double majoring in religious studies and film. i have the music taste of a 60-year old man.
what inspired your show?: i've been at kcsb for 3 years now doing my early morning country show which was birthed from a hellish week where all i did was listen to el paso by marty robbins on repeat. like.. for hours. haha. however, im thinking of retiring the 10 gallon hat, hanging up my spurs, and trading em for something harder and heavier… stay tuned.
current KCSB KJUC program director ☆ email: thegirlwhogotrattled@gmail.com
☆
Greg Brown ( DJ Witch Doctor) | American Roots Radio
about dj witch doctor: I am a "closet" musician who dreams about playing music really well. I experience music vicariously through my headphones. Music feeds my spirit and my soul, and I love roots music of all flavors. My show, "American Roots Radio", is a historical montage of roots music, incorporating blues, jazz, country, bluegrass, R&B, soul, folk, ETC.
favorite kcsb memory: live on-air, telephone interview that I did with David Bromberg and Larry Campbell (a couple of my musical heroes). They were friendly, funny, and they recounted some amazing memories from their lives.
☆ email for radio correspondence: g.L.brown121167@gmail.com 
☆
Gryphn | Smiley Smile
Beat freak…from London. My show is an all vinyl house mix.
about gryphn: Gryphn's DJ career started in London during the first electro-wave of the early 80's, playing in underground clubs while also hosting his own weekly, Club Boy. Also responsible for compiling weekly underground dance floor charts for New Musical Express, a weekly international music publication. He later moved into a more avant-garde mixing at the birth of the Industrial scene at the notorious Iron Orchid club, while also being head of promotions at Recommended Records. At the birth of House music, he finally found a long time home as it summarised his entire history of deep listening. To this day, Gryphn has not stopped playing vinyl. Often searching out vinyl-only releases, white labels, and unknown artist releases, he is a true digger and an interesting selector.
Hoshwa | 5…4…3…2…fun!!
diy pop radio. playing the hits near misses since 2006!
i love my diy music community and, besides the radio show, I organized all ages events for many years around santa barbara, played shows and maintained a live audio archive. I also worked at kcsb as a student as publications coordinator, music director, program director and general manager and served on the program review committee for a few years.
returning alumni programmer ☆ 5432fun.org
Instagram ☆ Twitter ☆ Facebook
☆
DJ Hypnotic | Hypnotized Thunder
about hypnotized thunder: Hypnotized Thunder was mainly made for those who are hardcore gamers like me. My show emphasizes on small artists like Skyfixing and The Musical Ghost. It sometimes focuses on major games that are out but is mainly focused on indie games like Undertale and Papers, Please. My show airs every Sunday from 2-3am, so you want to make sure you are up early from some sweet electronic music that can wake you up!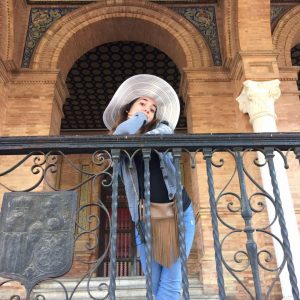 about dj hypnotic: I am from San Diego and music has always been my passion. However, if I am not performing on KCSB-FM, I would be doing Sound Production for my Film classes and outside of my spare time for my Film and Media Studies major.
dj on kcsb since 2021 ☆ zodiac sign: capricorn ☆ top 3 artists for electronic music: skyfixing, skrillex,
deadmau5 ☆ Facebook ☆ Twitch
☆
Dependable Son | Inflatable Boy Jams
About Inflatable Boy Jams: Inflatable Boy Jams is a program to get to know and give a voice to talented and underrepresented artists. It's usually an ode to diy tape labels, weird online niche communities and experimenters, where I talk to them and play their work within the context of their scene. Every Tuesday from 1-3 PM
About Dependable Son: Sound mixer in Los Angeles, both in studio and live, who sometimes plays solo shows or in bands with friends and is always making soup. Please DM me about your music or soup. Really passionate about the music community and wanted to start this show to give a space to everyone.
☆
Jake Lavender | Lavender Radio
Soft grunge superstar playing everything dreamy x distorted. Exquisite taste in knitwear & snares.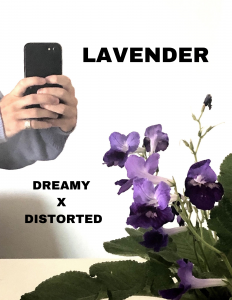 ☆ Instagram ☆
Jeshii | Itadakimasu
Itadakimasu is Japanese music broadcast from our studio in Gunma, Japan. Sometimes new. Sometimes old. Take your ears on vacation.

about jeshii: UCSB Alumni Class of 2003! Living in Japan now. Pizza is life.
favorite KCSB memory: I covered for about 8 hours of shows around midnight on New Years' Eve a couple of years in a row. A really fun way to ring in the new year… on-air!
returning alumni programmer ☆ programming from japan

Kris | Music Sermon
Kris Ehrman's Music Sermon is a mix of provocative funk, jazz, and soul music. The program is rooted in creative activism and promotes progressive social consciousness.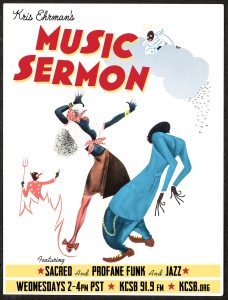 about kris: Growing up in the Seattle area, I was fortunate to grow up with 99.9 KISW radio which nourished my musical palate with enough classic rock, metal, and grunge knowledge to be cool with anyone's uncle. I then began my musicology journey of African Diaspora music in 1996 and I'm grateful to every ethnomusicologist author and old school crate digger since.
fun fact: I'm a strong supporter of using music to support social and emotional well being and reparations for indigenous people and African Americans.
returning alumni programmer ☆ Instagram ☆ Facebook
Kev | Hidden Place
Hidden Place is a show that curates and presents melancholic music. The show name is derived from observing how showing sadness is usually considered a private emotion, which explains why many people tend to not cry in public. However, I never understood why sadness is looked down upon by society–it is a natural emotion. Hence the irony of a show called Hidden Place on a public radio broadcast.
about kev: I hail from Glendale, CA and am in my senior year at UCSB.
fun facts: banana
current KCSB Business Coordinator ☆ Instagram
Lady J | Fire Pon Rome
My name is Lady J and I have been a radio DJ at KCSB since 1996, programming a variety of Reggae shows, namely Positive Heights and Fire Pon Rome.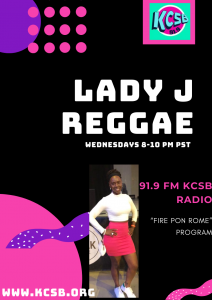 Fire Pon Rome is a Reggae, Dancehall, & Dub music program that showcases local, domestic, and international artist whose core themes are centered around one love and positivity.
My goal is to play music that feels good and uplifts the soul. As a UCSB Graduate Alumna and KCSB veteran, I am passionate about broadcasting quality programming within our non-commercial educational medium. I love family, fun, food, fitness, flights, adventure, entertainment, yoga, community, and KCSB. 
returning alumni programmer ☆ Instagram

DJ Left On Read | TBD
Hi! I'm Thomas! I'm the host of TBD which airs every sunday 4-6pm! TBD is where i give a wide range of DIY Musicians and artists spanning all different genres, backgrounds and scenes a space to be heard outside of their local scene. I try to host live performances and interviews every week (Even during covid years).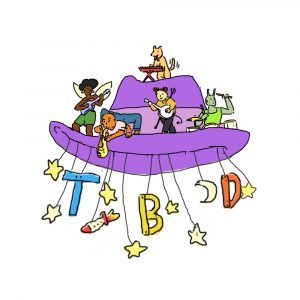 I was a student programmer at KCSB starting in 2017 and worked at KCSB as the Internal Music Director and External News Director until i graduated in 2019 and found community radio and DIY Music to be a huge passion of mine. DIY organizing is so important and it felt great to give back to my community via music. Now I'm a coveted community programmer safely recording my shows from home :O
Write me at my Instagram @tbdpresents and I'll write you back.
I feel like this playlist encapsulates the show and my interests pretty well lol: https://open.spotify.com/playlist/7ioHXSjYD9G0XBSUjQMWAU?si=Meo0I5ZaRki2So7OXb208w
returning alumni programmer ☆ KCSB Internal Music Director 2018-2019 ☆ DJ on KCSB since 2017
☆
DJ Lekha / Coast to Coast
about coast to coast: coast to coast is an amalgamation of all the east and west coast hip hop you've never heard before. 
about dj lekha: i was born and raised in rhode island, so of course I'm stoked to bring a little piece of my home out to Santa Barbara. i'm a member of the UCSB class of '24, and although i'm relatively new to the radio scene, i'm just happy to be on air & spread the east coast word. 
fun fact: please dm me and play me in chess.
zodiac sign: scorpio ☆ dj'd on kcsb fm since fall '20 ☆ Instagram
☆
DJ Maddy Long Leg | Comic Relief
about comic relief: Comic Relief is a comedy variety program, curated to make a safer and weirder place for you to ingest funny material! I play standup, concept albums, satirical rock, and anything with wordplay that makes me giggle. Additionally, I'm very particular about what I include in my show in an effort to open up the often stigmatized world of stand-up comedians and give new listeners a nicer route in! 
about dj maddy long leg: I'm currently a 3rd year/senior undergrad art student in the honors program at UCSB and I'm also the Art Director for the Catalyst literary arts mag on campus! I love art and drawing more than anything in the world; second place goes to my passion for comedy and humor. I found so much comfort listening to stand-up comedians when I was growing up; from the moment I stepped into the KCSB station, I was determined to put some of my favorites on the airwaves! 
favorite kcsb memories: One of my favorite KCSB memories would definitely be working in the Archives office all the time last year (Archives Coordinator 2019-2020!) and between digitizing tapes, stopping in on the KJUC studio to meet junior programmers when I heard them playing bops through the wall. I'm also a Libra sun, Virgo moon, Aquarius rising.  🙂
current KCSB Publications Coordinator ☆ Instagram (art) ☆ Instagram (personal) ☆ zodiac sign: libra sun, virgo moon, aquarius rising
DJ Magellan | The World Is Ours Radio
The World is Ours Radio is dedicated to playing Hip Hop from all over the map, every time period, and many sub-genres. Episodes are themed and focus either on a regional sound in Hip-Hop (e.g. Detroit Hip Hop), or songs that share a few common sampled elements (e.g. songs sampling the James Bond Theme). New music and artist interviews are also featured.
a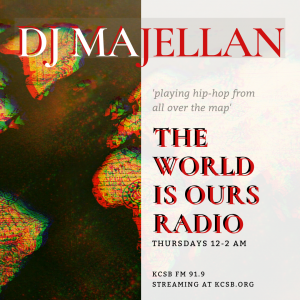 bout dj magellan: Majellan is obsessed with Hip Hop and the art of Sampling — when he's not building his radio shows, he's either digging for samples and making his own hip hop beats, or studying for his psychology major.
fun facts: KCSB has allowed me to pursue my love of Hip Hop while in college, but a fun fact is that in high school I actually played Classical Bassoon in a Youth Symphony, and got to perform in Vienna and Budapest with them.
current KCSB KJUC general manager ☆ Twitter ☆ Soundcloud
Maiya Lanae | Hey Girl Health Show
The Hey Girl Health Show covers health topics that impact women of color and the communities that they live in.
about maiya lanae: Class of 2003. I'm a health educator, entrepreneur and DJ, and started my DJ career at KCSB.
favorite KCSB memories: 1) I practically lived at KCSB–I would often fall asleep on the office couch after working late on a paper. 2) The first time I played a mint vinyl copy of the classic "Black on Both Sides" by Mos Def (now Yasiin Bey) was at KCSB. 3) My first DJ Name (MLE WAX) came from a listener who won show tickets in exchange for giving me a new name. It totally stuck for 10 years!
returning alumni programmer ☆ Facebook ☆ Instagram ☆ Twitter
Manny | Long Distance
My show is called Long Distance, or 'Larga Distancia' in spanish. It's a eclectic show that aims to highlight latin artists with some commentary and analysis. I record everything from Lima, Peru 🙂
about manny: UCSB Alumni currently finishing my Masters in Journalism through Harvard Extension while in Lima, Peru. I love surfing, writing, listening and playing music.
fun facts: I started programming in 2016 and was Assistant Engineer for about a year and a half. I love KCSB and I will never forget the time I spent there. My favorite memories include going up to the Transmitter site with Eric and doing maintenance while listening to KCSB.
returning alumni programmer ☆ past KCSB Assistant Engineer ☆ programming from lima, peru
Marley Jay | L!V3IR!3
L!V3!R!3: your chill island reggae jam beach vibes kinda show
about marley jay: I have been grateful in the space provided by KCSB to share the lesser-known works of such a wonderful genre. This music is close to who I am in my spiritual core; I appreciate all the good vibes and years on-air along the way. Tune in and grow your roots with me.. praise Jah praise Akua.
Aloha Aina, Malama Pono!
fun facts:
•  I have covered or had a show at almost every single time of day, and definitely all times at night!
•  Reggae music is what brought me to the station when I moved back to SB in 2015.
• I had a KJUC show in 2008 that never really evolved into a full show on KCSB.
DJ on KCSB since 2015 ☆ zodiac sign: libra ☆ www.liveirie.org
☆
Mike | Roots Rockin
A reggae show that focuses on conscious lyrics and positive vibes from Jamaica and around the works from the 70's to the present.
about mike: I love a lot of music but Reggae has been my passion for over 25 years and has been collecting all that time. I love surfing, snowboarding, gardening (I have a gardening and landscaping business in Santa Barbara) traveling, and being in nature.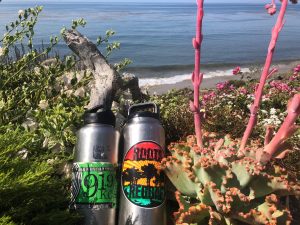 fun fact: I've had a rock and reggae show in the past.
favorite KCSB memory: My fondest memory was my first quarter on KCSB, 2009,  4 to 6am show, playing my music, I was like is there anybody listening at this time? Right then the phone rings and it's this trucker guy. He says, "Oh man, I love your show! It's keeping me going and look forward to hearing each week." At that point, it reinforced my time and effort to do the show and that it was enjoyed and appreciated.
returning alumni programmer ☆ DJ on KCSB since 2009 ☆
Instagram
☆
☆
molly mac | shamrocked
an irish punk, rock, eclectic exploration of pure luck. this is my personal ode to the color green.
about molly: i'm irish if you couldn't tell by my name (and have irish citizenship too!) i grew up going to rock concerts and punk shows, indoctrinated at an early age to love irish music and musicians. now I get to share a bit of myself on KCSB, discovering new artists, appreciating the old favorites, and learning about the music history of my favorite little island
favorite memory at kcsb: attending UCRN at Berkeley! met so many other college programmers, traded merch, and went karaoke singing in the city ;))
favorite artist right now: Yenkee
☆ zodiac sign: sagittarius ☆ KCSB EXCOMM 2018-2020 ☆ Instagram ☆
☆
☆
Nassella | opossums are marsupials
opossums are marsupials is an ode to the misunderstood and underappreciated creatures of the earth that fill our ecological landscape, bundled with queer and trans musicians who's voices deserve your ears! 🙂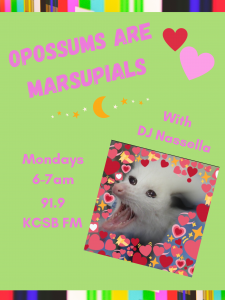 about nassella: Lover of the environment and folk-punk tunes. Common hobbies include petting street cats, performing mischief, and playing too many instruments.
favorite KCSB memory: I once got a call from a self-proclaimed time traveler on my old 12am-2am show. I love fun and quirky calls and the weirder moments of doing community radio.
top artists: Apes of the State, Mal Blum, Amanda Palmer  ☆ Instagram
☆
Nicoletta Browne (Nico) | Hardly Strictly Americana
Nicoletta (she/her/hers) hosts Hardly Strictly Americana, a show for folky music that might be too weird, political, obscure, or "out there" for commercial radio, along with a lot of music that might not be quite folk, but that sits nicely alongside it. She got her start in college radio as an undergraduate student at Pomona College, where she hosted "Americana with DJ Slava" at KSPC;
The name is a reference to a famous cellist, since she plays the cello. Once in grad school at UCSB, she kept up with radio at KCSB, but settled on the "Hardly Strictly Americana" idea when she started worrying that her sets were getting stale; she thought, "if Hardly Strictly Bluegrass can have MC Hammer, then I can play anime soundtracks and Andean folk music on my show!". Nicoletta has since finished graduate school and now teaches geology classes in the area She is a Libra and a lesbian cat mom who enjoys spending time with Maki, her Norwegian Forest Cat, as well as playing cello and drums and going on hikes.
☆
☆
Nkechi, ugly baby (not pictured) | gleaming, radiant marble / african + esoteric
Chinelo Nkechi Ikem is the host of african + esoteric, a show dedicated to showcasing the sounds and tunes of the African diaspora, focusing on music coming straight from the continent. Chinelo is a third-year law school and is of Nigerian background. her favorite things are to read and try out new vegan restaurants. she loves playing music on KCSB and previously worked as one of KCSB's News Directors during college.
returning alumni programmer ☆ previous KCSB News Director
Phinyx | Ambience and Transients
Each episode features a crescendo of instrumental downtempo electronic music:  Mainly PsyChill that accelerates toward heavier Bass Music. Second half reboots to extra-chill PsyDub, and usually some IDM and faster breaks tracks.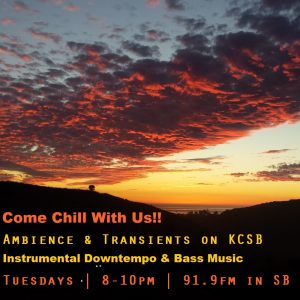 about phinyx: Born and raised in Santa Barbara, and have been an avid fan of electronic music for the last 20+ years.  Attended some of the legendary, yet elusive, full moon music parties in our surrounding wilderness and "caught the bug".  Almost all the photos I post with the mixes feature views from spots around the Los Padres National Forest.
fun facts: First time DJing was a messy jello party at a neighbors house on Del Playa Drive in 2008 🙂  Prior to that, musically, was a bass player who hoarded gear and made noise in various garage bands around town.
DJ on KCSB since 2014 ☆ Facebook ☆ Pure Ambient Extract ☆ MixCloud
Pops Yatch | C-90! Go!
C-90! Go! celebrates decades of mixtapes, from alt-country to punk to dance…often in one show!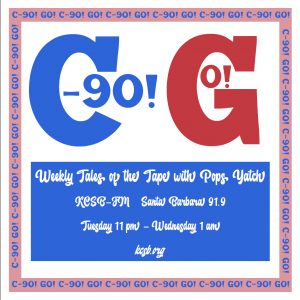 about pops yatch: Not quite old enough to cart a crate of wax cylinders to gigs, Pops Yatch has been part of community radio for 17 years of his long life. Long live "obsolete" technology and those who cherish it!
fun facts: Pops Yatch is so old ["how old is he?"], his first two LPs ["what's an LP?"] as a child were Carpenters The Singles 1969-1973 and George Carlin's Class Clown. Yes, that's one reason his taste contains multitudes.
georgeeats.com ☆ Twitter ☆ Instagram
rebecca | melancholy corner
melancholy corner is a reflection of my week using music. my playlists are for my fellow melancholy folk and are great for staring out the window and pretending you're in a coming of age film. i play mainly indie rock, but honestly every week i'm in a different mood, so it's always a surprise.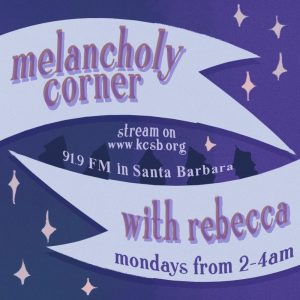 about rebecca: i'm from salt lake city, and you can often find me driving up a canyon or skiing down a mountainside. outside of the radio i'm studying computer science, and i actually just transferred from ucsb to the university of utah. i love the colors red and green, baggy jeans, and am a diehard The 1975 fan.
this playlist is very similar to a show i did a couple weeks ago showcasing my favorite songs that i found through making my weekly playlists. this playlist is a bit different though because it focuses on the songs that either influenced my music taste or embody some sort of inexplicable feeling that i never want to go away. wow that was deep. anyway, what i'm trying to say is that my playlists never stick to a specific theme. i make them all based on the emotions i feel when listening to a song and whether or not it matches with my mood in the moment. so, here's a peak into my mind and the songs that run through it.
thanks for listening <3
☆ Instagram ☆
☆
☆
☆
Sans Nom | The Blacklight Special
about the blacklight special: "The Blacklight Special" is a radio program hosted by Sans Nom, and airing on Sunday nights from 10pm until midnight. The goal of the show is to dive into an expansive range of sound and to offer a space for self-exploration, giving the listener an opportunity to "let go."
Primarily focusing on the underbelly of the House and Techno scene, the program also highlights alternative electronic genres that are otherwise unavailable on mainstream media outlets.
about sans nom: Sans Nom has been a DJ in Santa Barbara for over 16 years, and is part of Underground Souls, a co-operative group of friends who join together in celebration of House & Techno music, Love, Life, and each other. Sans Nom also co-founded Obsidiaan Recordings, a record label showcasing deep and ethereal Techno, House, and "leftfield" Electronic music.
favorite kcsb memory: I would say one of my favorite times at KCSB was when we did the open house / DJ party in the courtyard. What I remember most from that night was the after party, where the guest DJ informed me that "It's time to get ratchet!"
the blacklight special Facebook ☆ sans nom Facebook ☆ Instagram ☆ Soundcloud
☆
Ryan | In The Spotlight
In The Spotlight is all about taking unknown, underground music and putting it in the spotlight. We play collections of zero-view songs, KCSB-exclusive interviews with guest artists, and a once-a-month Tech805 guest DJ set.
about ryan: I'm a keyboard player who performs as host and interview for In The Spotlight. I'm joined by Quill Sang, our engineer and editor, MedXx, our DJ set organizer, and Lucy, the best cat ever.
If you'd like to be a guest on our show, or know someone who does, reach out to me at ryanscibetta@ucsb.edu!
Guest performances and interviews:
Rye James | The Occurrence
A transmission of otherworldly tunes and infrequent frequencies of the third kind. Including but not limited to astrobilly, crypto country, UFOlk, and paranormal punk. For those who want to believe.
favorite KCSB memory: DJing a screening of Richard C. Sarafian's Vanishing Point as part of KCSB's "Popped Culture: Radio Goes to The Movies" film series.
returning alumni programmer ☆ DJ on KCSB from 2009-2012 ☆ programming from los angeles, ca ☆ Instagram
Selecta Alla | Blazing Fyah
Blazing Fyah plays socially conscious reggae music and guest interviews from the Caribbean and beyond. Friday evenings from 6-8pm.
about selecta alla: Selecta Alla has been on KCSB for 5 years. She has worked closely with the musical arts for many years and loves spending time in the islands.
☆ Instagram ☆
☆
DJ Serotonin & DJ Dopamine | Feel Good Inc Radio
about feel good inc radio: Feel Good Inc Radio is a stream of r&b, soul, and funk tunes that consists of experimental, old-school, and contemporary pieces by underrated artists. DJ Serotonin and DJ Dopamine both co-host this show during late-night hours with hopes to comfort the late night owls out there who need some groovy vibes to calm their insomnia. Come immerse yourselves and join us in the land of ecstasy <3
about erika/dj dopamine: I am a professional napper, sushi & noodle lover, and zumba enthusiast. I am a fourth year at UCSB with a major in Communication. I've always found myself absorbed in the psychedelic-rock subculture but I wanted to challenge myself this year by diving into a new musical world, which is why I chose r&b.  Not too long ago, I realized r&b has a lot of uniqueness in terms of its musicality and cadence along with the unique elements that induce so many amazing emotions. I am very fortunate that KCSB has been able to give me this platform to share and talk about the pieces that have held a special place in my heart while working alongside my amazing co-host! 🙂
current KCSB Production Coordinator (dj serotonin) + Archives Coordinator (dj dopamine) ☆ zodiac sign: taurus ☆ Instagram ☆ Spotify ☆ e-mail
☆
Sista ROZ |
The Experience With Sista ROZ
A variety of gospel music & soulful sounds that accompany words of wisdom to encourage, inspire, & uplift you!
about sista roz: ROZ is one nickname that I've had since I was a kid, California born and raised, & still here today! I'm a Christian who loves the Lord God! I also graduated from UCSB with a degree in Religious Studies with a concentration in Jewish Studies, and an emphasis in Black Studies.
fun facts: I was a child actress and model. My previous show on KCSB was called The Experience With Rosalyn. I actually have the longest running week-day gospel show on KCSB!
favorite KCSB memory: One of my forever great KCSB memories is when I got to help Brother (Minister) Matthew Brown (who was in his 90's) on his Sunday show The Better Way Gospel Hour (the first & longest running gospel show)!
☆ DJ on KCSB since Summer 2016 ☆
Steve S. | Joyful Cosmos
I'm Steve S., your host Monday evenings, 6 – 8pm.
Creative improvisation, electro-acoustic experimentation, traditional music of our species and their associated expansions. Joyful Cosmos is a ride on a road constructed of sound. There is no destination.
Here are a few remarkable music resources:
☆
☆
☆
☆
Sunnyland Steve | Views of the Blues
Blues music is an original American art form and the basis for rhythm-and-blues, rock-and-roll, hip hop, rap, and much of jazz and country music. 'Views of the Blues' presents the best in blues music in its historical context, including its provenance in west African and African American cultures.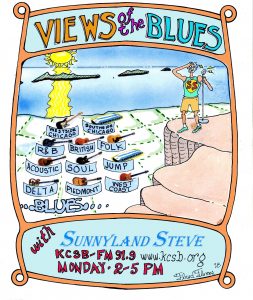 about sunnyland steve: Sunnyland Steve has been a lover of blues music since his teenage years whose journey into the tradition began with exposure to Elvis Presley and exploration into Presley's blues influences.  He has been a board member of the Santa Barbara Blues Society, the oldest existing U.S. blues society (founded in March 1977) for over forty years, and is a contributing writer of articles and album reviews for two national blues magazines.  He has been co-promoter and stage emcee for a myriad live blues performances locally, regionally, and nationally. He has hosted "Views of the Blues" on KCSB-FM since January 2007.
DJ on KCSB since 2007 ☆ www.sbblues.org ☆ info@sbblues.org
☆
Abby Gagnier (Taxidermy Girl) | The Last Folk on Earth
about the last folk on earth: the show is a collection of all the cool folk-inspired music I can find. folk is such a wild genre and the things artists can create with a banjo and harmonica are incredible !!!
my show is spooky sometimes, which is definitely on purpose. i love halloween + collect those plastic skeleton animals (I love how incorrect they are)
☆
DJ Tea | Steeped in Sound
Electronic Undercurrents is a live mixed radio show that explores different genres of electronic dance music weekly. Past episodes have explored genres such as tech-house, left-field techno, liquid drum and bass, riddim, experimental bass music, and much more!
about dj tea: DJ Tea is a second-year student at Santa Barbara City College, currently studying biology. When not studying for school, or sometimes when studying for school, he explores the sounds pushing the boundaries of what modern electronic dance music can be, as well as the scenes within its subgenres, and attempts to bring his finds to Electronic Undercurrents with weekly mixes.
fun facts: DJ Tea has been on KCSB-FM for a year, with two other no longer running shows, Club Quarantine and the Schoolhouse, which were also live mixed electronic music-oriented. He really likes animal print and flashy earrings.
☆ zodiac sign: sagittarius ☆
Ted C. | The Freak Power Ticket
Buy a ticket, take the ride.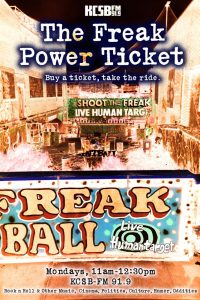 The Freak Power Ticket started around 2002 after I had already put in well over a year at KCSB-FM working as a full-time administrative assistant (largely in charge of the station's annual fund drive). I had briefly done college radio before while an undergraduate at a different institution and, when I started at KCSB-FM, I was still in graduate school at UCSB – studying English Literature – so I was excited to develop new ideas on the local airwaves.
The Freak Power Ticket has evolved over the years into a solidly eclectic music-and-cultural arts radio program. "A 'wondrous boat ride' exploring rock 'n' roll & other music, the counter cultural, cinema, pop culture, oddities, etc.
I tend towards themed playlists and special programs, so, at times, you'll hear me conduct interviews with creative people of all types: musicians, filmmakers, activists, impresarios, writers, actors, comedians, journalists, artists, academics, and just plain folks too. I also enjoy hosting live bands and guest DJs. Furthermore, "The Freak Power Ticket" profiles works and figures of note from a politically radical or decidedly off-kilter perspective.
about ted c.: Since 2015, I've been KCSB-FM's staff advisor. I've been strongly committed to independent media production for decades, with a particular interest in punk and other subcultures of resistance. I have roots in Northern California, but have lived in the Santa Barbara area for over 30 years now. I guess I like it here…
KCSB Staff Advisor ☆ Facebook ☆ Spinitron
Tio Chuy | ¡Muévelas!
I don't know about you, but when I turn on the radio, I am ready to let go of the worries of the world and fall into a music that stirs my soul and shakes my can. When listeners tune in to ¡Muévelas! they will experience a wide range of lively, Latin music with a special love affair for Afro-Cuban Jazz.
about tio chuy: I am a Ginger… there, I said it. I may be white bread, but I still got me some spice! As everybody's Uncle, Tío Chuy, I'm also a vinylphile, a dancing machine, a hopeless hot sauce addict, and a budding social justice warrior.
favorite KCSB memories: Sometimes I pedal my jalopy cruiser 13 miles to the station with records on my back. Once, a fellow DJ knowing that my bicycle was my only mode of transportation called me up to say he couldn't give me a ride to the KCSB staff meeting but he decided to simply GIVE me a car! I remember fondly taking dance lessons with Las Cafeteras at the Franklin Neighborhood Center during their residency with ¡Viva El Arte de Santa Bárbara! and getting to interview so many of my favorite musicians including Poncho Sanchez, Buyepongo, Eddie Palmieri, the Afro Cuban All Stars, and La Misa Negra. So many amazing friendships have blossomed with DJs, musicians, and our listener community!
DJ on KCSB since 2013 ☆ Facebook
Tony Fuze | reDISCOvery
reDISCOvery is a DJ mix show primarily focusing on underground electronic music, with an occasional taste of funk, soul, rare groove, and downtempo. The show also aims to provide a platform for local, guest DJs that play similar styles of music.
what inspired your show?: I'm heavily inspired by DJ culture, in general (mixing, scratching, collecting vinyl, playing shows). Programs like Ray Ramos Jr.'s Jammin' A Little Old School and The Groove with The Joker and DJ Zeke influenced my taste in music and mixing style early on.
favorite KCSB memory: There's too many! One that comes to mind, however, is when a group of past reDISCOvery guest DJ's surprised me with a turntable-shaped cake, on my birthday, in the middle of my show.
Instagram ☆ SoundCloud ☆ Twitch
TStone | The 2020 Rebellion
The 2020 Rebellion is a Hip Hop & Reggae-Dancehall show based on conscientious artists & music for thoughtful people.
about tstone: My name is DJ TStone & I love listening to meaningful music. I would like to promote more intelligent & peaceful music in Hip Hop & Reggae-Dancehall. I was on the air as a student in the early '90s, a time period also known as the Golden Age of Hip Hop.
favorite KCSB memory: Back when I was doing a live show in the '90s, Madlib & his group Lootpack & many other DJ's like DJ Babu & DJ Rhomes would come up to my live show on Friday nights and do live DJ mixes. They would bring a lot of their friends like WildChild & others who would rap and do freestyles live on the show. It was epic, really.
what inspired your show?: My current show is inspired by the current events in our country right now.
returning alumni programmer ☆ zodiac sign: capricorn ☆ programming from santa barbara ☆ current favorite artists: Wise Intelligent, Sa-Roc, Koffee
Instagram ☆ Facebook ☆ MixCloud
user008 | so what?
so what? explores different themes and subgenres within jazz. i talk about the history during the first half, and it usually ends with free jazz/experimental stuff.
about user008: error 404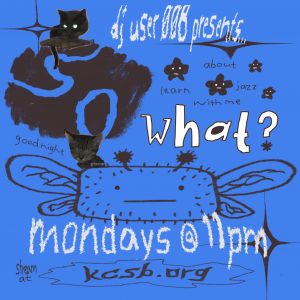 favorite KCSB memories: fund drive 2019 – from its baby developing stage in the summer to the event itself in february! i was extremely proud that we exceeded our fundraising goal (thank you to all our donors!!!!)…i also really enjoyed creating expenditure analysis reports, managing our bandcamp/swag, and developing/co-leading the publicity ambassadorship. i won't ever forget the glorious mid-day naps i would take all over the station….on the lobby couch, in the sports office, and the md office <3
fun facts: i used to sing jazz for about 4 years. hence why i chose to do a jazz show!
returning alumni programmer ☆ zodiac sign: taurus ☆ KCSB Business Coordinator 2019-2020 ☆ programming from san jose, ca ☆ Instagram
Wane Lietoc | Lietoc's Demands Remain Unwritten!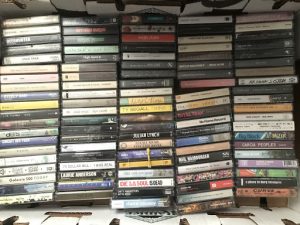 Hello, this Lietoc! Although perhaps you know me as Matty/Maddy (I use they/them). I am a self-described ex-Radiohead stand and REM Apologist, who ran the KCSB's Internal Music Director desk from June 2019-June 2020. Now I'm just a UCSB Triple Major (Comm/Film/Asian American Studies) blogging about tapes at Tabs Out or the site here on the sometime recurring Tape Quarantine series. Yes, I'm a tape enthusiast with over 500 tapes. 
favorite KCSB memories: Whenever I got emails from labels to send us albums like Fly Pan Am's Çest Ça or went to shows in IV and caught Sprain. I loved crate digging and searching for music and deeply miss any shows where I can revel in Grindcore or "cosmic Americana."
what inspired your show?: When I started broadcasting in April 2019, I really wanted to do a radio show that was dedicated to both what was striking my fancy in the current year, while still diving through the threads or histories you see whispers of on dead forum pages or off the cuff of an indieheads comment that leads you to discogs or rym. I did multiple forums of this under the "Bloghouse" moniker across various lengths from 1-3 hours.
Lietoc's Demands Remain Unwritten is my new grab bag variety program that finally bridges Bloghouse with Krankcast proper. My admiration for faint echoes of lost futures, found within pulpy tape music, reverb saturated bliss, and modernist and dadaist post-punk, all being channeled through label spotlights, yearly surveys, and non-canonical dives. And of course, the latest developments in the ubiquitous college rock marketplace of pastiche. Broadcast remotely, from Manley House in IV (until further notice).
returning alumni programmer ☆ KCSB Internal Music Director 2019-2020
zerooo | cathexis
what's up cowards >:) i'm zero and love my show, kcsb, and of course everyone who listens <3. i'm a ucsb alumni and former kcsb general manager! woo. i"m a taurus sun, virgo moon, and scorpio rising. on my own time i like to produce music (i just figured out how to do sick breaks), dj, cook, design flyers, n kick it wif da homiesss. i also really love to read tarot, read about astrology, and connect more w/ my spiritual and emotional self. my show on kcsb, cathexis [every tuesday from 3-5p], is focused on electronic music from different parts of the world. thus, it is a pretty eclectic show and changes in genre a lot. i want my next show to be focused on rock, specifically metal so >:)
i am also hosting a show at kqbh lpfm in boyle heights (los angeles). i'm working w/ por vida media and familes listening to you on a project that is featuring interviews w/ incarcerated people and their experience with covid. i host those shows every monday at 6pm. check us out!!
i miss being in the kcsb studios ;-;. i have programmed for four years n love kcsb soooo much. i miss u all.
love u xoxooxoxox
returning alumni programmer ☆ KCSB General Manager 2018-2020 ☆ zodiac sign: taurus ☆ Instagram